• LIVING WITH HIV

This Positive Life: An HIV-Positive Long-Term Nonprogressor Tells His Story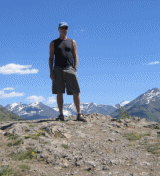 Paul has been living with HIV for 27 years without ever needing to take treatment. He never thought much of it until the day a friend said to him, "You haven't been sick. ... Why do you think that you're doing so well?" Paul soon discovered he was one of the lucky few positive folks known as "long-term nonprogressors" -- people who have HIV, but whose CD4 count stays high and viral load stays low for a long time without the help of medications. In this interview with TheBody.com -- the latest in our This Positive Life podcast series (available as both audio and a transcript) -- Paul discusses his life, and explains how he's happily become a guinea pig for HIV researchers hoping to figure out what makes him tick.
• HIV TREATMENT & COMPLICATIONS

Positive Women, African Americans Spend Less Time on HIV Treatment, Study Finds
Do men get better HIV care than women in the United States? Do white people get better HIV care than African Americans? As many advocates have long believed, the answer appears to be yes to both questions. At least, that's the case at a large HIV clinic in Nashville, Tenn. Researchers there have found that, even when their CD4 counts are very low, women and African Americans are less likely to be on HIV meds. In this interview, Diana Lemly, M.D., explains these unsettling study findings.


Warning Issued for People With Liver Problems Taking Prezista
If you currently have liver problems, or if you're coinfected with HIV and hepatitis B or C, be careful about using the HIV medication Prezista (darunavir, TMC114). That's the new warning that has been issued by the U.S. Food and Drug Administration and added to the drug's labeling. The warning notes that a small percentage of people taking Prezista -- about 0.5 percent -- have developed an inflamed liver, which can be a potentially dangerous side effect. Although most people won't have any liver trouble while on Prezista, the warning does urge doctors to avoid giving the drug to people who already have severe liver problems.


Reyataz, Seeking a Place in First-Line Therapy, Stands Up to Kaletra in Large Study
Although Reyataz (atazanavir) is sometimes used by people who are starting HIV treatment for the first time, it's not officially approved in the United States for first-line use. However, a recent, large, first-line treatment study appeared to show that Reyataz compared well with Kaletra (lopinavir/ritonavir), one of the more popular drugs currently approved for use in first-line therapy. In this interview, researcher Donnie McGrath, M.D., explains the study findings.


A Tale of Two Immune Systems: HIV Meds Can't Get to Your Gut
We already know that HIV meds can't eradicate HIV completely. But did you know that meds also have a particularly hard time penetrating certain parts of your body? For instance, a new study has found that so-called "HIV reservoirs" set up shop in places like the gut, where the virus persists even after someone has taken HIV meds for many years. (Web highlight from the National Institute of Allergy and Infectious Diseases)

Fortunately, researchers are working to figure out how to strike at HIV in hard-to-reach places like the gut. As we reported last month, researchers believe they've spotted a previously undiscovered way to stop HIV from replicating by disrupting the process through which HIV invades the gut in the first place.


Testing, Testing, Hepatitis C
Everyone with HIV needs to be tested for hepatitis C at least once. That's a simple rule of thumb, but understanding the results of hep C tests isn't always so straightforward. Though hepatitis C testing is reliable, interpreting the results can be difficult if your CD4 count is low or there's a chance you were recently infected with hep C. Fortunately, this article can help you understand the results of your hep C test, as well as the liver tests you'll need to take if it turns out you do have hep C.
• HIV TESTING

Testing HIV Negative When You're HIV Positive: It Happens, but Very Rarely
Can you test HIV negative but still have advanced HIV disease? To say the odds are one in a million might be an understatement: In the entire history of HIV, there have been only 16 published cases in which someone had HIV but repeatedly tested negative. The latest case was reported on March 1: Spanish doctors found that a man had a CD4 count of 4 and a viral load of 122,000 despite repeatedly testing negative for HIV antibodies and having an indeterminate Western blot test result. The researchers think that having an extremely weak immune system may have something to do with the false-negative tests. (Web highlight from aidsmap.com)
• HIV IN THE U.S. NEWS

NIAID Director Recognizes National HIV Awareness Day for Women and Girls
More than a quarter of new HIV/AIDS cases each year in the United States are women -- and most of those women got HIV from unprotected sex with men. In honor of National Women and Girls HIV/AIDS Awareness Day on Monday, March 10, National Institute of Allergy and Infectious Diseases (NIAID) director Dr. Anthony S. Fauci reminded the country of this fact, as well as the reality that women of color carry the weight of AIDS diagnoses and deaths among females. He called for women to make a habit of knowing their own HIV status, as well as the status of their partners.

For a treasure trove of first-person stories, expert interviews, overviews, tips and news on HIV and women, visit TheBody.com's HIV/AIDS Resource Center for Women.


Pills to "Prevent," "Treat" STDs Make False Claims, FDA Warns
We all dream of a future where one little pill could prevent HIV. Unfortunately, some companies take advantage of that hope by falsely claiming their products can already do just that. The U.S. Food and Drug Administration (FDA) has warned that anybody taking one of several drugs -- Aviralex, Beta-mannan, Genisil, Imulux, Micronutrient, OXi-MED, Qina, SlicPlus and Tetrasil -- should stop taking it immediately, since the drugs have never been proven safe or effective, and some make false or misleading claims. The drugs purport to prevent or treat numerous sexually transmitted diseases (STDs), including chlamydia, herpes, HIV and human papillomavirus.


U.S.'s "HIV Epicenter," New York City, Gets $102 Million in Ryan White Grants
Often referred to as the "epicenter" of the U.S. HIV epidemic, New York City has seen a small increase in its Ryan White Program funding for 2008, which will be used to fund a host of HIV-related services. The ever-increasing life expectancy of people with HIV creates an even greater need for a wide range of services that are accessible to the estimated 99,000 HIVers in the city. However, the $102-million price tag on this year's Ryan White grants is only slightly higher than it was in 2007, when the city received about $100 million.
• HIV THROUGHOUT THE WORLD

International Task Force Calls on Governments to Lift HIV-Related Travel Restrictions
A task force chaired by UNAIDS and the Norwegian government has issued a global call to end all HIV-related travel restrictions. According to the European AIDS Treatment Group, about 74 countries (including the United States) restrict HIV-positive visitors, and 13 ban them outright. UNAIDS Executive Director Peter Piot said, "No other condition [besides HIV] has people afraid of having their baggage searched for medication ... with the result that they are denied entry or worse -- detained and then deported back to their country."

To read the European AIDS Treatment Group's full (albeit difficult-to-navigate) breakdown of every country's legal stance on the travel of HIV-positive people, click here.

You can also click here for more information on the United States' policy regarding HIV-positive visitors.


Advocates Call for "Investing in Women" Worldwide to Address HIV, Education and Jobs
"Investing in women helps us fight all the challenges of our time. ... No measure is more important in advancing education and health, including the prevention of HIV/AIDS," said United Nations (UN) Secretary-General Ban Ki-moon last week, ahead of International Women's Day. Advocates worldwide echoed his call: For instance, ActionAid, an international anti-poverty organization, said that the global "development emergency is first and foremost an emergency for women and girls."


Living in Fear of HIV: Seeing South Africa's HIV Crisis Through One Man's Eyes
With each passing year, it's becoming increasingly clear that providing HIV meds and free condoms won't be enough to stop the pandemic in the developing world. In countries like South Africa, HIV pervades every aspect of people's lives -- but despite that, the stigma and fear surrounding the virus is crushing. In a recent interview, South African journalist Jonny Steinberg spoke about a new book he wrote, Sizwe's Test, which follows one man as he struggles to deal with the possibility that he has HIV -- even as he refuses to actually get tested for the virus. (Web highlight from New York Public Radio)
If you're a Hispanic American living with HIV, TheBody.com wants to hear from you! We're looking for men and women to feature in a new, bilingual educational booklet we're putting together for recently diagnosed HIVers in the United States who have roots in Latin America.
Do you have an inspiring story to tell? Send an e-mail to
content@thebody.com
and share! (We won't use your real identity in the booklet if you'd rather remain anonymous. Also, if your Spanish is better than your English, you're more than welcome to write us in Spanish.)

Art From HIV-Positive Artists
"Clouds Over Negame," 2003; Bradley Johnson
Visit the
March 2008 Visual AIDS Web Gallery
to view our latest collection of art by HIV-positive artists! This month's gallery, entitled "The Sublime Order," is curated by Letha Wilson.

At The Body's Bulletin Boards
Is It "Game Over" for Me?
(A recent post from the
"I Just Tested Positive" board)

The last time I went to the doctor was in January of '07, because I saw something on TV that said regular checkups are good for you. I'd get tested every three to six months for HIV, but I had no business bothering a doctor or a nurse for anything. I'm learning that all that is now changing [since I tested positive]. Doctors, blood work, pills. It's all so foreign and strange to me. Kind of like eating all your meals with chopsticks when you've used a fork your entire life. The reality is slowly setting in that I have a chronic condition impacting my health, and I'm becoming deeply saddened.

This year was going to be an amazing year of athletic endeavors and challenges of a lifetime. From training to qualify to be sponsored for the '09 Ironman to planning out an expedition to hike the Inca Trail and see Machu Picchu. I'm running out of excuses to tell my fellow triathlon trainers, my dive buddies and my workout partners why I'm not around. ...

My biggest concern isn't so much about how long I'm going to live, as it is how I'm going to live. ... I'm sad and affected by my HIV status change, and imagine it as a shift from skydiving to bird watching. From deep-sea-wreck exploring to aquarium glass tapping. ... Is there any hope of still living a full-throttle, action-adventure lifestyle? "

-- MIADave

Click here to join this discussion thread, or to start your own!
Can't a Nice Pos Guy Find Another Nice Pos Guy in Jersey?
(A recent post from the
"Gay Men" board)

I won't have sex with a guy unless he's poz. I'm 38 years old, a nice guy and good looking. I hit the gym all the time to keep me from going nuts. So far, I haven't had any side effects from my meds. I'm a nice guy looking for the same. It isn't easy living in northwest New Jersey.

-- robbyb

Click here to join this discussion thread, or to start your own!