New Data From Two Major Studies Shows Housing for Poor People With HIV/AIDS Saves Lives and Money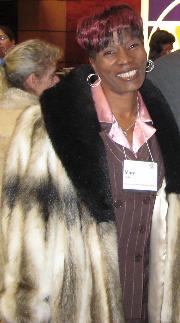 CHHP participant Mary Pelts at the conference. Her uplifting story is recounted in the Wall Street Journal
On the second day of the National Housing and HIV/AIDS Research Summit, investigators from two major multi-year studies released preliminary data showing that providing housing for homeless people living with HIV/AIDS improves health outcomes and saves millions in medical costs. The Housing Research Summit is convened by the National AIDS Housing Coalition in collaboration with the Johns Hopkins Bloomberg School of Public Health.
The four-year Chicago Housing for Health Partnership (CHHP) study, the subject of an article in Thursday's Wall Street Journal, followed 407 chronically ill homeless people, more than a third of whom had HIV. Half of the study participants were placed in housing with case management, while the other half relied on Chicago's existing network of services. The group that received case management and housing assistance spent significantly less time in hospitals, emergency rooms and nursing homes and experienced improved health.
Advertisement
After 18 months, 55 percent of CHHP-assisted participants with HIV had "intact immune systems" compared to only 34 percent of people in "usual care." Researchers estimate that the improved medical outcomes for all study participants saved approximately $1.5 million in emergency room, hospital and nursing home costs, after taking into account the costs of the housing and case management.
The other major study presented today came from researchers who worked on the five-year Centers for Disease Control and Prevention (CDC) Housing and Health Study, which followed 630 unstably housed people living with HIV/AIDS. Half of the participants received enhanced housing and medical assistance while the other half depended on usual AIDS services networks.
Preliminary data showed that receipt of a housing voucher enabled 82 percent of participants to secure and maintain stable housing. Housing participants who secured housing had significantly fewer overnight hospitalizations, emergency room visits and opportunistic infections, and significant improvements in medication adherence and mental health. The study also showed a 40 percent reduction in the number of people who traded sex for shelter -- a significant prevention problem among homeless people living with HIV.
The CDC study also showed some of the unexpected challenges of trying to conduct research on homelessness and HIV. For example, some participants were unable to use housing vouchers to get stable housing because of a lack of affordable housing in their communities.
"The results of the CHHP and CDC studies as well as the numerous other studies presented at the conference this week are inspiring," said David Holtgrave, PhD, chair of the Department of Health, Behavior and Society at the Johns Hopkins Bloomberg School, who worked on the CDC study. "Not only do these studies show that there is a really good scientific basis to the argument that housing is health care, they show that we can save lives and save money at the same time by providing people with housing."
More than 200 researchers, service providers and people living with HIV from all over the world are in Baltimore from March 5 to 7 for the third-annual National Housing and HIV/AIDS Research Summit sponsored by the National AIDS Housing Coalition (NAHC). Researchers presented groundbreaking research on housing and HIV. Highlights included:
A study from India that showed that sex workers "housed" in brothels were able to form support networks that led to widespread condom use versus so-called "flying" or unhoused sex workers.
Homeless youth are four to five times more likely to engage in high-risk drug use than youth in housing with some adult supervision and over twice as likely to engage in high-risk sex.
Among poor women, there is a strong connection between housing instability, HIV risk and violence.
The past two National Housing and HIV/AIDS Research Summits provided the basis for the development of the NAHC Policy Tool Kit (www.nationalaidshousing.org/policytoolkit.htm). Summit Series convening researchers also worked closely with the NAHC on a special "Housing and HIV" issue of the journal AIDS and Behavior released last fall (Volume 11, Supplement 2/November, 2007).