Three Outstanding Activists to Be Honored With Keith D. Cylar AIDS Activist Awards on April 17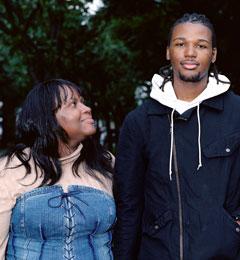 Cylar award honoree Williams, with her son Reggie
When Diane Williams found out that she was being awarded the Keith D. Cylar Housing Works AIDS Activist Award, she thought she might have a heart attack. "I was so excited that I felt dizzy, and then I just started to cry," said Williams, who came to Housing Works in 1993 as a client, graduated from the Second Life Job Training Program in 2003, and has become one of the organization's most visible activists."To come this far and get recognized for something I love doing is overwhelming. It's an honor for all women who are HIV-positive and struggle with this illness."
Williams, who will receive a $5,000 grant as part of the award, is one of the activists who will be honored at the fourth-annual Keith D. Cylar Activist Awards and Benefit Gala on Thursday, April 17, at 6pm, at the Times Center (242 W. 41st Street). (To purchase tickets, click here). In the weeks leading up to the April 17 event, the Update will profile Williams and the other Cylar Award recipients. The other recipients are Esther Boucicault, founder and director of the Fondation Esther Boucicault Stanislas (FEBS), in St. Marc, Haiti and Gloria Gonzalez, an AIDS activist from Fajardo, Puerto Rico.
Advertisement
The Keith D. Cylar AIDS Activist Awards are given to activists who have shown a tireless dedication to combating the pervasive stigma and discrimination faced by people with HIV/AIDS. Their work reflects the spirit of Housing Works cofounder and pioneering AIDS activist Keith D. Cylar, who died of AIDS-related complications in 2004.
"This year's Cylar Awards recipients reflect Keith's determination not to be cowed by the seemingly overwhelming task of ending the AIDS epidemic," says Housing Works President and CEO Charles King. "In Haiti, in Puerto Rico and right here in New York State, these activists have shown that there's no limit to the impact an individual can have in the global effort to fight AIDS."
More About the Awardees
Esther Boucicault International AIDS Activist Award, $10,000 grant. Boucicault was the first person to speak publicly about having HIV in Haiti, where people living with HIV/AIDS are profoundly stigmatized. Boucicault is the founder and director of the Fondation Esther Boucicault Stanislas, which provides pioneering treatment and support services to hundreds of people living with HIV/AIDS in Haiti's Bas-Artibonite region. She also helped create the National Solidarity Association (Haiti's foremost AIDS group led by people living with HIV/AIDS) and regularly speaks throughout the country about HIV prevention, including the still-taboo topic of safer-sex.
Gloria Gonzalez, U.S. AIDS Activist Award, $10,000 grant. Gonzalez is an HIV-positive AIDS activist and former injection-drug user (IDU) who is fighting to bring syringe-exchange, treatment, housing and HIV prevention programs to IDUs in her native Puerto Rico. Despite the fact that IDUs account for 50 percent of new HIV infections on the island, the Puerto Rican government has no IDU prevention programs. Gonzalez dreams of creating housing for IDUs in an abandoned factory not far from a shooting gallery in her hometown of Fajardo.
Diane Williams, Housing Works AIDS Activist Award, $5,000 grant. Williams came to Housing Works as a client in 1994. She has since become one of the most visible members of the Housing Works community. A graduate of our Second Life Job Training Program, Williams works as an administrative assistant to the Senior Vice President for Housing/Chief Financial Officer and regularly participates in Housing Works AIDS advocacy efforts. She has been arrested at numerous civil disobedience actions, including a peaceful take-over of Bush/Cheney campaign headquarters in Arlington, Virginia, in 2004.
The April 17 gala benefit celebrating the Cylar Awards raises money for the Keith D. Cylar AIDS Activist Fund, which is halfway to reaching a self-sustaining $3 million. Cylar Awardees will also attend a luncheon with representatives from major New York City foundations and go to Washington, D.C., for meetings with policy makers and members of Congress and a reception on Capitol Hill.
For more information about the Cylar Awards go to Cylarawards.com. And read the Update in the weeks to follow for in-depth profiles of the award recipients.