• BREAKING RESEARCH ON HIV

What Was the Most Important Research at CROI 2008? Get an Expert Opinion
More than a thousand studies were presented at the 15th Conference on Retroviruses and Opportunistic Infections (CROI 2008), a major HIV medical conference that took place earlier this month. But only a handful of these studies can truly be considered among the highlights of the conference. What were the biggest developments? Leading HIV researcher Robert Schooley, M.D., walks us through some of the study findings that may be most likely to change the way we look at HIV disease, including the latest research on immune-based treatment and the best time to start HIV medications.


From Their Lips to Your Ears: Audio From CROI 2008 at The Body PRO
There's nothing like hearing the results of important studies directly from those who actually conducted the research. Although it's not always easy to understand researchers who use a lot of medical jargon, it's still fascinating to meet the women and men who are transforming HIV treatment and care. Listen in on your computer or MP3 player as researchers explain the results of key studies they presented at CROI 2008.

Here's just a taste of the dozens of podcasts we now have available; more will be added soon! (Transcripts for many interviews will also be available shortly.)

RACE, GENDER AND HIV (11 min.): Diana Lemly, M.D., finds disparities in the use of HIV medications -- and in the odds of survival -- between women and men, as well as between African Americans and whites.
HEPATITIS C AND HIV (7 min.): Lars Peters, M.D., finds that having hep C doesn't make you any less likely to recover CD4 cells once you begin HIV treatment, provided your HIV meds keep your viral load undetectable.
MEXICAN IMMIGRANTS AND HIV RISK (11 min.): Melissa Sanchez finds that Mexicans migrating to the United States -- especially men -- put themselves at greater risk for HIV after they migrate.
For a full list of podcasts, transcripts and additional coverage of CROI 2008, visit our CROI 2008 index at The Body PRO, TheBody.com's sister site for health care professionals.
• LIVING WITH HIV

Are You an HIV-Positive Hispanic American? Tell Us Your Story!
If you're a Hispanic American living with HIV, TheBody.com wants to hear from you! We're looking for men and women to feature in a new, bilingual educational booklet we're putting together for recently diagnosed HIVers in the United States who have roots in Latin America. Do you have an inspiring story to tell? Send an e-mail to content@thebody.com and tell us about it! (We won't use your real identity in the booklet if you'd rather remain anonymous. Also, if your Spanish is better than your English, you're more than welcome to write us in Spanish.)
• HIV TRANSMISSION

"If You Have a Penis, and You Plan to Have Sex With It, It Should Be Circumcised"
There's a fascinating new twist in the story of a failed HIV vaccine: Could circumcision have something to do with it? Researchers have been toiling for months to figure out why a major HIV vaccine candidate appeared to actually increase a person's risk of getting HIV. As our own David Wohl, M.D., wittily explains in this interview from CROI 2008, the researchers now believe that whether or not a man was circumcised may have played a major role in determining the vaccine's effect on HIV risk.

For more on these intriguing study results, read this summary from aidsmap.com.


Children Could Get HIV From Pre-Chewed Food, Researchers Say
Although we've learned an awful lot about HIV, every now and then a study comes along that reminds us how much is still unknown. At CROI 2008, for instance, U.S. researchers identified what may be a new and unusual risk factor for HIV: eating pre-chewed food. The researchers reported three different occasions over the past decade in which babies in the United States got HIV from food that had been pre-chewed by their HIV-positive caregivers. In this interview from the conference, the researchers explain their findings.


Some Vaginas Harbor Natural HIV Killers, Researchers Find
Just like the witches in the Wizard of Oz, there are good bacteria and bad bacteria. When it comes to HIV, one particular group of bacteria may be especially good: lactobacillus. Various forms of lactobacilli live in the vaginas of many women -- and, it turns out, they may have HIV-fighting properties. A study presented at CROI 2008 found that HIV-positive women with lactobacilli in their vaginas had a lower vaginal HIV viral load than women without the bacteria.


Another Vaginal Microbicide Fails to Prevent HIV, Large Study Finds
Many advocates and researchers see microbicides as an HIV prevention method that can give more control to the receptive partner during sex. Unfortunately, studies of the most promising microbicide candidates have so far shown poor results. The latest microbicide to fail is a seaweed-derived gel called Carraguard: A large study of the gel in South African women has ended in failure, researchers reported, possibly because few women used the gel consistently.


Can Treating Herpes Help Prevent HIV? Early Signs Point to No
It's a fact that, if you have genital herpes, you're at a higher risk of getting HIV than if you don't have genital herpes. So it makes sense that treating herpes should reduce a person's HIV risk, right? Well, not so fast, according to surprising results from a large study of HIV-negative women in Africa and men who have sex with men in the United States and Peru. The study found that people with genital herpes who took acyclovir (a herpes medication also known as Zovirax) were just as likely to get HIV as people who didn't take herpes treatment at all.


HIV Vaccine Research "Too Important to Give Up On," Leading Scientist Says
We're more than two decades into the search for an HIV vaccine, and scientists aren't much closer to finding a formula that works. But despite many setbacks, researchers won't stop trying, says David Baltimore, president of the American Association for the Advancement of Science (AAAS). During the annual AAAS meeting last week, Baltimore said that the HIV vaccine development community is "depressed" after recent failed attempts to develop a vaccine, but that vaccine research will continue with new techniques. "This is too important to give up on," he said.
• HIV POLICY IN THE UNITED STATES

U.S. State Department Changes Course; HIV-Positive People Allowed to Enter Foreign Service
"[People with HIV] do not have to surrender to stigma, ignorance, fear or the efforts of anyone, even the federal government, to impose second-class citizenship on them. They can fight back." Those were the words of a vindicated Lorenzo Taylor, after the U.S. State Department announced that simply being HIV positive was no longer enough to disqualify someone from becoming a member of the U.S. Foreign Service. Taylor was denied entry to the service in 2003 when he revealed his HIV-positive status. But he sued, and last week -- less than two weeks before his case was to go to trial -- the State Department announced the policy change.


California HIV Groups Struggle as Federal Funding Dries Up
Several southern California HIV organizations say they are struggling to cope with budget cutbacks and new rules restricting how they can spend their money. "This last year has been the most difficult year we've ever had," says Joy Gould, the director of Inland AIDS Project, an HIV service organization in Riverside, Calif. Her group lost nearly $300,000 in federal funding due to changes in the Ryan White CARE Act, and it's just one of several organizations that have found themselves severely strained.
• MAKING A DIFFERENCE

Remembering a Great HIV Advocate
The sudden death of HIV treatment educator Dan Dunable last year in Atlanta, Ga., was a tragic loss for the HIV community. Terri Wilder, who worked with Dan at the Atlanta HIV organization AIDS Survival Project, recounts his many accomplishments in her newest blog.


Historic Art Auction Raises $42.6 Million for Global Fund
Auction house Sotheby's called it one of the biggest charity events in history: The Product RED campaign raised $42.6 million for the Global Fund to Fight AIDS, Tuberculosis and Malaria at an art auction in New York City last week. The auction included 83 red color-themed works of contemporary art donated by several artists. "Tonight we got serious about love, and not just the love of art, but the love of our brothers and sisters suffering from AIDS in the poorest places on the planet," said Irish musician, HIV advocate and RED founder Bono.


In Illinois, Gamblers Can Place a Bet Against HIV
Who knew that gambling could benefit the fight against HIV? The state of Illinois has announced that profits from a new scratch-off lottery game will go organizatios that help prevent HIV in the state. Money from "Red Ribbon Cash" tickets will be split between groups of various sizes that have been selected by a special advisory board. Officials say the campaign marks the first time that all of the proceeds from a lottery ticket have been used to fight HIV in the United States. (Web highlight from the St. Louis Post-Dispatch)

For more on the lottery program, read this press release from the Illinois governor's office.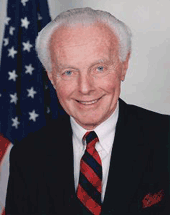 U.S. Congressman Tom Lantos was arguably best known as being the only Holocaust survivor ever elected to Congress. But the California Democrat was also one of the strongest Congressional supporters of the President's Emergency Plan for AIDS Relief, the legislation responsible for pumping millions of dollars into HIV-fighting efforts in developing countries and for supplying HIV medications to thousands of people in need. Just days before he died from cancer at the age of 80, Lantos issued a statement chiding Republican opposition to a proposed reauthorization and expansion of PEPFAR. For more on Rep. Lantos, read this article from Housing Works.

Art From HIV-Positive Artists
"Cape Cod," 1996; David Reyes
Visit the
February 2008 Visual AIDS Web Gallery
to view our latest collection of art by HIV-positive artists! This month's gallery, entitled "Looking Up Lyrics," is curated by Becca Albee.