No Good News for Domestic AIDS Funding in Bush's FY09 Budget Proposal -- Will Congress Do Better?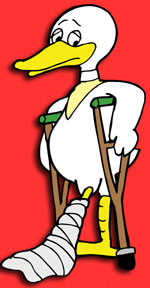 Go, limp away
Bush's 2009 budget proposal was met with hisses and boos by domestic HIV/AIDS advocates, who decried his decrease in funding necessary to fight HIV/AIDS and increase in abstinence-only funding.
"While we are not surprised to see another budget that short changes people with HIV/AIDS, we take comfort in the fact that it is the final proposal we will have to endure from this President," said Ryan Clary, Project Inform's director of public policy. "We hope the years of chronic under funding of HIV/AIDS programs will soon be over. Congress should reject this budget immediately and show the leadership desperately needed to make sure people with HIV have the care and treatment needed to stay alive and healthy."
Advertisement
The budget includes:
$28 million increase for abstinence-only education
$2 million decrease in funding for the Centers for Disease Control and Prevention (CDC) programs for HIV/AIDS, viral hepatitis, sexually transmitted infections, and tuberculosis
$8 million decrease for programs in the communities most severely affected by the HIV/AIDS epidemic
$1 million in additional funding for Ryan White CARE Act, essentially maintaining the same funding levels as fiscal year 2008
No increase for HIV/AIDS research at the National Institutes of Health
Medicare faces cuts totaling $556.4 billion
Medicaid cuts estimated at $46.7 billion
Some choice statements of disgust:
"Enough is enough," said James Wagoner, President of Advocates for Youth. "These abstinence-only-until-marriage programs have failed to meet simple standards of effectiveness. Allocating another $204 million for FY 2009 is further proof that this President cares more about conservative ideology than sound science."
"We know that the CDC will soon release data showing that HIV infections are up as much as 50 percent since the start of the Bush presidency," said Marjorie J. Hill, chief executive officer of the Gay Men's Health Crisis (GMHC), in a written press statement. "Data already show significant increases among gay and bisexual men. The proposal to cut CDC prevention funding by $2 million in the face of these data is just incomprehensible."
"While the President's FY 2009 budget carries good news for addressing the global pandemic, it is terribly inadequate to address the epidemic in our own backyard. Following a trend now for several years, this budget will only further destabilize the prevention of HIV and the care and treatment of people living with HIV/AIDS in our own country," said Gene Copello, executive director of the AIDS Institute.
The good news is Congressional leadership basically laughed in the face of Bush's proposed cuts. "This administration ought to know that five years' worth of Medicare and Medicaid cuts totaling $200 billion are dead on arrival with me and with most of the Congress," said Sen. Max Baucus, the Democratic chairman of the Senate Finance Committee.
Check out the Update for more budget news.