This is Erika Nelson reporting for The Body. Welcome to This Positive Life. I'm here today with Michael McColly, a Chicago-based HIV-positive author, teacher and yoga instructor. Michael tested positive for HIV in 1996. Since then, he's been on a journey of discovery, trying to understand the ideal way people with HIV can lead healthy lives and how community activism and spirituality can contribute to that health and help stop the HIV epidemic. Michael traveled around the world talking with people who are positive and HIV advocates about their lives and their work. He wrote a book about his travels last year called The After-Death Room: Journey into Spiritual Activism.
Michael, thank you for joining us on This Positive Life.
Thank you, Erika.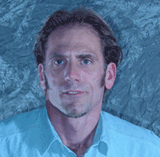 About Michael McColly
Age: 50
Home: Chicago, Ill.
Diagnosed: 1996
Michael McColly tested positive for HIV in 1996. Since then, he's been on a journey of discovery, trying to understand the ideal way people with HIV can lead healthy lives -- and how community activism and spirituality can contribute to that health and help stop the HIV epidemic. Michael traveled around the world talking with people who are positive and HIV advocates about their lives and their work. A Chicago-based HIV-positive author, teacher and yoga instructor, Michael wrote a book about his travels last year called The After-Death Room: Journey into Spiritual Activism.
Before we start talking about your new book and your current work, can you tell our readers and listeners about your personal history with HIV? How did you find out you were positive?
I had been tested a couple of different times before 1996. I had a very good friend who kept asking me to get tested. She convinced me that I needed to get tested and also go into therapy. So I did both at the same time and I found out I had HIV.
What exactly happened? You went in for a new test after going through therapy? Where did you go?
Yes. I went to a therapist and we began talking about depression and addiction problems and also issues around my own sexuality. I think after a couple of weeks, I realized that I needed to go get tested again. So I did. I'm very grateful to that friend of mine, who kind of pushed me to confront the issues of depression and addiction and the possibility of being infected. At that time -- '96 -- it was before the cocktail drugs had come out. I found out three or four months before the cocktail was being used. If I hadn't been tested, who knows? I might have gotten sicker and sicker.
Why did you think that you might have been at risk?
I hadn't really faced my bisexual life. People didn't know about my life -- my sexual life. I knew that I was having sex at different times when I was depressed and when I was either drunk or using various drugs. Whether or not I was always conscious of safe-sex practices was not something that I was aware of. I mean, I was trying to be aware, but I think in that state of mind, you don't pay attention.
Do you have any idea how long you had been living with HIV at that point?
I think it might have been a year and a half or longer.
Do you have an idea who you got it from?
Yes, I do. And we talked to each other. I'm not absolutely sure of course, but he actually talked to me when he was at Cook County Hospital and it was kind of a sad conversation. He was obviously sick and he told me and I said: Yeah, I know. He subsequently died about six years ago.
I'm sorry to hear that.
Yes.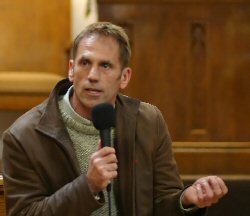 Michael speaking at a largely Hispanic church on the west side of Chicago, World AIDS Day 2006.
Did you find out that he was positive before or after you tested positive?
I didn't know he was positive previously. But you know, I should have paid attention -- because he was having trouble with addiction as well. That was part of my life where I really didn't care. I was living for the nightlife and I was very depressed, too, at the time. I was trying to write and I just didn't care. I mean, I didn't go around not having safe sex: in my mind, I thought, well, this can easily happen, and it did.
Do you think that these are common risk factors for bisexual men or gay men?
I think it's part of the culture of people feeling uncomfortable about their sexuality -- that they use substances to feel more comfortable. I think it's a culture also of the nightlife, where people are partying and slowly their awareness of their health is put on the back burner if they're using substances and drinking a lot. Then the possibility of STDs [sexually transmitted diseases] is just part of the lack of awareness of their bodies. People don't want to hear about it when you're at a bar at two in the morning or going home with somebody. I don't think people have conversations about their past sexual lives and their health under those circumstances.
What did you do after you tested positive?
I went to a clinic in the near South Side. I didn't want to go to a clinic in my neighborhood, of course. Like many people, I was very nervous about people knowing. Even though, how would anybody know if I went to a clinic on the North Side? But it was part of the fear. That's something that people are doing all the time. They go to another city, or they go to another part of the city. I did that, and I didn't think I would be positive, and I was.
I was then sort of numb, for about two days. I didn't talk to anybody for about five days. Finally, I told a very good friend of mine and slowly I began to deal with it. But I was very troubled, suicidal. People at the office were trying to tell me to do different things. I have no idea what they actually said to me, I was just in my own zone. I think depression is a real serious problem with bisexual and gay men. Once they do face HIV, there's this undercurrent of their own past history that they wrestle with. I wonder about how well that's being dealt with.
I think you're completely right. I think it's a risk factor for women as well.
For everybody. I think once they confront the HIV or it confronts them, they then have to face this whole entire history of various sexual practices and addiction problems. I don't think anybody grows up going, "Hey, I want to be addicted to some substance, or I want to have unsafe sex, or I want to be having several partners." I don't think anybody sets out to do that. But over time, the ways in which we respond to our needs, our sexual needs, our intimacy, our need to try to change our lives, sometimes begin to fall into patterns. Various substances -- even sex is a substance, or is an addiction -- can start to take over. Once [we have to confront] the HIV, we confront this whole history. I think people want to change, they want to try to find new ways to make better choices. They want healthy partners, but suddenly they feel overwhelmed with their life. I worry about how people face the whole totality of their psychological and spiritual question once they do confront HIV infection.
I think there are a lot of people that get diagnosed and they deal with all those issues, and they go through a self-revelation process. And my understanding is that that's what you went through.
It did, and fortunately at the time I was doing a lot of yoga. I was battling depression and addiction things, but I was doing yoga. I had been doing yoga for a while. I had periods of pretty deep depression. I had to tell people, women I had dated, men, and my parents, family: step by step, I started telling people.
At the same time I was actually doing a one-person show. So much was going on in my life at the time. I just knew that I had to hold on to this yoga practice, because it was a physical practice. It gave me a tangible way to respond. Not an intellectual way.
I didn't want to be told what to do, or even do therapy, talk therapy. I didn't want to talk about it. I wanted to actually, physically do something. I think yoga is a physical practice of meditation, and the poses and the breathing exercises. I felt like I was doing something to help my body deal with the infection, and embrace my body too, rather than have this feeling that I had caused this myself. Which I did, but I think that self-loathing and that self-hatred are so powerful for us when we're faced with HIV infection because of various practices and behaviors. That's what I mean about the depression. People feel so much self-loathing at the point. Thank God I did work with the yoga, because that made me start building myself back up.
What advice would you give to someone who has just found out that they're positive?
I would first find those people that are very close to them that they dearly love and trust. I would tell them that they need their help. I think the idea of asking for help can be a release of the sense of living with this alone.
I would be wary of people you sense that are not close to you, because sometimes we feel like we have to go and talk to a family member, something like that. I think it's better to talk to your very close friends.
I think it's a great opportunity to begin to try something new in your life that may have something to do with your health, whether it's yoga, or tai chi, or meditation, or another spiritual practice. I think it can be a really good time to seek that out. To find self-compassion is really, really important. You need to find your strength, and to be very compassionate with yourself. Those people around you can help solidify that compassion.
Forgiving yourself and then finding that support structure.
"I think it has to be you who has to feel like you are the single most important part of your recovery and your healing. It is you; it's not the drugs or a special doctor, it's you."
Yes, forgiving the self. You need to be strong and you need to move with the body that you have now. You need to embrace it and help it slowly heal. You have to heal yourself. That's the point of yoga. Yes it's great to have the medication and the doctors, but I think it has to be you who has to feel like you are the single most important part of your recovery and your healing. It is you; it's not the drugs or a special doctor, it's you.
Shifting gears just a bit, in your book you talk about growing up in a racially mixed neighborhood in Indiana, and the role that that played in your sexuality, and growing into a sexual adult. Can you speak about it?
[Laughs] It's a very complicated background. Growing up in a small working-class town with African-American people who I went to school with from a very early age; everyone lived in the same sort of neighborhood. I was a big athlete, my dad was a coach; I was always an athlete. I was around a lot of African-American men all the time. There was a kind of closeness that I had because I felt -- around any athlete, but particularly African-American men -- I felt a sense that they had awareness about their body that was different than mine and other white Americans'. I sensed a kind of power about one's body and how it can be a sacred object in a certain way. I think that people who do sense that their body has power, whether they are an athlete or not, it doesn't matter; that attitude about the body was very attractive to me.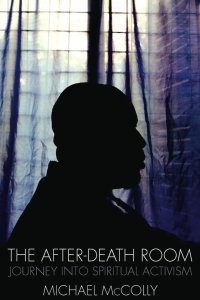 Click here to read an excerpt from Michael's recently published book, The After-Death Room: Journey Into Spiritual Activism.
In some sense, I think that was the beginning of my understanding of my own bisexual life. I also noticed, with African-American men, that they had a kind of rebellious spirit. This was in the '60s. These were young men, but they had a sense that they were not going to be pushed down by white culture. I saw them as kind of a model to not let the ideas and the mores of a dominant culture, or a masculine white culture, tell me that I am somehow inferior. I think their energy and spirit was something that I looked to as a way to understand that I could live with my sexual life. [Laughs] I think it's more eloquently stated in my book.
I think that was a very eloquent response. I find it really interesting you had relationships with men and women, and black folks and white folks. You talk a lot in your book about white privilege and gender roles, and having an awareness of those things. I think that's really important [Laughs]. You also talk about struggling, even into your adulthood, to come to terms with your bisexual identity. How did that work out?
[Interrupts] It's still working out [Laughs].
[Laughs] It sounds to me like it was really after your HIV diagnosis ...
[Interrupts] Yes it was; it was. I didn't want to face it. I think some people knew, but I didn't actively open myself up to my sexual life. I think that can be a problem with a lot of bisexuality. I know it's a problem. People want to sustain their identity as someone who's attracted to both sexes, and because unfortunately our culture has dealt with homosexuality in such a stigmatizing way, we now feel still that we have to make this choice between whether we're straight or whether we're gay. I think that sexuality is so much more complicated, so much more fluid. It changes over time. It changes with different periods of our lives because of things that we're interested in, groups of people that we find ourselves associated with, parts of the country in which we might live, our race, and our gender. All these factors play in.
I think everybody has a different formula as to how their desire works. I think that the easy answer saying you're gay or you're straight is so limiting as to how we understand ourselves as human beings. I think a lot of people are scared when they feel that they have this attraction to both sexes. They either have to make a choice, and then they do because they are very strongly connected to their partner of the same sex. Therefore they feel that they can't have attractions to the opposite sex any longer, or they feel that they have to hold back. They keep themselves in the closet. Even being bisexual can be something that people are denigrated for. Therefore they don't come out, and their behavior can be this sort of schizophrenic behavior, which was mine, and then you cannot be fully honest with people and with yourself. You can be in situations where you're using drugs and alcohol in order to allow your desires to come out. That's still going on so much. It's sad that in 2007 we can't really understand bisexuality. For younger people too, to be able to give them better models as to how this works.
You talk a lot in the book about living between the straight and gay world. You alluded to this just now. I think that sometimes bisexual folks can have a fragile position in the LGBT [lesbian, gay, bisexual and transgender] community.
Well, yes. What's the "B" stand for? [Laughs]
[Laughs] Right.
[Laughs] All the LGBT stuff came in the '70s. I think there was a more fluid understanding of sexuality. It was pre-HIV. People felt that they were exploring, or whatever they were doing. But there were a lot of people that felt that they were bisexual. Then everything shut down after AIDS. And rightfully so. People became suspicious of people who couldn't commit themselves, or said that they couldn't commit themselves. Then, of course, there are people who are infecting people because they are not out. Oftentimes people are not out because they are stigmatized so quickly. They're forced to be in two different camps and they don't want to do that. I think in the African-American community and the Latino community this is a real problem. It's just not addressed very effectively. You go to other countries and there's a lot more fluidity.
What is it like being a bisexual man in the midst of this epidemic? Do you think you have a unique perspective compared to, say, the gay community battling with HIV and the straight community battling with HIV? You sort of bridge both.
Yes. Well, I think I have a very unique position indeed. When I speak at colleges, I relish openly telling them in the very first two sentences that I'm bisexual and I've dealt with addiction problems, and that I'm HIV positive and I'm a yoga teacher, and I'm very interested in the development of my spiritual life.
They're always, like, what did he say? [Laughs.] I like to push the buttons on both straight and gay people who would like to stereotype people. Because people can't quite read me, I will tell them about who I really am. It makes them a little bit uncomfortable. I think its part of my mission: To try to break the stereotypes, and get people to see each other for their humanness and their personality, and their fullness. Not just as an identity.
Shifting gears again, you touched a little bit earlier on your yoga practice, and talked a little bit about that. Can you tell me, when did you first start doing yoga? What kind of yoga do you do?
I started doing yoga when I was studying acting in college a long time ago. It was just regular hatha yoga, the foundation of most yoga practices. Then I began doing the ashtanga yoga. I went to India and studied with a very powerful guru, Pattabhi Jois. I also worked with different teachers, Iyengar teachers, John Friend, and Richard Freeman; just a lot of different people who are good teachers in the United States. I developed my own sort of practice.
I've been influenced by a lot of different people so I wouldn't say I'm doing any certain type now. I pay attention to my body and what it needs to do; if I need to do more meditation one day, or do more back bending or various types of poses. There's certain poses that a lot of senior teachers feel are helpful for people with immune system problems. Those poses are a lot of twists, poses where your body's being twisted. We're taking medications, many of us, and we can try to massage the liver and the spleen and the kidneys, because they're doing all this flushing out of the medication. Sometimes when you do these twists we can squeeze the torso such that we can try to bring in fresh blood to those organs, and that's helpful.
Also, standing on your head, head balances; any time your head is below your heart you're doing what's called an inversion, and so the blood is reversed so it's coming down towards your head. That can stimulate your pituitary gland, which is where your third eye is, in between your two eyes. That can release hormones to help stimulate your immune system. I don't know if that's scientifically proven per se, but a lot of people say that those poses are helpful. General yoga is helpful because you're maintaining your physical health. Your immune system functions better when your stress is released, and your circulation is increased. That's very basic. If you walk, and you swim, all those things can be very helpful.
How does all of this relate to your HIV activism?
"The number one thing is that I want people to take responsibility for their own health. I think yoga, the foundation of yoga, is to recognize that your body is sacred. You have to maintain it and you have to cultivate awareness of intelligence -- emotional intelligence, spiritual intelligence, physical intelligence -- in order to maintain your health and in order to understand your role here in this universe."
The number one thing is that I want people to take responsibility for their own health. I think yoga, the foundation of yoga, is to recognize that your body is sacred. You have to maintain it and you have to cultivate awareness of intelligence -- emotional intelligence, spiritual intelligence, physical intelligence -- in order to maintain your health and in order to understand your role here in this universe. I think your health is the beginning. I think that that is a spiritual act, when you begin to recognize that your body is something divine. I speak about that. I also speak about how a spiritual practice begins to develop your ethical understanding of how the world works. You cultivate the practice of compassion.
I think a lot of different spiritual traditions do that. Christianity, Buddhism, Judaism, Islam -- all the major religions are founded on a sense of human compassion as a deeply important part of how we can survive and how we can understand this universe.
My book is about going to speak to people around the world who have dealt with a lot more difficult problems than me, people who do not have HIV drugs who live in South Africa and India, elsewhere, people who struggled so much and then became activists in their communities. These people are very powerful people. Whether they align themselves to religious traditions or not, whether they're Marxist, it didn't matter to me. I saw people in my travels who recognized human dignity as a reason to maintain their own health and helping others. That's what I saw, a spiritual type of activism. It's been around a long time, it's nothing new. I think people in ACT UP 20 years ago were so moved by the deaths of their friends and what was happening that they wanted to put themselves out there, in order to make it possible that other people can live. I think that's profoundly a spiritual act, to think of others before themselves. We need more of that.
That's how you would define spiritual activism: Putting others before yourself as you approach fighting the epidemic.
That's one aspect of it indeed. I think also it is understanding that you need more than political change. We're living now with global warming. We have to act. We have to change the way we understand our everyday choices about what we think we need and what we don't need. We can't just decide to vote for this figure or do an AIDS walk and think that's going to be enough. You have to change your own life. You may have to do with less. You may have to spend more time developing an awareness of your spiritual life. That takes time to do. You don't just have a nice little workshop and then you suddenly have an awareness. You have to begin to make a commitment to how to develop an awareness of this idea of compassion. It takes time.
You found out that that kind of compassion and commitment and sacrifice was at the heart of the activism you were seeing when you started the trip to do your research for your book.
Like I say, it wasn't necessarily connected to a certain religion. Sometimes it was. I met African-American women here in Chicago. They were very deeply moved by their Christian faith. They were doing wonderful things: opening up their homes to other people. Women in South Africa, same thing; HIV-positive women open up their house to other women. A Buddhist monk in Thailand was developing a hospice program for 15 people, because he was going to teach other dying people how to help each other as they were dying. He saw that as part of his practice as a Buddhist monk. He left the monastery and started doing hospice. I saw things like that all over. They didn't need to be told that they were doing wonderful things; they didn't have that much money. They just sensed that they had to do this. It was beyond just making sure that they got the Ryan White [CARE Act] funds. If that came, fine, but they had a different sense of why they were doing it.
How did you first get wind of all these people around the world who were doing this kind of work? What first prompted you to sell all of your possessions and travel and talk to all of these incredible people? How did this start?
Organically, as every journey starts. I went to South Africa to the AIDS conference there. I was teaching a workshop on yoga. I thought this would be really good and interesting, and I also thought it would be interesting to write about it. It was very selfish in a way. It was good that I was going to teach yoga to people, but at the workshop I was really confronted because people just wanted me to stay and teach. That's all they wanted me to do. Just come to our community group in Soweto and come to Cape Town. This is so good. Yoga is so wonderful, so do it. I said, I'm just a workshop guy. I think that really hit me very deeply, how desperate people were for people to actually do what they say they're going to do. Talk was so cheap. Sometimes I'm just tired of people talking about it.
I came back to Chicago and I kept thinking about it. Some of these young women wrote me little letters saying thank you for the workshop. They weren't trying to make me feel bad. They just simply said, This would be very helpful, could you help us do this.
It was a deep question, it was a spiritual question. Why can't I help? Well, for one, I worry about my health insurance and all those things. Even still, I thought you should be able to try. I got two credit cards and my parents gave me $1,000. I sold most of my furniture, and took a leave of absence. I decided to go to India. I would talk to one social worker, and he would tell me you have to go talk to this doctor. I would talk to this doctor and find out he was HIV positive. Stories like that just started floating into my life.
I told the activists in India, I'm going to Thailand next. They go, oh you have to meet with these people who work with the sex workers in Bangkok. I went and talked to them, and they had a bunch more people. It was word of mouth. I was led from country to country by AIDS activists. It's a beautiful story in itself.
Did you know when you started traveling that you were going to make a book out of all of your conversations with people?
I just thought that I would write different articles. I also wanted to explore this spiritual question. I thought I might spend some time in an ashram in India. I thought I might spend time in a Buddhist monastery in Thailand. I was going for a spiritual quest, in a way. But I knew that it had to go through speaking with AIDS activists. I wanted to write about them and in the process meditate on just exactly how I was going to live now with this disease.
"I never paid attention to activism once I'd been infected; not until 2001 when I came back from South Africa and Asia did I pay attention to the activism in the United States."
Their stories were so amazing, Erika, that I just felt like, you've got to tell these stories. Suddenly I said, OK, this is a book. Then I realized, when I came back to Chicago, we have to include all the people who are doing all this amazing stuff here, too. I never paid attention to activism once I'd been infected; not until 2001 when I came back from South Africa and came back from Asia did I pay attention to the activism in the United States. I found the same type of stuff going on here. I had ideas of going to Brazil and Russia, and all these other places, making sure I went to all these continents. Friends of mine who were writers said, oh, wait; you have way too much information already. I did, I had way too much. I had to start writing it up.
All this started with the 2000 International AIDS conference in South Africa. So it took you a while to finish the book. It took six years, is that right?
Well, yes, it did. I went to Asia in 2001 and came back to Chicago. Then I went to Senegal in 2001 or 2002. I was traveling for a year and a half on my credit cards. Then I started teaching again and started writing. The teaching was so much that I just stopped teaching and going further into debt and finished the book. It takes a long time to write a book.
Yes, for sure. This is probably a really difficult question, but, who was the most inspiring person you met in your travels, and why?
[Sighs] There are a lot of people. I think this woman in India, her name is Peekasawa. This little Indian woman, she's like 4'2" or something, she's taller than that. I went to see her and she didn't speak English that well, and I didn't speak Hindi, so she had a translator. This woman had been kicked out of her home with her children because her husband infected her. Her family thought she was the one who infected her husband. Of course she didn't. She was sick, and when I saw her she had all kinds of skin problems. She was coughing all the way through the two-hour interview. This woman had started a small HIV-positive group for women. She broke off from the HIV-positive network, which was men and women. She and her friends wanted something just for women, because they felt uncomfortable with men. They got together to care for their children, and to care for each other, because they had been all kicked out of their families.
I was amazed at the spirit; she had this powerful spirit. She had this tiny little body, sickly; and she talked with such intensity about her story. She was so excited that I had wanted to hear it and write it down, because I had been this journalist from America. Of course it's because she knew I was HIV-positive too. She really wanted me to know all this.
Now, the positive women network of Southern India has like 25 satellite organizations because of her and this small group of people that started the first women's organization in India. This woman who was kicked out said, "OK, you've pushed me to the margins of society. Therefore all the rules that I'm supposed to live by don't work anymore for me, so I'm going to break the rules and say we're going to get together and care for each other. I'm going to become political even though I'm poor and I'm not that well educated." She just broke the barriers. She didn't have this idea of herself as being this kind of egomaniac type person either. This was what she had to do. I've e-mailed her a few times. I've done some benefits for her with different yoga studios, and sent money back to her organization.
It sounds like you learned a lot from a lot of different people.
Oh, yes, I did. I think a lot of people made me deal with my own sexual issues. Some sex workers in India, male sex workers. There's this organization called N.A.S. Foundation that works with men on the streets in South Asia. I visited them, and this organization is so warm. All these young men were so wonderful. They kept asking me about my sex life and all this.
Finally, I did this talk because they wanted to ask about what happened to me and how I contracted HIV. They started asking me about my sexual life. They were so up-front about their sexual life. The organization was very upfront about how to protect people on the streets. These young men were peer educators so they went out and trained other sex workers on the streets and in the slums, these awful areas where they go. I went out with them.
They train them about safe sex?
Yes. They invite their clients and other sex workers to this organization and train them how to have safe sex, and how to protect themselves. They also get some educational development. I taught a little yoga workshop. (It's in the book.) They were so sweet. They made me deal with my sexual issues. They wanted to know. "Why do you feel uncomfortable about your sexuality?" they'd ask. It was so sweet because they cared about me; they cared about my whole self. At several places, people demanded that I speak very honestly about my own depression and my own spiritual struggles. They wanted me to be better too.
Doctors in India, I remember I was interviewing them and they said, "Have you eaten today? Oh you've got to go eat. We don't want you to talk to us until you eat." [Laughs.] They cared about me; they didn't always care about all these issues all the time.
Why do you think that your book is important for people living with HIV in the United States?
"I think for people who are living with HIV, it is a long-term spiritual struggle."
I think it's important for everybody, because I think I'm raising issues about spiritual activism at a time when our country is tired of politics as it is. You watch: People are going to start talking more and more about trying to find ways to get communities to move beyond the greed and the finger-pointing. I think for people who are living with HIV, it is a long-term spiritual struggle. Sometimes people will think, oh, I dealt with that five years ago, or I've been HIV [positive] for 10 years. But it's always there. The way we identify ourselves as victims or as if we're ill or something like that, that has to change; that has to change throughout our life. It's something we're always going to be living with.
I think this type of book is trying to get people to think about getting out and trying to help others. But also trying to understand that one's body has to be protected and has to be given a lot of compassion, so that we can listen to it and see what we need to do in order to be healthy; in order to be good partners, good parents, good friends, good workers, whatever.
That's something that just doesn't end. You just can't wrestle with the issue. I think sometimes people with HIV do all kinds of changes, which is great. Then that period is over, and they slide back. The impetus to go deeper into who they are as a spiritual being kind of fades. I think the book might say to these people: Keep going on some of those things that you've learned once you've faced your HIV infection. Explore deeper who you are and how you can help others, how you can be more compassionate with yourself.
Now that the book is out, what other kinds of work are you doing? I know you're teaching creative writing classes at the university level, and you're teaching yoga. How is that going, how are you incorporating what you've learned?
It's been very exciting going around the country talking about the book. I've been going to colleges and giving talks. I think right now in college, whether people are dealing with sexual issues or whatever they're dealing with, I think students want to hear people talk very candidly about politics and ethics and spirituality and sexual issues. We think technology is going to solve everything. We're still human beings, flesh and blood. We need to be healthy and we need to pay attention to our bodies, and really practice listening to our bodies. I'm feeling that I want to do more of that, working with young people with their creativity.
I'm beginning to teach yoga and creative writing together and doing some workshops on that. I think that's really helpful to try to give space to people to explore their creative life through their body and through their understanding of their own past.
Do you think this kind of teaching has a role in HIV prevention?
Completely. There's so much fear of being oneself; you don't fit in because your body doesn't look the right way, or your parents have been telling you that you need to live a certain kind of lifestyle and you don't want to. It's easy for young people to fall into patterns of self-abuse. It's hip to be kind of sarcastic about things.
I sense in my writing classes that there's a lot of desperate need to deal with issues of abuse and addiction, and fear about their body. I just know that that's one area that STDs often come out of: totally denying the body, and suddenly there are self-destructive behaviors that are being practiced. Suddenly people get HIV or they get other illnesses. This can be prevented if you spend time in high school, or the early part of college or wherever, really trying to get people to live with their body. Just like in other areas of education, you give people skills. This is something 13-year-olds need to be working with.
It's always interesting to me: I go to colleges and talk and say, How much sexual education have you had? It's still this miniscule amount. It seems to me that health education is really critical right now. When I mean "health" I mean spiritual health, physical health, emotional health, mental health, all of them together; and really working at it and learning and doing creative things in order to give students the powers and the skills to handle emotional stress that's hitting them every day.
Yes, absolutely. If I can ask, what has your own health been like since your diagnosis?
I'm feeling physically great. I do my yoga practice, I swim and I work out. I now have a bike. I don't drive anymore, so I'm a biker. My mental health is up and down. I still wrestle with depression. I think it comes with the schizophrenia of being an adjunct instructor and worrying about my health insurance, getting paid, and going deeper in debt for this book, and putting myself out there. It's a struggle. I think that any time you deal with difficult things in your life and you're open about them to others, you better be prepared to handle the kind of responses that you can get that are subtle and psychological. The road that you have to go is not an easy one. I've cut kind of a deep road to follow. Sometimes not as healthy as far as spending time to relax because I'm feeling that there's so much work to be done.
Just a couple more questions about your own health. What meds are you taking now?
Oh God, I try to forget them. Kaletra [lopinavir/ritonavir] and Truvada [tenofovir/FTC].
That regimen is working well for you?
It's fine, it's doing wonders.
Is there anything else you take? You talked about yoga and exercise; do you do any juicing or vitamins or anything like that?
I eat no red meat. I'm very conscious of my diet. I have a high-powered smoothie everyday with spirulina and protein and juices. I just try to be balanced and not eat too much of anything, and drink a lot of juices and fluids.
Can I ask what is your CD4 count and viral load?
It's undetectable and 550 or something.
That's terrific.
Yes, it's very good. But I think the medical situation is not good. It's a factory, and I'm nervous about it. My doctor senses that I'm doing all these things. She knows I do the yoga and all this. I think it would be nice if there were more complementary treatments that were cheaper. I would use more massage and acupuncture if it was available. I am right now on COBRA because I'm an adjunct faculty member. The state of Illinois pays for half of my health insurance because my income is at a certain level. In three months I don't know what's going to happen, to be frank. I have to find new health insurance or use one of the state programs in Illinois. This is a real problem, the anxiety about insurance, and not having more complementary treatments for people. It's a real serious problem. And how easy is it to get to your doctor? Do they have time for you? You know what I mean?
Yes, that's scary.
It is scary. I think there are a lot of good programs in certain parts of cities. In other parts of cities, they're not there. It's hard to go on the train for three hours to go see somebody who does provide acupuncture. Do you have five hours to do that?
Let me ask you a few questions about disclosure and relationships. You talked a little bit about your sisters and your parents. What was it like disclosing with them? Have they been really supportive? Are you out to everybody?
They've been great. My sisters were the group I first told. They have always been really helpful on a psychological level, making sure that they would be there for me -- financial support if I needed it and all that. My parents as well. I wrote this book, and it's a very frank book. I talked about issues of addiction in my own family, and depression in my own family. It was difficult initially for my parents. They think, oh he's going to write this book about his sexual life and about our family.
I think they have been very supportive and understand the totality about how one's sexual life and one's health is connected to one's family. By telling the story that involves entire family history, it shows you that health is something that affects everybody. One member of a family's health affects everybody. Just like members of a community.
This is why I'm so troubled about the way in which we don't pay attention to people who are poor who don't have access to healthcare, whether it's the United States or other countries. It affects everybody.
How do you decide whether to disclose your HIV status to someone?
I've had a lot of practice with it now [laughs], because I go in front of groups of people. When I'm traveling it's always sort of a dramatic moment. Do I tell this person or not? Am I the American journalist or am I the HIV-positive person who happens to be writing something about HIV? I sense who can handle it and who will be troubled by it. I kind of have a feeling about people; particularly if I'm not going to be around them, I don't need to burden them with this sometimes. I'm just having a small conversation. But because it's about the book I have written and people will ask, What are you writing about?. I tend to tell everything now. I'm, at times, a little bit too outspoken probably. I don't want to not tell people what my book is about so, out it comes.
What are your best, and also worst, disclosure responses that you've got from people?
I think the best response is when people say, oh yes, my sister's HIV positive. Or they shrug their shoulders and say, yes, so what? I mean life goes on and we all struggle. I think that always reminds me, everybody's wrestling with all kinds of things. When we get all this anxiety; you kind of see that people deal with diabetes, cancer, and this and that, and HIV, and we're all fragile human beings. I like that, when people do the shrugging of shoulders and then tell you about their own stories. One of the things that bother me is when people are so hyperbolic about my own health, you know, because I practice yoga and stuff. They really over-exaggerate how good I seem and stuff like that. I'm really troubled by that. When you present yourself as somebody HIV positive and open and out and doing yoga and all these things, people are nervous about their own sexual life and about their own inner problems.
How has your sex life changed since you've tested positive?
I think in some ways it's obviously difficult to have a sexual life that doesn't have this burden of people being anxious about being infected from you. I would be lying if I said that it hasn't affected it. It's affected it deeply. I've had relationships with women who can't really continue because it's too terrifying to them. Not only the HIV factor, but the bisexuality.
Again going back to the bisexual image -- people think someone who is bisexual can't really sustain a relationship, they may be interested in a man while they're with me, or vice versa. As if bisexual people can't be committed to one partner. I've never had a relationship with one person and on the side had a relationship with somebody else of the opposite sex.
There is that sense that one person can't satisfy the sexual life of the other sex. I think that's a total myth. I tell people directly and that in a way is really good, because I think if you are very up-front about your life, that makes them very upfront. You're not beating around the bush about all kinds of issues. I think that can be a good healthy way to start relationships. On the other hand, people reject you. That angers me because I know that people are just not facing themselves. That to me is kind of a double standard. I've learned to not get too bent out of shape about it.
What comes next? What are you future plans? More books, more traveling? You've got a lot going on.
I would like to stabilize myself financially somehow. I want to continue and go and talk about this book, and issues about sexual health related to spiritual health related to physical health. I'm very interested, as I've mentioned before, with teaching yoga and creative writing, and using that as a way to talk about how paying attention to the body can be a way to understanding ways to change yourself politically and spiritually in the world. I think that's where we need to go these days. Understand that health needs are not just about physical maintenance. It's about life change.
That may mean taking action about how many cars do we allow in cities, do we begin to bike more, what kind of fumes we use, how do we live in a community, how much time that we can spend with families, do we have an economic system where people don't have to work 75 hours a week. What's that all about to keep working, working, working, and buying, buying, buying. I think our society is changing. It has to change.
With that we need to bring this to a close. You can read an excerpt of Michael's book on our Web site, and please do. Michael, it's been such a pleasure. Thank you so much.
This transcript has been lightly edited for clarity.
For an excerpt of Michael McColly's book, click here. To e-mail Michael, click here.
Copyright © 2008 Body Health Resources Corporation. All rights reserved.