Iowa Was Fertile Ground for AIDS Activists, Who Are Hoping for Similar Success in the Granite State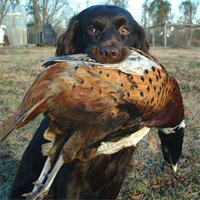 AIDS activists took bird-dogging to new heights in Iowa.
At
Update
press time, Iowans were just kicking off the long-awaited primary process for the 2008 presidential campaign, an event that merits a final shout out to the bird-doggers who exploited the presence of the candidates in Iowa for all it was worth. It was Steph Lim, a student at Iowa's Luther College, who got
Sen. Barack Obama's first pledge to commit $50 billion to fight global AIDS
.
As the Update reported way back in August, members of a group called Community HIV Hepatitis Advocates of Iowa Network (CHAIN) -- originally formed to battle the state's ADAP crisis -- spent months faithfully attending dozens of Iowa campaign stops pressing candidates to pledge support for the Ryan White Care Act, science-based HIV prevention, an end to AIDS stigma and other issues. In one emotional encounter, bird-dogger Tami Haught spoke to John Edwards at a stump stop at the Floyd Co. Historical Museum in Charles City, Iowa, about the challenges of living openly with HIV. Edwards got off the stage and gave her a hug -- and pledged to expand access to care and to end abstinence only sex education.
Just last week Haught managed to ask Bill Clinton a question while he was campaigning for his wife. "He said that Hillary's healthcare plan would make sure that everyone had access to HIV medications -- I told him that don't have the three or so years it will take to get a plan passed," Haught told the Update . Even though she held the Clinton's feet to the fire, Haught has decided that the New York Senator has her vote. Just hours before Haught headed out for the primary (into weather she called "colder than snot") she reflected that all her bird-dogging "had been an incredible experience. The last thing the candidates expected to hear about from Iowans was HIV/AIDS. It's amazing how we can change perspectives."
Advertisement
On Wednesday, Iowan Craig Bennett was part of a conference call on LGBT issues moderated by Tobias Barrington Wolff, chair of Obama's LGBT policy committee. "There were a number of comments and questions regarding marriage equality and civil and human rights. I asked Wolff to keep Sen. Obama on task regarding his global AIDS commitment," Bennett said. The last-minute bird-dogger also pushed for more clarity on Obama's domestic AIDS policy. According to Bennett, Wolff talked about the ways that cultural and societal traditions prohibit effective HIV prevention and Obama's insistence on making HIV/AIDS a priority at all levels of government.
Bennett was convinced. "After wandering around in all this stuff the candidates have thrown at us, I've decided to vote for Obama. I think he's a unifier," Bennett said. Bennett, who has been HIV-positive for 11 years, says that forcing candidates to confront AIDS issues has been mostly a good experience. "It was frustrating in the beginning, especially with the Republicans who had no information. If you asked Fred Thompson a question, you'd get nothing! But then the Democrats all signed the pledge for $50 billion and the Republicans have at least said a few things."
Keeping the Heat On
At press time, according to a Reuters/C-Span/Zogby tracking poll, Edwards had moved into second place in the Iowa contest, while Obama had taken the lead and Sen. Hillary Clinton had drifted into third. That's a potential win-win-win situation for AIDS advocates. In their responses to AIDSVote.org's presidential candidate survey, all three candidates committed to developing and implementing a comprehensive national AIDS strategy in the first year of presidency, as well as at least $50 billion by 2013 for the global fight against HIV/AIDS.
What the future holds regarding the Republican frontrunners is less certain. (For a quick chart of candidate positions, go here.) Neither Gov. Mike Huckabee nor Mitt Romney responded to the AIDSVote survey. Huckabee has a decidedly mixed record on AIDS and just last December refused to apologize for repugnant statements he made in 1992 that people with HIV should be quarantined. Romney's AIDS record could use improvement, though only last week bird-dogger Carly Pildis got him talking about global AIDS at a New Hampshire campaign event -- even if he emphasized wanting to take care of domestic problems first.
"Every time I had spoken with Romney, he brushed me off by refusing to answer, or claiming he couldn't make any budgetary promises. Last night it was clear that he was prepared to provide a more in depth answer," Pildis said. According to Pildis, Romney said that healthcare in the U.S. was his number one priority and spoke about "America's big heart," and the need to evaluate each country's situation differently. After Pildis pushed him on evidence-based prevention, "He looked troubled, and then promised to think it over," Pildis said. "I found it exciting to feel for the first time as if Mitt Romney was responding respectfully, and in an engaged way."
Pildis says she's satisfied with Democrats comments on AIDS but plans to bird-dog John McCain, Rudy Giuliani, Huckabee -- and Romney one or two more times. "I want policy commitments to end abstinence earmarks and commitments to PEPFAR. I don't know if I'll get that but at the very least I'll be giving out info and getting it into people's hands. I want to show candidates that people really care and that they can't get elected without an AIDS plan," she said.
The outcome of Thursday's primary will help guide a coalition of AIDS-issues bird-doggers who plan to spend this weekend following the presidential contenders from event to event in New Hampshire in a final effort to exploit candidate access and the media spotlight.
"Now that we've got the conversation with Romney open," said one coalition insider, "we really want to show him that domestic AIDS and global AIDS are connected, not two separate things.
Health Gap's Kaytee Riek, who will be bird-dogging in New Hampshire, wants to remind Democratic candidates who are also sitting senators about their responsibilities to get the Early Treatment of HIV Act passed (Clinton, Obama) as well as reauthorizing PEPFAR (Obama, Biden), and force Republicans to talks about AIDS in the U.S. "The Republican candidates have talked about continuing Bush's efforts in Iraq but what about his efforts on AIDS? Bush talked about funding Ryan White in his State of the Union and called to expand ADAP in 2004. The Republicans have basically been completely silent on these issues."
Stay tuned to the Update for a full New Hampshire report.