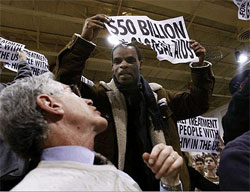 Warren in action at the McCain town hall
The big story of the presidential race this week was "comeback kids" Sen. John McCain and Sen. Hillary Clinton, but for a loose but well-organized band of East Coast AIDS and health care activists, the highlight of the Granite State primary was the weekend that preceded it. Their bird-dogging efforts and improvised demos paid off in a number of new Democratic and Republican candidate commitments on AIDS—and in particular upped the ante in the gambit to force Republicans to make fighting the AIDS epidemic central to their presidential campaigns.
"Our frustration with Republican candidates came through this weekend. They haven't promised to expand efforts to fight AIDS around the world or even mentioned domestic HIV. This weekend we expressed our anger," said Health GAP's Kaytee Riek, who helped spearhead the New Hampshire bird-dogging and found herself at the red-hot center of a contentious McCain Town Hall demo.
Veteran AIDS activist Eric Sawyer summed up the mood of the weekend when he explained why he braved Republican ire to offer a subversive "toast" at a Mike Huckabee post-debate party with the candidate present. "I wanted to get in Huckabee's face and rattle him," Sawyer said. "He needs to know he won't get a free ride."
Advertisement
New Hampshire in the Daytime
Although dozens of activists from ACT UP Boston, ACT UP Philadelphia, ACT UP New York, American Medical Students Association, Health GAP, Housing Works, New York City AIDS Housing Network, the Private Health Insurance Must Go! Coalition (PHIMGC), Student Global AIDS Campaign (SGAC) and other organizations went on missions all over the state on the first day of bird-dogging, a handful encounters stood out:
At a house party for Rudy Giuliani in Litchfield, Health GAP's Jennifer Flynn strong-armed the former AIDS-phobic New York City mayor into committing to $50 billion for the President's Emergency Plan for AIDS Relief (PEPFAR). "I grabbed his hand and he pulled it away hard, but there were tons of cameras so he smiled and listened to my question," Flynn said. "He said, 'Yes. I'll fund it at $50 billion.'" Flynn said his answer may have been a quick way to escape; nonetheless, he did say it, and gave activists ample fodder for evening bird-dogging (read on).
Members of ACT UP Boston got in questions at a massive rally for Sen. Barack Obama in Nashua. Obama said he'd address the health worker shortage by increasing pay for nurses—and nursing professors. Obama wouldn't commit to nixing the needle-exchange ban (despite the fact that he told AIDSVote.org he would, www.aidsvote.org/obama, but said he supported needle-exchange as an HIV prevention method.
Brand-new Housing Works state peer advocate Vernon Warren had his first major bird-dogging encounter outside a McCain stop in Peterborough. As the Arizona senator headed for the Straight Talk express, Warren stepped in his path and handed him information on the Early Treatment for HIV ACT (ETHA). McCain requested the information after Housing Works' Dennis Weakley asked him a question about ETHA during the Peterborough appearance. "I wasn't sure what level of aggression to use," said Warren. "But it went great."
At a John Edwards event, ACT UP New York's John Riley, Sawyer (who was in New Hampshire with ACT UP New York and PHIMGC) and Antonia Cedrone of PHIMGC dominated the Q and A with questions stressing the importance of single-payer health care. "Edwards insisted on talking about his own plan but at least we pushed him on his role in taking on drug companies," Sawyer said.
Hatching a Plan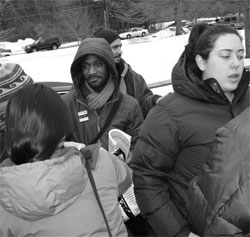 Long debriefing after the McCain demo
At 5 pm, the AIDS activists gathered at the Greater New Hampshire AIDS Project in Manchester for pizza, debriefing, and planning for the evening's post-debate candidate parties. That was when anger about the lack of Republican responses to questions about AIDS since presidential campaigning began boiled over. "I just didn't want to leave New Hampshire without stepping it up," said Housing Works State Issues Organizer Charles Long. "Clearly, shaking hands and smiling wasn't working."
Long's anger resonated with the group, which, thanks to an ingenious idea from the youthful SGACers, worked out a plan to infiltrate the Republican after-parties and make sarcastic "toasts" to the candidates for their efforts to fight AIDS. SGAC's Hayley Hathaway and Amy McPheeters printed slogans on the back of some leftover Christmas wrap and the bird-doggers split up into the "A-Team" and the "Z Team."
The A-Team's first stop was Rudy Giuliani's after-party at a generic reception hall, where they donned Giuliani stickers and clapped enthusiastically alongside hundreds of die-hard supporters for the candidate's war-mongering rhetoric. Giuliani entered triumphantly to Survivor's "Eye of the Tiger," but toastmaster Long couldn't get the spellbound crowd's attention long enough to deliver his faux-kudos. That prompted the dozen or so other bird-doggers to rush outside to meet Giuliani on his way to his car.
Riek asked Giuliani for a picture with her—which he happily posed for—then thanked him for committing to $50 billion for PEPFAR. Giuliani made the suspect claim, "We did a long time ago," and hurried off, leaving Riek and Housing Works state peer advocate Dania Sanchez to shout after him, "What are you going to do about AIDS?" and unleash a chorus of bird-dogger chanting—as well as boos and harangues from Giuliani supporters. See it all at www.vimeo.com/477615. Check out Giuliani's and other candidates AIDS records at www.gmhc.org/policy/federal/pres_report.pdf.
"We made him run!" said Chavez. "He had such a nice smile when he posed for Kaytee, but his face turned serious fast."
PHIMGC's Ajamu Sankofa, who was aghast to see Giuliani banging the drum of militarism up close, said that despite the chaos, the action had been effective. "We reached people. I had a constructive and thoughtful discussion with one of his supporters about why we were there, how Giuliani was ignoring AIDS and what needed to be done," he said.
Meanwhile ...
The Z Team braved a crowd of about 250 at Huckabee's after-party and was able to take its activist prank even further. Moments after Huckabee appeared to address his following, Sawyer stood up and asked the former Arkansas Governor if he could make a toast. "When Huckabee said, 'Why not'? I thought to myself, 'Thank you!'" recalls Sawyer. Sawyer then delivered an Oscar-worthy performance in which he thanked Huckabee for standing up for Christian values, but lamented, "I think one of the Christian values that is important is that... Jesus Christ embraced everyone, including lepers, and it hurts me as a person of faith because you said people like me, people with AIDS, should be quarantined. If I was quarantined I couldn't vote for you."
The rest of the some dozen bird-doggers began to chant "People with AIDS are dying and you're not even trying," while Huckabee tried to get back control of the floor, saying, "The great thing is that in a free country everyone has the chance to speak." Sawyer managed to ask Huckabee to recant his quarantine statement as the Z Team was escorted out. A Huckabee supporter had the last, surprisingly friendly word: "OK, wear a condom!" Hear part of the toast here.
"I wanted Huckabee to realize that there are probably people with AIDS in his fold and understand how his comments affect them," Sawyer said.
The bird-doggers were up till one in the morning sharing their stories—and astonishment at their success.
Fighting Irish
The most astonishing event of the weekend, however, was yet to come.
Buoyed by their ability to throw together an effective demo, the bird-doggers brainstormed over a Comfort Suites buffet breakfast on Sunday morning. McCain was the frontrunner and he was getting a virtually free pass on AIDS, which he had yet to comprehensively address. Virtually the whole bird-dogging crew, it was agreed, would split into groups of three to disrupt a McCain town hall meeting at three different points.
At the time, the activists might not have realized what they were getting into: The McCain event at a local high school was packed to the gills with reporters, TV cameras, students, veterans, supporters, voters, other bird doggers and a school band covering pop songs. Nonetheless, as planned, at the first major applause for McCain, the first wave of bird-doggers stood up with signs saying, "$50 billion for Global AIDS" and "Early Treatment for HIV for People in the U.S." and chanting "People with AIDS are dying, you're not even trying."
As the group left to angry boos and the occasional push, McCain surprised the crowd by inviting the protestors to return and ask a question, saying "This is the purpose of town halls: To have the exchange of ideas and views, and I don't think I've ever had a town-hall meeting where I didn't try to listen to everybody." Riek stood to take him up on his offer, but he insisted she wait until it was time for questions (and threatened her with Wilford Brimley).
A McCain staffer did indeed follow the group out to invite one of them back in, but when Chavez agreed, nothing was done to get her within McCain's sight in the standing-room only auditorium. At the same time, the second wave of AIDS bird-doggers tested McCain's patience by launching into a new round of chants. This time the crowd was more irate, chanting "Mac is back!" and ripping some of the protestor's posters. McCain chided the group, who were quickly escorted out, for disrespecting the notion of the Town Hall meeting. The McCain crew punished the remaining bird-doggers by stationing security threateningly close to them, refusing to give Riek a mic when McCain finally took her question (last) and snapping at her during her question.
Riek asked McCain if he would support $50 billion over five years to fight AIDS globally, noting that people with HIV in Zimbabwe are cut off from U.S. help, and ETHA. McCain curtly shot back "I don't know of any community organizations working in Zimbabwe that aren't corrupt. But if you can find one, then I'll look into it," touted his record on fighting AIDS and refused to commit to a funding figure. McCain added, "And I don't need to hear much from you anymore."
Check it out for yourself at www.vimeo.com/477997 or www.youtube.com/watch?v=xto4HYf3Dks. The exchanges between the bird-doggers, Riek and McCain were reported on by some 18 media outlets including blogs from the Los Angeles Times, Boston Globe and New Republic. Click here to read most of them: (1) and (2).
Despite the hell the bird-doggers caught from the McCain supporters and the somewhat negative slant from the media on the spectacle, Riek said the event was worthwhile. "We had 25 people willing to stand up to Senator McCain demanding he do more to fight AIDS. I feel like he got the message: He can't ignore this issue," she said, adding, "This is part of the process. In any campaign we start out asking nicely, but when it's clear that won't work, we have to change tactics and increase our noise. Candidates can expect more and increased urgency from the grassroots if they continue to ignore AIDS."
Meanwhile ...
While the McCain event was downright hostile, a small contingent of the bird-dogging crew was having a more pleasurable experience with Clinton at another gym in Nashua. Act UP New York's Aaron Boyle beat out thousands of others to ask the first question (carried live on CNN), in which he asked her to cosponsor the resolution which would re-affirm the 2001 "Doha Declaration" that would maintain poor countries access to inexpensive generic medication. Amazingly, after a lengthy response, Clinton committed to doing exactly that. Boyle is optimistic that Clinton will come through: In the handshake line, she asked him who else is cosponsoring. Boyle answered and directed to her own staffer who received information on the legislation. "It was exciting bringing the issues directly to the decision-makers," Boyle said.
After the action-packed weekend in New Hampshire, bird-doggers are already looking toward to the presidential debates in South Carolina next week, where, thanks in part to the state's large African American population, it won't be so easy to run away from questions about AIDS.