• LIVING WITH HIV

Aging With HIV: Not an Easy Road
You would think surviving HIV -- even AIDS -- would mean that you can rest easy. But it turns out that those who have lived 10 or 20 years with HIV, typically people now in their 40s and 50s, are facing unexpected medical complications usually associated with more advanced age. And because they are pioneers, researchers are still trying to understand some of the issues at play. This New York Times article provides a dramatic overview of the issue. (Web highlight from The New York Times)


A 19-Year-Old Man Gains Wisdom From His HIV Diagnosis
Carl is, by most definitions, living a normal life. He's in college, pays bills, has student loans. He also has HIV. There was a time when, for Carl, "not knowing was waaaay better than knowing. Because if I didn't know, I did not have to deal with the pressures …" These pressures included ostracism at home, outrageous rumors spread by his peers, not to mention his own miseducation about HIV. That was two years ago. Today, Carl embraces his HIV status, without allowing it to define him. Read excerpts from Carl's interview with Susan Levine of The Washington Post about how his diagnosis helped him, "become one with who I am." (Web highlight from The Washington Post)


Book Tackles Unique Concerns of HIV-Positive Teens -- In Their Own Words
"Managing a life-threatening and socially stigmatized illness is … even more difficult for adolescents," one of the contributing authors reminds us in "Teenagers, HIV, and AIDS," a book that describes the life experiences of HIV-positive teens. (Web highlight from The Washington Post)
• HIV IN THE NEWS

GMHC Receives Grant to Fight Meth Nationally
Gay Men's Health Crisis, one of New York's largest HIV organizations, has been awarded $303,150 to fund a comprehensive national program which will combat crystal methamphetamine use in the HIV/AIDS pandemic. Crystal has been blamed for much of the rise (13 percent since 2001) in HIV diagnoses among men who have sex with men in the United States. Crystal meth users have also been found to be more than twice as likely to be HIV infected.
• HIV RESEARCH

Sexual Satisfaction, Performance and Circumcision
Seems that when it comes to having or not having foreskin, men experience equal sexual satisfaction and perform similarly, according to a study published in The British Journal of Urology International. Circumcision of adult males has begun to be used in Africa to prevent the spread of HIV. Two studies have shown that male circumcision reduces the risk of female-to-male transmission by up to 60 percent.


Antidepressants Improve Adherence and Treatment Outcomes in Depressed HIVers, Study Says
Depression can be hazardous to your health -- unless you get help, a large study published last month suggests. The study found that people with HIV who are suffering from clinical depression miss more doses and don't respond as well to HIV treatment. But encouragingly, the HIVers who took antidepressants did just as well on HIV treatment as people with HIV who weren't depressed. The take-home message, according to the study's main author: Everyone with HIV should be screened for depression regularly, and anyone taking HIV meds and suffering from depression needs to be treated for depression as well as HIV.

Click here to read the study abstract in the Dec. 20, 2007 edition of the Journal of Acquired Immune Deficiency Syndromes.
• HIV PREVENTION

The Failed HIV Vaccine, the HPV Vaccine Hullabaloo and the Future of HIV Prevention
This issue of HHS Watch delves into the results of the latest HIV vaccine trial, looking at why the vaccine failed, and scrutinizing the political struggle over making the human papillomavirus (HPV) vaccine (Gardasil) mandatory for girls in school. The controversy over the HPV vaccine, they say, reveals how politicians may act when we finally get an HIV vaccine.

Click here to find out more about the HPV vaccine controversy.
• HIV POLICY & POLITICS

Black AIDS Institute Profiles the U.S. Presidential Contenders
Now that the Iowa caucus and New Hampshire's primary are over, millions of American citizens are scrambling to pick a presidential nominee. Wondering which of the candidates will take the HIV epidemic in the United States seriously? This report from the Black AIDS Institute discusses the policies that could blunt the HIV epidemic among African Americans and looks at candidates from both parties, reviewing what they have said and done (or failed to do) about HIV in the United States.


Will PEPFAR Be President Bush's Most Lasting Accomplishment?
Many people have said that President George W. Bush hasn't done enough in the fight against HIV. However, this article from The New York Times says that the President's Emergency Plan for AIDS Relief (PEPFAR) could be his most lasting accomplishment. Supported by Democrats and Republicans alike, PEPFAR has gotten HIV meds to about 1.4 million people and provided care to about 6.7 million people affected by HIV. While the program is far from perfect -- it requires that one-third of prevention funds be spent on the scientifically unproven practice of abstinence education -- this article posits that President Bush "spawned a philosophical revolution" with PEPFAR.
• MAKE A DIFFERENCE!

Got Complaints About Your HIV Clinic?
Do you receive free HIV care at a clinic? Do you receive free HIV medications? Two HIV advocacy organizations, the National Association of People With AIDS and the Campaign to End AIDS, are collecting input from HIVers around the United States to help improve HIV care. Your comments on this care are needed to ensure that it not only continues, but is improved! Fill out this survey now!


Positive Activists Speak Out About Ryan White Reform
HIV-positive activists were out in full force at the 2007 U.S. Conference on HIV/AIDS in Palm Springs, Calif., speaking out on the U.S. Ryan White CARE Act at an open forum public meeting. The CARE Act -- which funds HIV medical care and support for uninsured and underinsured people in the United States -- is scheduled for reapproval in 2009, and many people think it needs a serious overhaul. HIV-positive people from around the country shared their firsthand experiences with Ryan White-funded services, such as free clinics, transportation and case management. Click here to read or listen to excerpts from the meeting.

This public meeting was the third of its kind in 2007, sponsored by the Campaign to End AIDS and the National Association of People With AIDS. Input gathered at these meetings is taken back to the office of Senator Ted Kennedy (D-MA), a Ryan White ally, to help reform the CARE Act. Want to get in on the action? Host a Ryan White meeting in your own town! For more information, contact Christine Campbell of the Campaign to End AIDS at 202-408-0305 or Campbell@housingworks.org.
• HIV OUTSIDE THE UNITED STATES

Photographers Expose the HIV Pandemic in Rwanda
In a unique project, a collective of Canadian photographers is teaming with Rwandan journalists to photograph Rwandan women who contracted HIV after being raped during the Rwandan genocide, sex workers living with HIV, HIV treatment clinics and HIV prevention efforts. Andrew Stawicki, founder of the organization, says he hopes the pictures raise awareness.


Mystery of the Nile: The HIV Epidemic in Egypt
Egypt's official estimate of the number of Egyptians living with HIV is so rough that it's basically meaningless, according to UNAIDS' Egyptian officer. What is clear, however, is that the number is steadily rising. In 1996, there were officially only 160 HIV-positive people in Egypt. Today there are thousands, according to a health ministry spokesperson, and experts say the actual figure may be 10 times the official estimate. Unfortunately, little is being done to slow down the epidemic, and hardly any of the people living with HIV in Egypt have access to HIV meds. (Web highlight from Al-Ahram Weekly)

Tips and Tricks for
Coping With HIV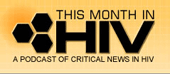 Being diagnosed with HIV can be a traumatic experience. Whether you're 15 or 55, the emotions that accompany an HIV diagnosis can be overwhelming. So can the millions of questions, small and large, that start shooting through your mind: How could this happen to me? How will my life change? Who should I tell? Will anyone still love me? Will I have to take treatment for the rest of my life?

In This Month in HIV, we've brought together four individuals to offer concrete tips for coping with HIV, whether you've just been diagnosed or you've been living with it for years.

As always, we have an assortment of options for reading or listening to this interview:
Thomas Morgan, longtime HIV activist and the first openly gay president of the National Association of Black Journalists, died last month of an AIDS-related heart attack at the age of 56. Morgan had been a reporter and editor at the New York Times, the Washington Post and the Miami Herald, and was an advocate for gay and HIV-positive journalists of color. Morgan's memorial service will be held at 2 p.m. on Jan. 19 at the Times Center in New York City. Donations in his honor can be sent to Gay Men's Health Crisis or to the New York Times' Thomas Morgan III Scholarship Fund.
"Medicine Man," 1997; Max Greenberg
Visit the brand new
January 2008 Visual AIDS Web Gallery
to view our latest collection of art by HIV-positive artists! This month's gallery, entitled "Re-Imagined Boundaries," is curated by the New York University Tisch High School Photography Program.