Note that the STEP Study data analyzed here come from a public meeting that took place November 7, 2007 under the auspices of the HIV Vaccine Trials Network (HVTN) at the National Institutes of Health (NIH). The presentation slides are viewable at www.hvtn.org/science/1107.html.
The news that a medical prevention technique had failed, in this case involving an HIV vaccine, had a familiar ring to it. Worse than demonstrating that the vaccine was ineffective, researchers feared that the vaccine actually made people more likely to acquire HIV. This was the third occasion in 2007 for such a paradoxical conclusion. (See below for the Savvy microbicide and HHSWatch March 2007 and September 2007 on the microbicide cellulose sulfate).
The vaccine trial is the STEP Study, which was cosponsored by the HVTN and the vaccine developer, Merck & Co. Merck's vaccine (MrkAd5) is composed of a type 5 adenovirus (Ad5) genetically manipulated to produce three HIV proteins. The process also renders the virus nonreplicating.
Advertisement
Adenoviruses are common cold viruses ("adeno" as in "adenoid"). Adenoviruses stand out in their ability to infect a wide variety of human cells and provoke high-level persistent immune responses. Producing vast quantities in the lab is relatively easy. These qualities make adenoviruses highly advantageous as vaccine carriers, or vectors.
Adenoviruses also present a major disadvantage: A large fraction (30%-70%) of the human population has been exposed to common strains such as type 5. Previously exposed humans have attenuated or null responses to adenovirus vaccines (Bangari and Mittal. Current Gene Therapy, April 2006). Booster vaccinations containing the same strain as the initial vaccination are problematic, too. To strengthen the response, vaccines try to overwhelm prior adenovirus immunity by utilizing massive amounts of virus, 30 billion particles in the case of the Merck vaccine. (The vaccine is administered as one primary immunization and two booster shots given one and six months later.)
And then there is a worse problem. There is no roadmap to a successful HIV vaccine. HIV has developed a number of ways to evade the immune system, and the natural immune response is rarely effective. There is some hope that a vaccine-like intervention can trigger preventive immunity: Monkeys vaccinated with attenuated SIV, the simian version of HIV, can resist subsequent exposures to natural SIV. Either they do not become infected or their virus levels are very low. The monkeys do develop long-term infections with the attenuated strain, however. The attenuated strain sometimes reverts to a pathogenic one that causes the animals to develop AIDS (Stahl-Henning et al. Immunology Letters, June 1996).
Rushing to Trial Confuses the Judgment
Merck Vice President Mark Feinberg has been widely quoted as saying of the STEP Study, "I've never seen more complicated data to emerge from a study." That's more a comment on the lack of theoretical understanding than on the actual intricacy of the trial results.
In a 2004 commentary on HIV vaccine prospects, veteran researcher Ronald Desrosiers observed, "I believe that a renewed, organized and focused effort is required to deal with [the] fundamental scientific obstacles. These problems are not likely to be overcome by repeated clinical testing of weak products that stand little chance of being effective" (Desrosiers. Nature Medicine, March 2004). Desrosiers was writing while the STEP Study was still in its planning stages. The trial's outcome has borne out his words.
Merck's monkey experiments with adenovirus-based HIV vaccines were inconclusive. In particular, the vaccine showed no ability to prevent or control infection with SIV, which remains the best available stand-in for HIV (Casimiro et al. Journal of Virology, December 2005; McDermott et al. Journal of Virology, December 2005). The vaccine in the current human trial triggers a wider immune response than the one used for the SIV study, but there could be only small hope that this vaccine would be successful in humans.
The STEP Study is officially considered a Phase II study. Intermediate in the development process, a Phase II study should test mainly safety and immune responses to the vaccine. Phase II trials usually involve a few hundred volunteers, not enough to measure efficacy. The STEP Study is an exception: The trial enrolled 3,000 high-risk men and women in the Western Hemisphere and Australia. (The men were largely MSM, and many of the women were sex workers.) A companion 3,000-person trial began enrolling South African volunteers last January. Dubbed "test of concept" trials, these studies effectively represented a jump beyond their official status into Phase III, which provides direct data on effectiveness.
The STEP Study was supposed to last five years, but it was abruptly terminated in September, after following trial participants for six to 32 months. Investigators subsequently terminated the South African trial, too. At first, it merely looked like the Ad5 vaccine was ineffective: Among the trial population with low adenovirus 5 antibody levels, there were 24 new HIV infections in the 741 volunteers receiving the vaccine and 21 new HIV infections in the 762 volunteers receiving the placebo. There also was no evidence of lower HIV levels in the newly infected vaccine recipients. The vaccine failed on both counts.
But then it gets confusing. When the investigators looked at the male volunteers with substantial pretrial Ad5 antibodies, they found 21 new HIV infections in 392 men receiving the vaccine, whereas there were only nine new HIV infections in the 386 volunteers receiving the placebo. Ironically, the STEP Study originally did not permit persons with high-level immunity to adenovirus 5. The trial organizers decided to include them -- and in the process doubled the size of the trial -- when they realized from the Phase I that these people might well have some response to the vaccine (Duerr et al. Clinical Infectious Diseases, August 2006). Their experience is important to document given the great prevalence of the natural virus.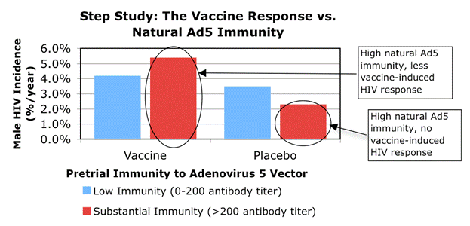 Click image to enlarge.
You can look at the data another way. The placebo recipients with high Ad5 immunity had a markedly lower HIV incidence than the rest of the trial participants (see figure). The placebo was just saline solution. Maybe exposure to natural adenovirus and the consequent immunity is somehow protective against HIV? Look again at the figure. The vaccine recipients with high Ad5 immunity had the highest rate of HIV. Their HIV incidence exceeded the rate in the vaccine recipients with low Ad5 immunity. But the high Ad5 immunity vaccinees were less likely to develop anti-HIV immune responses than the other vaccinees. The vaccine affected them less, and you would expect them to have a lower HIV incidence if the vaccine was somehow harmful.
There are monkey studies in which an SIV vaccine made the disease worse. The vaccine caused ineffective immune activation when the inoculated monkey was exposed to SIV. Activated immune cells are SIV's and HIV's favorite target, so the vaccine just made more food for the virus. Merck official Mark Feinberg conducted one of those studies five years ago when he was at Emory University (Staprans et al. PNAS, August 31, 2004). The idea has gained some currency that ineffective immune activation -- due to the vaccine's Ad5 and/or HIV components -- explains the results. Julie McElrath of the HVTN Laboratory reviewed this theory at the November 7 meeting. Immune cell activation was similar in all four subgroups of vaccine and placebo recipients. None offered substantially more "food for the virus."
Researchers have also proposed that differences between the populations with high and low Ad5 immunity explain the results. The men with high Ad5 immunity tended to be from Latin America, hence poorer and with less access to good diets and medical care. They were less often circumcised, too. You would expect these environmental differences to increase their HIV susceptibility. That does not appear to be the case given the placebo data. At any rate, about half the men in both Ad5 immunity groups had unprotected receptive anal sex, and 14% of both groups had STDs. These are the most direct indicators of HIV risk.
Throwing Dollars at the Data
The bottom line is that the vaccine did not work. The differences observed so far appear to be a statistical quirk: They do not make much sense, and they are too small to be considered statistically significant. McElrath promised a laundry list of follow-up studies and solicited ideas for more. Follow-up studies, involving smaller and smaller subgroups of trial participants, are not likely to reach meaningful conclusions. The ever-present danger is that if you keep running studies, some coincidental, misleading association will appear statistically significant. The iron laws of probability come into play here: The more coins you flip, the more the chance of an improbably long series of heads or tails.
The HVTN has now halted or delayed its trials involving adenovirus-based vaccines. First of these was the now cancelled South African MrkAd5 trial. It made little sense in the first place since the potential trial population almost entirely has strong Ad5 immunity from prior natural exposure. Also, the predominate HIV subtype in South Africa is subtype C, whereas the vaccine is based on subtype B, the kind prevalent in the Western Hemisphere and Europe. The subtype B responses triggered by MrkAd5 are less frequently active against subtype C (Casimiro et al. 12th Retrovirus Conference, February 2005).
Haste has given way to caution. $100 million 8,500-person PAVE 100 was about to begin enrollment but has been put on hold for at least six months. PAVE 100 will test a combination pure DNA vaccine plus one booster immunization with an Ad5-based vaccine. This vaccination protocol is more promising than the one in the STEP Study. Merck has tested a similar protocol in monkeys. No monkey was protected against SIV infection, but vaccinated monkeys who became infected had viral levels 30-fold lower than non-vaccinated monkeys. These results were obtained under ideal conditions, and they don't provide much optimism for this particular vaccine strategy. Still, they do suggest that some vaccines will prove better than others. The trick will be to predict which are the promising vaccines and select only those for large-scale human testing.
Meanwhile, an actual Phase III trial, RV144, will continue as planned through next June. It has enrolled 16,000 low-risk Thai heterosexuals. The population is not optimal for testing an HIV vaccine, and the vaccine has performed poorly or not at all in previous studies. (The vaccine includes a prime immunization with canarypox expressing HIV proteins plus a booster shot composed of HIV envelope protein.) RV144's rationale is highly disputed (Burton et al. Science, January 16, 2004). At the NIH, the HVTN cancelled a similar trial in the US. The military researchers behind RV144 insisted on pushing forward, though. Eventually, the NIH accepted responsibility for it. The trial's total cost exceeds $120 million.
Vaccine testing has become a scattershot process. In his 2004 commentary, Ronald Desrosier said, "While it is true that empirical trial-and-error approaches have been sufficient for the development of other successful vaccines, it is highly unlikely, based on what we know today, that this is going to be enough to make an effective vaccine against HIV-1. The major difficulties blocking development of an effective vaccine against HIV-1 are fundamental scientific questions, not issues of manufacturing, numbers of trial sites, international site preparation or validated testing procedures."
Not so Savvy After All
A further STEP Study conundrum is that only one woman in the trial out of about 1,140 acquired HIV. Receiving the vaccine did not harm them. The women notably were more likely than the men to have high natural Ad5 immunity. On a basic level, the male and female trial populations differed in their social as well as biological makeup. The women probably started out at lower risk for HIV, and they may have been more receptive to the trial's safe sex counseling.
Lower-than-expected HIV incidence has been a major stumbling block in large vaginal microbicide trials, too. The Ghanaian and Nigerian trials of Savvy were halted in 2006 for just this reason. The Savvy microbicide is composed of an experimental surfactant, or detergent, that damages viral coatings.
A year after the closures comes news that in the Nigerian trial, there was a 2.0% HIV rate among the Savvy users compared with only 1.1% among women in the placebo arm. That trial included 2,153 HIV-negative high-risk women. The HIV rates were virtually equal in the similarly sized Ghana trial -- 0.7% and 0.8% in the vaccine and placebo arms, respectively. With these low numbers, it is hard to tell whether anything substantive is going on. As with the STEP Study, one thing is clear: the product does not look promising.
There is a follow-up investigation concerning the amount of vaginal irritation that Savvy causes. The researchers have already noted that the new HIV infections in the Savvy users were concentrated in the women who used the vaginal gel more often. A preliminary safety study in women also reported increased vaginal irritation (Mauk et al. Contraception, September 2004). A study in mice further observed that Savvy's vaginal toxicities increase susceptibility to herpes, a forewarning that HIV could also increase (Cone et al. BMC Infectious Diseases, June 2006).
Cellulose sulfate. Savvy. MrkAd5. There's a clear signal here that trials are ramping up too quickly. It's bad enough if these products turn out to be merely ineffective. Volunteers who receive experimental vaccines are not eligible for other vaccine trials. Community goodwill is another casualty. The large financial investment is lost, too. Funders will shift their priorities to fields that appear more promising. These repercussions are greatly amplified if the agent in question proves to increase the trial participants' risk for HIV.
With the benefit of hindsight, we can clearly say that each of these three products was not ready for testing in large populations. But there were warning signs even before the trials began. There are also more advanced, arguably more hopeful products under development. HIV presents us with a health emergency. It is quicker -- and cheaper -- to jump over intermediate-scale testing, but only if the product does not fail.
Global HIV Medical Prevention
The US Government Pays Most of the Research Bill
Mil. $
Click image to enlarge.
Funding for HIV vaccine and microbicide research is rising rapidly. Total worldwide spending on vaccine development amounted to $933 million in 2006, a 23% increase over 2005. Total spending on microbicide development was $222 million, a 32% increase. Pharmaceutical companies, who will eventually market the fruits of this research, contributed little to the effort. For both vaccines and microbicides, the United States share was 84% of the total government investment. The part devoted to clinical trials rose even faster than total expenditures. Clinical trials received 30% of 2006 HIV vaccine funding and 43% of microbicide funding.
The 2005-2006 support for vaccine and microbicide development dwarfed the research spending on male circumcision, this period's great HIV prevention success story (HHSWatch, December 2006). Spending on pre-exposure prophylaxis (PrEP) was also modest despite years of promising monkey studies. Circumcision research spending totaled $10 million in 2006 (up 50% from the year before), while 2006 PrEP spending came to $15 million (a 45% rise). The US government again provided most of the money, with significant help from the Gates Foundation.
(Source: Building a comprehensive response: Funding for HIV vaccines, microbicides and other new prevention options 2000 - 2006. HIV Vaccines and Microbicides Resource Tracking Working Group. November 2007.)