Table of Contents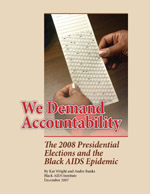 We Demand Accountability: The 2008 Presidential Elections and the Black AIDS Epidemic a publication of the Black AIDS Institute, 1833 West Eighth Street, Los Angeles, California 90057-4257, 213-353-3610, 213-989-0181 fax, info@BlackAIDS.org, www.BlackAIDS.org. © 2008 Black AIDS Institute. All rights reserved. The slogan "Our People, Our Problem, Our Solution" is a trademark of the Black AIDS Institute.
Advertisement
Views and opinions expressed in this publication are not necessarily those of the Black AIDS Institute, its board of directors, or of its staff. This publication is for educational purposes only and is not intended to endorse any political party of candidate, or to engage in lobbying of any kind not permitted by IRS Section 501(c)(3). No government funds were expended in the creation of this document. Publication of the name or photograph of a person does not indicate the sexual orientation or HIV status of the person or necessarily constitute an en dorse ment of the Institute or its policies. Some photographs in this publication use professional models.
This report was made possible by the generous support of the Ford Foundation, MAC AIDS Fund, Irene Diamond Fund and John M. Lloyd Foundation.