Tests and Monitoring
Diagnostic Tests
HCV testing is recommended for all HIV-positive people. Even if you've already been diagnosed with HIV and HCV, it's important to know how HCV is diagnosed and monitored. Unlike with HIV, a positive HCV antibody test result does not always mean that someone is chronically infected.
HCV testing is a two-stage process. The first test is usually an HCV antibody test. If the result is positive, it means that you have been infected with hepatitis C in the past, and that you may still be infected. People who have spontaneously cleared hepatitis C without treatment remain antibody-positive for years afterwards. On the other hand, antibody test results are sometimes negative even when someone does have chronic hepatitis C. This may occur if:
Your CD4 cell count is low (usually below 200), because the immune system may not be producing antibodies; or
You are tested very soon after being infected, since antibodies take 6 to 24 weeks to develop.
An HCV RNA (viral load) test is necessary to confirm whether you have chronic infection (that you have HCV). The viral load test looks for genetic material of the HCV virus in the same way as an HIV viral load test detects HIV. If you have detectable HCV RNA in your bloodstream, it means that you are currently infected with HCV. If your hepatitis C viral load is undetectable, a second test should be done six months later. If two successive test results are undetectable, then you have cleared HCV.
Table 1: Diagnostics: Acute, Cleared or Chronic HCV
Hepatitis C Viral Load (RNA Testing)
The hepatitis C virus is much smaller than HIV, and it reproduces at a much greater rate (trillions versus millions of copies per day).
People with hepatitis C often have very high viral loads -- in the tens of millions -- a very different scale than HIV.
Coinfected people usually have higher hepatitis C viral loads than people with HCV alone.
Unlike HIV, the hepatitis C viral load does not indicate or predict the degree of liver damage, nor is it used to decide when to start treatment. This is sometimes confusing, especially for people who are used to using HIV viral load as a barometer for risk of disease progression and a factor in treatment decisions.
However, the pretreatment hepatitis C viral load is one of the predictors of response to treatment. HCV treatment is less effective for people with HCV RNA greater than 400,000 IU/mL.
About HCV RNA Testing
There are two types of viral load tests. Both measure the amount of hepatitis C virus in a blood sample, using a standard measurement, international units per milliliter (written as IU/mL).
Qualitative testing is used to diagnose HCV and to monitor response to treatment, because it can detect very low levels of HCV RNA. The most sensitive qualitative test can detect a viral load as low as 5 IU/mL. Results are reported as either detectable or undetectable.
Quantitative testing measures the amount of HCV per milliliter of blood.
Quantitative testing is usually used to obtain a pretreatment viral load count. Qualitative testing is often used during diagnosis and to monitor response to treatment during HCV therapy.
Routine Tests
After a confirmed HCV diagnosis, your clinic should run a series of additional blood tests.
These include HCV viral load (for people who were diagnosed with a qualitative viral load test) and HCV genotype; tests for hepatitis A and B; full blood count (FBC) and clotting studies; liver enzyme tests (including ALT/AST, albumin, and GGT); thyroid function test (TFT); serum iron; liver autoantibodies; and liver ultrasound.
Information about these tests is included below.
HCV Genotype
There are at least six different viral strains of hepatitis C, known as genotypes, numbered from 1 to 6 in order of their discovery. Each genotype has some variations called subtypes. Subtypes are designated by alphabetical letter, also in order of their discovery. One genotype cannot change into another, but it is possible to be infected with more than one genotype at the same time, or to become reinfected with a different genotype.
It is essential to know your HCV genotype in order to plan when to use treatment and how long to stay on treatment. If your clinic hasn't done this, be more insistent. This is clearly stated as a strong recommendation in various recognized sets of guidelines for treating HCV/HIV coinfection.
Table 2: HCV Genotype by Region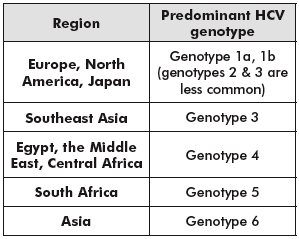 Liver Enzyme Tests: ALT and AST
Liver enzymes are proteins that have specific functions. When the liver is injured, some of these enzymes leave the liver and enter the bloodstream.
Several things can cause liver enzyme levels to increase to abnormal levels, such as liver toxicity from prescription and over-the-counter medications, herbs, vitamins, and supplements; exposure to toxic fumes; heavy alcohol consumption; acute or chronic viral hepatitis; and detoxifying from drugs and/or alcohol. Many HIV medications cause liver enzyme elevations -- usually not to dangerous levels. In some cases, people may need to switch or discontinue certain drugs. Keep in mind that liver enzyme levels often fluctuate or are persistently elevated in people with chronic HCV. It's really very high levels or dramatic changes that doctors are concerned about.
It's especially important for coinfected people who are taking antiretrovirals (ARVs) -- or any other drugs known to be hard on the liver -- to have liver enzyme levels measured routinely. Liver enzymes are measured through a group of blood tests, often called Liver Function Tests (LFTs).
Although they are often referred to as Liver Function Tests (LFTs), these tests do not actually measure how well the liver is working. Results from each test should be evaluated in relation to other information.
Alanine aminotransferase (ALT) and aspartate aminotransferase (AST) are two important liver enzymes. ALT is produced by the liver.
Increases in ALT are usually a signal of liver inflammation or damage; however, ALT is not a reliable marker for predicting whether your HCV will progress, or for indicating the severity of liver disease, since liver enzyme levels often fluctuate in people with chronic HCV. Up to a third of all people with chronic HCV have persistently normal ALT, even though some of these people have serious liver damage. ALT should be monitored routinely, since persistently increasing levels may suggest HCV progression.
AST is made in the heart, intestines, and muscles, so it is not a sensitive marker for liver injury. AST is often used to monitor liver inflammation and damage in combination with other tests.
Other Liver Enzymes, ALP, GGT, Bilirubin, Albumin and Prothrombin Time
It is important for people with HCV and HCV/HIV to undergo routine monitoring of ALP, GGT, bilirubin, albumin, and prothrombin time.
Alkaline phosphatase (ALP) is present in tissues throughout the body, including the liver. Increased ALP levels in the bloodstream are a sign of disease or damage to tissues. Medical providers can test specifically for ALP from the liver. Elevated ALP from the liver is a sign of blocked bile ducts caused by liver disease.
Some medications, including the HIV protease inhibitors atazanavir and indinavir, can cause ALP elevations.
Gamma glutamyl transferase (GGT) is produced in the bile ducts. GGT may be elevated by any type of liver disease, by heavy drinking, and some medications.
Bilirubin is a by-product from the breakdown of red blood cells. The liver is involved with processing bilirubin. When the liver is damaged, it may be unable to process bilirubin, and the total bilirubin level may become elevated; jaundice, dark urine, and pale stool are common signals of elevated bilirubin. Some drugs, including the HIV protease inhibitors atazanavir and indinavir, can cause elevated bilirubin levels.
Albumin is a protein made by the liver. It carries drugs, hormones, and waste products through the bloodstream and maintains fluid levels within the body. Abnormally low levels of albumin are a sign of serious liver damage.
PT (prothrombin time; ProTime): PT testing measures the amount of time it takes for blood to clot. When the liver is damaged, its ability to make clotting factors is impaired. A prolonged PT interval indicates decreased liver function.
Table 3: Track Your Lab Work
Screening for Liver Cancer
People with HCV-related cirrhosis are at risk for liver cancer. Regular screening can detect early-stage liver cancer in people with HCV. Usually, screening consists of liver imaging by methods such as ultrasound or computed tomography (CT), and a blood test measuring alpha-fetoprotein (AFP) levels. Screening is recommended every six months.
Liver Biopsy
"So, right now I am considering treatment because I see a lot of people dying from hep C and I've had it for a long time. My viral load is OK, my liver enzymes are OK, but we know that the only way to know the real situation is a liver biopsy. But to be honest, I am ready to start treatment tomorrow but I don't want a doctor to put a needle in my liver."
A liver biopsy is a procedure where a small sample of liver tissue is taken and sent to a lab, where the sample is examined under a microscope for cell abnormalities.
A liver biopsy is considered the diagnostic gold standard for assessing liver disease because it is the most reliable way to learn both the stage (amount of scarring that has already occurred) and the grade (amount of inflammation, which drives future scarring) of liver disease. It can also identify other causes of liver disease that are not hepatitis C-related.
During liver biopsy, a needle is inserted between the ribs and into the liver to remove a small sample of liver tissue. The procedure is uncomfortable, occasionally painful, and carries a small risk of complications (1-3%), such as puncturing adjoining organs or hemorrhage, and a much, much smaller risk of death.
Biopsy is not perfect; it is subject to errors in sampling and in reviewing. Results may be inaccurate when a sample is either too small or comes from a part of the liver that is more or less damaged than the rest. Samples need to be studied by a pathologist with expertise in evaluating liver disease. In addition, biopsy is an expensive procedure, though it is covered by Medicaid.
Biopsies are not pleasant, and many people with HCV are reluctant to have one. Still, a biopsy remains the best and most reliable way to know the level of liver damage. Luckily, reliance on biopsy as a requirement for HCV treatment is an area that is changing: some experts recognize that people with a high chance of response to treatment (those with genotype 2 or 3, or lower HCV viral load) do not need a biopsy before HCV treatment. Biopsy may be most useful for informing treatment decisions in people with harder-to-treat genotypes (1 and 4) who may be able to wait for newer therapies if they do not have serious liver damage.
A biopsy should only be performed by an experienced doctor with a good record of successful biopsies. Preferably, liver biopsy should be guided by ultrasound to reduce the chance of puncturing an adjoining organ, and to pinpoint areas of damaged liver tissue for sampling. If you are concerned about the pain, ask your doctor about your options for pain management during and after the procedure. Ask around -- it may be easier to find a good doctor by talking with people who have had a biopsy.
Researchers are looking at less invasive alternatives to biopsy (see below).
When Should You Get a Biopsy?
Having a biopsy can help you make a treatment decision by identifying how much liver damage you have. Despite the discomfort and risk of complications it involves, biopsy is still an important test for assessing the need for treatment and for monitoring HCV progression over time. It is therefore recommended periodically during chronic infection (more frequently for coinfected people compared to HIV-negative people), and especially recommended before deciding to start treatment. In untreated people, a follow-up biopsy is recommended every five years for persons with HCV alone, and every two to three years for coinfected people.
Interpreting Biopsy Results
There are different systems for measuring liver inflammation and fibrosis. All go from zero to a maximum score; the higher the number, the more inflammation or fibrosis. The Ishak scale measures inflammation on a scale of 0 to 18, and fibrosis on a scale of 0 to 6. The METAVIR scale measures inflammation on a scale of A0 to A3 ("A" is for activity), and fibrosis on a scale of F0 to F4 ("F" is for fibrosis). Guidelines define mild liver damage as a modified Ishak score of 3 or less and a fibrosis score of 2 or less, and moderate liver damage has an inflammation score of 4 or more and/or a fibrosis score of 3 to 5.

Alternatives to a Biopsy: Noninvasive Markers of Liver Disease
"I refused to have a biopsy and for years argued with the specialists, but last month I had a FibroScan using a new machine. This tests how stiff the liver is and can give an indication of the extent of liver damage. It was easy and painless.
The consultant told me I should get the test re-done every six months. Given that for a long time I'd been getting worrying results from my blood tests on an on-and-off basis, getting results from the scan were very reassuring."
There is new research to see whether results from lab tests can be used in place of a biopsy to predict the extent of liver damage. This area of research is important, as it could change how HCV is managed in the future. Recent studies evaluating combinations of these blood markers suggest they are useful for identifying serious liver damage in monoand coinfected persons, but it remains controversial whether they are ready for "prime time" (meaning: not yet a reliable substitute for a liver biopsy).
Measuring Liver Stiffness ("FibroScan")
The FibroScan is a non-invasive approach that is already showing promising results. FibroScan measures the stiffness or elasticity of the liver using an ultrasound probe on a vibrating apparatus to create waves and measure their speed. Wave speed reflects liver stiffness; the harder the liver tissue, the more rapidly the waves will pass though it. Although this scan is much less sensitive in detecting mild or moderate liver damage, it is very sensitive to severe damage and can identify people who may urgently need HCV treatment.
FibroScan is not painful or invasive. In the US, some clinics are using FibroScan to monitor people with HCV/HIV coinfection.
Non-invasive Biomarkers of Liver Disease (Blood Tests)
Combinations of blood tests are being used to assess liver damage, in both HCV-monoinfected and HCV/HIV-coinfected people. These tests are most useful for identifying or ruling out cirrhosis rather than mild-to-moderate liver damage.
Tests that have shown promising results in people with coinfection who are taking ARVs include:
SHASTA Index
FibroTest
Hepascore
Fibrometer