An Interview With Joel Gallant, M.D., M.P.H.
This is part 1 of an update of the U.S. DHHS HIV Treatment Guidelines for Adults and Adolescents. For part 2, please click here.
I'd like to welcome you to a breaking HIV/AIDS news report. On Dec. 1, 2007, the U.S. government released the first, and the biggest, part of its new HIV treatment guidelines. The second section, containing the HIV medication recommendations, is expected to be released in January 2008.
The guidelines have become the HIV treatment bible for U.S. health care providers and savvy people living with HIV. They contain a wide range of recommendations, including when a person should start taking HIV meds, what they should start with, and what to do when someone has developed a lot of drug resistance.
The guidelines are updated about once or twice a year by a panel of 35 experts. The panel consists of HIV doctors and researchers, and even a few people living with HIV. My guest today, Dr. Joel Gallant, is not only one of the top clinicians and researchers in the United States, he's a guidelines panel member. Dr. Gallant is a professor of medicine and epidemiology at the Johns Hopkins University School of Medicine in Baltimore. He's here to talk to us about the most important changes to the guidelines.
Let's start with the question of when to start treatment. Do the updated guidelines include any new recommendations?
This is probably the biggest and most important change in this revision. There's been a lot of evidence, especially from cohort studies, suggesting that we really should be treating HIV a little earlier than we have been. The previous guidelines said that we should be treating people with CD4 cell counts below 200, and that we should consider treatment in the 200 to 350 range. The new guidelines have strengthened that a bit, and now they say that we should be treating everybody who has a CD4 count below 350 and, of course, anybody with AIDS or symptoms from HIV infection. But, for the most part, the new threshold is 350.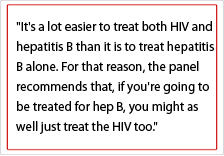 They also say that there is a group of people who should be treated regardless of CD4 count, so, even with a higher CD4 count. That would, of course, include pregnant women -- and that's nothing new. Also, people who have HIVAN, which is HIV-associated nephropathy (the kidney disease that could be caused by HIV), [should be treated regardless of CD4 count,] as well as people who have both HIV and hepatitis B and who need treatment for hepatitis B. The reason for that is because the treatment for hepatitis B is easier and more effective if you're using HIV drugs, specifically tenofovir (Viread) plus either 3TC [lamivudine, Epivir] or FTC [emtricitabine, Emtriva]. This means, in most cases, some combination that includes Truvada [the combo pill of tenofovir plus FTC] because those drugs treat both HIV and hepatitis B. You can't use Truvada unless it's a part of an HIV regimen that includes a third drug from another drug class, otherwise, you get HIV drug resistance. In other words, it's a lot easier to treat both HIV and hepatitis B than it is to treat hepatitis B alone. For that reason, the panel recommends that, if you're going to be treated for hep B, you might as well just treat the HIV too.
Then the panel points out that, even at a CD4 count of about 350, there may be benefits to therapy. The optimal time to start above that cutoff isn't really known. So they go into detail about why, in some patients with higher CD4 counts, you might consider it.
For example, in someone whose partner is HIV negative and there's concern about transmission of HIV from one person to the other, you might consider that. Although the infected person doesn't necessarily need therapy from his own point of view, treatment may reduce the risk of transmission. So that would be one example.
I think another example of a person who would benefit from treatment would be someone with a very high viral load, although the panel doesn't specifically mention what the threshold would be, or somebody whose CD4 count is falling rapidly, even though it's still about 350.
Those would be a few examples, but you have to weigh the risks and benefits. Obviously one of the reasons that we are treating earlier now is because the risks of HIV treatment have decreased. The drugs are easier, safer and better tolerated, but treatment is not completely without risks. So you have to be aware of that balance if you're thinking about starting treatment very early.
At what point was there the recommendation that all pregnant patients had to be treated? I thought there could be a treatment interruption after pregnancy.
The guidelines don't say that you can't interrupt therapy afterwards. So, really, that pregnancy issue hasn't changed very much. They just say that pregnant women should be treated to avoid perinatal transmission, regardless of CD4 count. Of course, if a woman gives birth and her viral load is undetectable and she doesn't have any side effects to the therapy, she may decide just to stay on therapy, even though she didn't necessarily need it when she started. That's just a decision that has to be made between the woman and her clinician.
Would it be called a treatment interruption, if the woman started treatment while she was pregnant and then had the baby and then decided not to continue with treatment?
Well, yes. It's a treatment interruption of sorts. It's a specific type, one that is generally considered acceptable, whereas most other types of treatment interruptions are not. But it's still a treatment interruption. You've got to wonder -- and I'm not speaking about guidelines here, I'm just speaking from personal viewpoint -- you have to wonder, given the data we have about interrupting treatment from the SMART study, whether there could be some downside to interrupting after delivery. That's just something I would talk over with the woman after she delivered. I would ask her how she was doing on therapy. If she was doing great and didn't have any side effects, and was having a good response, I would talk to her about one option just being to stay on therapy. [To read more about the SMART study, click here.]
With someone coinfected with hepatitis B you would generally treat permanently because there's a risk of hepatitis flare if you stop therapy that's effective against hepatitis B. So for most people, once they start treatment, they are going to stay on.
Anything else in the guidelines, in terms of the management of treatment-experienced patients? Was there just the listing of new drugs?
Yes, it's mainly to talk about the new drugs: Selzentry, or [known generically as] maraviroc; Isentress, or [known generically as] raltegravir; and etravirine (TMC125), which is coming out, hopefully, in January. So this has been a really important year for new drugs, I think. We've talked about this in previous interviews. [To read or listen to an interview with Dr. Gallant on Selzentry, click here.] The guidelines now discuss the data on those drugs and discuss how they can be used in treatment-experienced patients.
Just to remind everybody: A previous version of the guidelines had changed the goal of therapy. It now says that the goal of therapy for everybody is to be undetectable -- a viral load of less than 50 -- even for treatment-experienced patients. The reason for that is because of all of these new drugs -- not only the three that I mentioned, but also Prezista [darunavir, TMC114], Aptivus [tipranavir] and Fuzeon [enfuvirtide, T-20]. It's now much easier to achieve full suppression, even in people with a lot of resistance.
In the guidelines it used to say, basically, if it isn't broke, don't fix it. Now, for treatment-experienced patients, the guidelines say, if there's some problem, maybe you could switch. Meaning, there's a lot more leeway now, because there are so many choices.
Yes. And of course, like you say: "If there's some problem." If there's a problem, then it may be broke. I think it makes a lot of sense to consider drug switches in people who are not completely satisfied with the regimen they are on because of either complexity or toxicity or side effects. Given the choices, as long as that decision is made carefully and the switch is a good one, I think it makes sense to consider those kinds of switches.
For many years, the guidelines were a step behind what the savviest HIV specialists were doing. Do you think the guidelines have caught up to practice?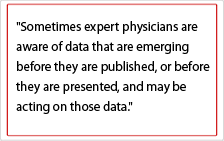 I think there will always be the potential for them to be a step behind true HIV experts because you have got to figure, first of all, that the panel relies on solid clinical data. Sometimes expert physicians are aware of data that are emerging before they are published, or before they are presented, and may be acting on those data. Then you have got to figure that the panel has to convene, and has to write the guidelines, has to develop agreement for guidelines. So there could be a delay. I would say the guidelines change pretty rapidly, and I think they are very responsive to new data. But there will always be the potential for an expert with real good knowledge of the data to be a step ahead.
Now, that being said, sometimes people who are acting on the most recent data can be wrong. We have all seen it. There have been examples where things that seemed like a good idea turned out not to be such a good idea. So there is an argument for going a little bit slowly with new data.
Could we go through some of the other important changes, step by step?
Sure.
There's a "What's New" document included in the guidelines. The first thing in that list was the drug resistance testing recommendation.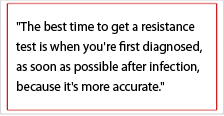 The main difference there: The guidelines, in the past, have recommended that everybody get baseline resistance testing before treatment. But in the past, they sort of hedged on it and said that you should get a baseline resistance test if you're about to start therapy. I think a lot of people recognized that that may not be the best approach. We know that the best time to get a resistance test is when you're first diagnosed, as soon as possible after infection, because it's more accurate.
The new guidelines now say that you should get a resistance test as soon as you find out you're HIV positive, even if you're not going to be starting therapy right away, and that you should just save the results of that resistance test, and then consider the results when it's time for you to start. I think we all agree that that probably makes a lot more sense, because that way, you get the most accurate test possible.
Wasn't there a fear that a genotype would tell you little about someone who was infected 10 years prior to entering care? The person could have archived resistance, but it wouldn't show up by the time they entered in care.
Well, that's exactly the concern, that the longer you wait, the more likely you are to miss something. There's not much we can do about it. If somebody gets diagnosed 10 years after they are infected, all you can do is get the test and just understand that it may not be reflective of the true resistance profile and that there's not much you can do about that right now.
There are people working on more sensitive resistance tests that could look for archived resistance, or resistance precedence in lower quantities. But right now, those tests aren't commercially available. So it's just an argument, I think, for making sure that people get tested and diagnosed early, and then that the resistance test be performed.
The next new thing in this document is the tropism assay.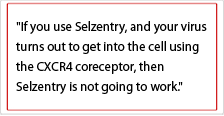 That recommendation came out because of the approval of Selzentry, or maraviroc, which is the new CCR5 inhibitor. Really, this is a unique drug, in the sense that you really have to do this test before you can use it. If you use Selzentry, and your virus turns out to get into the cell using the CXCR4 coreceptor, then Selzentry is not going to work. So you need to do this tropism assay to find out if your virus is what we call R5 tropic, meaning that it uses the CCR5 coreceptor. If you have pure R5-tropic virus, then this drug is much more likely to work.
So the tropism assay is recommended for anybody who's about to start Selzentry. It could also be considered for people who fail Selzentry, to find out whether they failed due to a tropism shift, or due to some other reason.
One curiosity about the recommendations in the treatment guidelines is that something could be recommended, but insurance, ADAP or clinics will not have it available because it's too expensive. I don't know if that's still true about this test.
This would be a good example, because this is a very expensive test. It's almost $2,000, more than even a phenotype assay, and many clinics are not doing phenotype assays. So it's unclear what's going to happen with this test, because just the fact that it's in the guidelines doesn't necessarily mean that there's a way to pay for it. In a way, you could say the guidelines are kind of an unfunded mandate. It's going to depend on individual clinics, individual states, what kind of Ryan White issues they have, what their percentage of people with private insurance is, etc.
You could certainly use this as an argument if a private insurer doesn't want to pay for it. I would also add that Monogram, which does the test, does have a patient assistance program. Although I don't have all the details with me, in a situation where a patient has no way to pay, it doesn't necessarily mean they can't get this test done. [To find out more about the Monogram patient assistance program, call Monogram's Gateway line: 1-877-436-6243. To read more about tropism tests, click here.]
The next test -- I think it's the first time it's mentioned in the guidelines -- the HLA?
Right. HLA-B*5701: This test has been around for a little while, but recently, especially at the Sydney meeting in summer, our summer, there were some really good data showing that the HLA-B*5701 test is a very good test for predicting whether you're going to get the hypersensitivity reaction to Ziagen, or [known generically as] abacavir.
If the test is positive, you're very likely to have this [hypersensitivity] reaction and you shouldn't take the drug. If the test is negative, you're very unlikely to have the reaction. It's not impossible, but it's much less likely.
So it's now recommended that anyone who is going to start abacavir -- and that would include Ziagen, Trizivir [AZT/3TC/abacavir] or Epzicom [abacavir/3TC, Kivexa] (lots of names for the same drug, or drug combination) -- anybody who is going to take that should get this test done first. If it's positive, you should not take the drug and it should be recorded as an abacavir allergy in your record. If it's negative, you can go ahead and take the drug and just be aware that there is still a very small chance of having the hypersensitivity reaction.
This test, unlike the tropism assay, is not very expensive. So, hopefully, this won't be a major problem for most clinics. [To read more about this test, click here.]
Would you say it's available in most clinics today?
Yes. It's available through the standard commercial labs, like LabCorp and Quest, which a lot of the clinics are using. It can be done in other labs, as well. So it's a pretty available test right now.
But there's no point in taking the test if you already have taken abacavir.
Yes. If you've taken abacavir and you've tolerated it, or if you're taking it now and you're doing well, there's no reason to do the test, because you have already shown that you are not hypersensitive to it. If you're not going to use abacavir, there's probably no reason to do the test.
The guidelines panel is recommending that this test be specifically used if you're going to start abacavir, just like you'd do a tropism assay if you were going to start Selzentry. So it's not a test that everybody with HIV needs to get.
People can't develop hypersensitivity to abacavir while they are on it, is that right?
You do develop it while you're on it, but it's something that occurs within the first few weeks of therapy. If you get through those first few weeks, you're not likely to have this problem.
So, to sum up, what is the biggest difference between the new HIV treatment guidelines and the old treatment guidelines?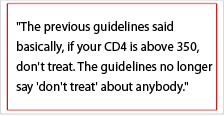 For me, the biggest change here, even though it may seem like a subtle one, is the strengthening of the recommendation for when to start, and really saying that 350 is now the new threshold. Also, just giving more leeway for earlier treatment. The previous guidelines said basically, if your CD4 is above 350, don't treat. The guidelines no longer say "don't treat" about anybody. They just say you could consider treatment. But they don't really come out and say that there's a type of patient that should not be treated.
Are there any clinical studies starting that will be looking particularly at when to start?
Well, there are attempts to start a study. I think it's called the START study, in fact, and will be a large randomized trial comparing earlier therapy to more standard initiation of therapy. It's kind of controversial. Some people don't think we need that sort of study. They think it's expensive and it's going to take years to get the results, and we already sort of know.
Other people think that the data we have so far are not really definitive because they come from observational studies instead of clinical trials. So there's this debate. But if the trial does get funded, and if it does enroll patients, it's going to be years before we have the results. And we can't really sit around in the meantime and wait for those results.
So I think it's appropriate that we act now, based on the data we have, even if the data are not perfect. If you just look at the risk/benefit ratio of therapy, it's increasingly the case that the benefits are outweighing the risks for a lot of people. The risks have gone down, the evidence of benefit has gone up, and for that reason we're becoming a little more aggressive.
Thank you very much, Dr. Gallant, for taking the time to talk with us.
My pleasure, Bonnie.
To view a PDF of the guidelines, click here.
This is part 1 of an update of the U.S. DHHS HIV Treatment Guidelines for Adults and Adolescents. For part 2, please click here.