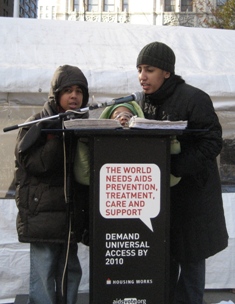 Annette Lacoot, a Housing Works employee, reads with her son Cenque, 11, and daughter Symphony, 5.
An eerie cacophony of voices filled Manhattan's City Hall Park on World AIDS Day last Saturday, as five people at a time read names of those who have died of AIDS at Housing Works' somber, yet uplifting 13th-annual 24 -hour "Reading of the Names Vigil." Despite the bone-chilling December temperature, hundreds of Housing Works staff, clients and volunteers, as well as city and state officials, participated in the event, which carried the theme "We Can End the AIDS Epidemic with universal access to Prevention, Treatment, Care and Support."
Every hour two people read, in English and in Spanish, a call to action that reminded attendees that the Housing Works vigil was not simply about remembering those who have died but to alert the powers that be that no one else need die of AIDS or get HIV: "We read their names to tell the Mayor of our City, the Governor of our State, the President of our Country, and all of the presidential candidates that people with AIDS are still dying and are still in need of real leadership to bring this epidemic to an end once and for all. We are within reach of this goal. And today we stand before the world with new knowledge, new hope, and new dedication."
Advertisement
People like Myra Johnson took that message to heart. "We have to keep up awareness that people are still dying," said Johnson, a recent Housing Works job training program graduate who was diagnosed with HIV in 2000. "We shouldn't be teaching abstinence-only education because it's not working. And I'm reading names to put a face on the diagnosis."
Daniel Alford, a Housing Works client diagnosed just this year, agreed. "There's not enough real education and there's willful ignorance. I want to show it's not a stigma to have the virus, and that you have to be safe and think about your choices," he said. "I was blown away when I heard all the names."
Housing Works President and CEO Charles King was in San Francisco delivering a powerful speech about how the gay community has abandoned the struggle to end AIDS. ("I don't believe it is just a coincidence that the larger gay and lesbian community walked of the battlefield when AIDS clearly became a black disease," he said in the speech. "It was no longer us who was perceived to be dying. It was 'other', and other is always dispensable.") But King still opened up the Reading of the Names at midnight via a cell phone held to one of the five microphones forming a semi-circle on the south side of City Hall Park.
New York 1 News and WNYC both broadcast live from the vigil. Check out NY1's in-depth story here.
The vigil wasn't Housing Works' only World AIDS Day-related event. Housing Works and Gay Men's Health Crisis held a street corner press conference announcing the launch of AIDSVote.org, a voter and candidate education project intended to turn the heat up on the '08 presidential candidates, just a few days prior to the global commemoration. "This year World AIDS Day is this Saturday. But you could say that the real World AIDS Day will be next year, on Election Day," said Charles Long, Housing Works openly HIV-positive state issues organizer, said at the rally. "This is the most important election in the history of AIDS."
It's Important to Remember the People Who Died Senselessly
In the afternoon, New York Health Commissioner Richard F. Daines and City Comptroller William C. Thompson Jr lent their voices to the chorus of names-readers. After reading, Thompson told the Update, "Some would look at this as a day of celebration, and it's not. It is a day of awareness, of rededication, of looking at the situation. The sheer enormity of the names being read is the perfect way to focus on people, to remind us: Those are real people who have died over the years."
Before Daines read names, he was greeted with an impromptu focus group of Housing Works clients, who talked to him about everything from expanding benefits for poor people with HIV to the AIDS crisis in Puerto Rico. "People always come to me and talk about housing or transportation, and I think, 'But I'm the health commissioner.' But I realize all of these issues are interrelated," said Daines, who became a doctor at the beginning of the AIDS crisis.
Gina Quattrochi, CEO of Bailey House, said the Reading of the Names reminds her why she fights so hard to end HIV/AIDS. "This event always forces me to think back about all the people I've lost in my life," Quattrochi said. "We've gotten so complacent thinking about HIV/AIDS. But it still impacts millions of people. Hearing all of the voices touches me in a way other events don't."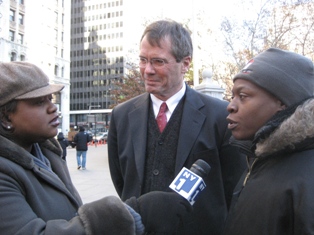 Daines and Johnson talk to a NY1 reporter.
"It's important to remember people who died senselessly," said Linney Smith, Senior Vice President of Prevention and Support Services at Housing Works, who has attended every Reading of the Names. "I was reading the names of all the clients and staff who died, and then I got to (Housing Works' founder) Keith Cylar's name, and I just started to cry. These people were such a special part of my life, and they died because of government doesn't have the will to end this epidemic. No matter how cold it is, I'll be there until there are no more names left to read."
Dozens of World AIDS Day events happened in every city and presidential wannabes also used the moment to release statements on AIDS. But despite all the ceremonies and speeches and statements, it's important to remember that the 20th annual World AIDS Day isn't a benchmark we should be proud to have reached. "I don't want to do this next year," said Housing Works director of New York City policy terri smith-caronia. "I hate that the list grows longer every year when it doesn't have to be like this. But we keep coming back because we have to tell the world that they need to find the political will to end this epidemic."