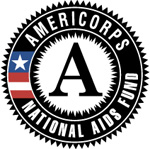 The year was 1993, and Bill Clinton was in office putting into law legislation that created the Corporation for National and Community Service. This legislation in turn created AmeriCorps, a new addition to national service programs already in place, such as VISTA (Volunteers in Service to America) and the National Civilian Community Corps (NCCC).
Since then, the motto for AmeriCorps members has been "Getting Things Done" -- whether those "things" may be painting an old recreational center or volunteering with the mentally ill. There are literally hundreds of programs that people can get involved with based on their personal service interests.
Just one of these many programs is the National AIDS Fund AmeriCorps/Caring Counts Program, the first program to focus exclusively on HIV care, education, and prevention. The National AIDS Fund (NAF) Program has been around since 1994, and is generously supported by the Corporation for National and Community Service and the MetLife Foundation. In addition, NAF currently has AmeriCorps sites in seven cities around the U.S. -- Chicago; Indianapolis; Detroit; Washington, D.C.; Tulsa, Oklahoma; Charlotte, North Carolina; and new in 2007, Albuquerque/Santa Fe, New Mexico -- each having 5-12 members.
Advertisement
Goals
One of the main goals of the NAF Program is to recruit and retain young, motivated, energetic people to the field of HIV. More than 25 years after the virus made its first appearance in the U.S., funding for prevention and treatment has shrunk painfully, and the sense of urgency and panic has often faded into feelings of ambivalence and indifference outside of the HIV community. All of this in the face of a pandemic that does not show any signs of slowing down. So when the activists of the early days are no longer able to fight the battles necessary to win the war against AIDS, and the most influential generations of the future (Gen. X, Y & Z) are being seduced by the worlds of dotcoms and pharmaceuticals, who will be left to carry the messages of the more than 40 million people worldwide fighting for their lives? Hopefully the NAF Program has some practical solutions to this problem.
The preceding is one of the long-term goals of the program, but there is also a very real and immediate impact that the program was forged to accomplish -- filling service gaps that have resulted from the drastic cuts in U.S. funding, both private and federal, over the past decade. Very simply, for each AmeriCorps member, this means "giving up" 11 months of your life for service, but for some agencies on the brink of closure, this translates into one more year of providing service to forgotten populations. I use the term "giving up" because many people from my generation (the generation that sees life in terms of résumé builders and 401k's) see service to another, especially coupled with little money and typically no recognition, as a waste of time. I hope that after you read this article, especially if you are under the age of 35, you will no longer see it that way, but rather will view it as an opportunity to have a hand in ending this public health crisis.
Stipend
Enough of the soap box -- and on to the benefits of being an AmeriCorps member! Most AmeriCorps members receive a modest living allowance, and all members completing a full-time term of service are eligible to receive a $4,725 AmeriCorps Education Award. Additional benefits include health insurance, child care coverage, and forbearance of student loans. Luckily (or unfortunately) this means that after taxes, members fall below the federal poverty limit, which entitles you to certain government benefits such as food stamps, which last year in Chicago amounted to approximately $152 per month.
Professional Development
For those of you who are unapologetic résumé builders, here's a perk for you -- unless you have a degree in social work or the like, you will likely never have the opportunity to do this type of work on a paid or unpaid basis. People in this program perform a range of duties including HIV testing and counseling, case management support services, and community outreach, just to name a few, and are entitled to training opportunities to the tune of 340 hours throughout their service. This training includes an HIV 101 certified training provided to you at the pre-service meeting, where you will travel (courtesy of the MetLife Foundation) to meet the other 40-plus members across the nation doing the same type of work. So if you have ever been frustrated with being told you do not have enough experience to get a job, but without a job you cannot gain experience, this program effectively solves both problems.
Just in case you are still skeptical, I spent the last two years of college knowing that I wanted to work in HIV, but having no clue as to how I was going to convince people to give me a chance. All I had was a degree in an unrelated field, and passion (not enough these days as many of us know all too well). After two years of service and training, I am currently employed by the State of Wisconsin's HIV/AIDS Program, helping to coordinate the ADAP (AIDS Drug Assistance Program) and Insurance Subsidy Program.
Okay, so one person "made it," big deal. On the contrary, in recent years, members have been able to leave this AmeriCorps program and walk into case management jobs, non-profit coordinator jobs, academic labs studying various effects of HIV, and professional programs all over the country. At the end of the day, the NAF Program is a résumé building tool, complete with practical training and professional development. But there is also the added bonus of walking away from your 11 months of service with something you may not have expected -- a greater sense of social consciousness.
My Story
For the past two years, I have been a member of Team Chicago. During my second year in the program I was placed with an agency that most of you will be familiar with if you have read the cover of this magazine, Test Positive Aware Network (TPAN). My year with them was their first as a National AIDS Fund AmeriCorps/Caring Counts Program host agency, and with the help of an inspiring supervisor and a steep learning curve, you can be sure they will be around for a long time with this program.
Four days a week I spent working with clients, coordinating a positive buddy program and conducting HIV test counseling, among other duties. On the "fifth day" of the work week, the seven-member team ventured into the broader community, volunteering with other CBO's (community-based organizations) not necessarily in the field of HIV. The team mentality of the NAF Program is part of what sets it apart from most other AmeriCorps Programs, which place individuals in a volunteer position with no other AmeriCorps members on site.
Besides the obvious rationale of team member support, the model also benefits the community in a significant and lasting way. Team members work collaboratively to imagine, design, and implement a long-term project that promotes volunteerism and raises community awareness of HIV/AIDS.
This most recent year, Team Chicago's brainchild was a latex and leather fashion show and prevention event called Project Latex. With the support of local area leather and specialty shops, we put on a fashion extravaganza with over 20 models and more than 40 designs. In addition to the fashion, we also had condom demonstrations, spoke about risk reduction, and hopefully put a new spin on prevention that uses humor in place of conventional fear. With the success of the pilot year, there are future projects currently in the works that will continue to spread messages of hope and education through a non-traditional medium.
Years ago as a college student embedded deep in democratic (and sometimes socialist) culture, I spent hours on end debating, complaining, and threatening revolution. One day, instead of just listening, a professor of mine who had spent a good portion of the '70's protesting the Vietnam War said very quietly and prophetically, "Action is the language of change."
Leslie lives with her husband in Madison, Wisconsin, and works for the state of Wisconsin as an HIV Client Eligibility Specialist for the State ADAP and Insurance Programs. Prior to her AmeriCorps service, she graduated from Lyman Briggs College at Michigan State University with a bachelor's degree in Human Physiology and minors in Bioethics and History/Philosophy of Science. She is originally from Toronto, Ontario.
To learn more, go to www.aidsfund.org/AmeriCorpsCaringCounts. To become part of AmeriCorps, visit www.americorps.org, where you can search for specific programs such as the NAF program, or choose a program based on your personal interests. Contact the National AIDS Fund directly to get more information about the application process for program year 2008-2009 (rolling admissions begin January 2008). E-mail Maggie Cunha at mcunha@aidsfund.org or call (202) 408-4848, extension 202.