An Interview With Harold Kessler, M.D.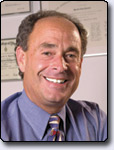 Harold Kessler
Harold Kessler, M.D., is a professor of Medicine, Immunology/Microbiology at Rush University Medical Center in Chicago, where he has an HIV practice, and is a supervising clinician at the CORE Center, a joint venture between Cook County and Rush University Medical Center for the treatment of HIV patients. He is a nationally-known and well-respected researcher and clinician who has worked in the field since the early days of the epidemic.
Matt Sharp: We seem to be having a resurgence in treatment success today, especially in people who have run out of options, people like me who have been treated for many years from the beginning of the epidemic and have been treated sub-optimally due to HIV resistance. I know you see patients like me. Are you seeing success with patients in your clinic?
Harold Kessler: Absolutely. I think you correctly pointed out we see two types of patients who have failed prior antiretroviral [ARV] regimens.
Advertisement
The first are those who are long-term survivors who were treated early in the epidemic, and who unfortunately through our ignorance at the time, were treated with a series of monotherapy treatments. Obviously we started with
AZT
or other nucleoside [
NRTI
] options as they became available, then we began to explore the use of combinations, dual [NRTIs] which seemed to be superior to monotherapy treatment. We then moved into the era of
NNRTIs
[non-nucleosides] and PIs [
protease inhibitors
] and began to develop a true appreciation of the need to use multiple classes of drugs, not just multiple drugs, to effectively treat HIV disease.
The second group of patients are those who have had failures of their prior antiretrovirals who have not been able to take their medications on a consistent basis. This happens for a variety of reasons, the two most common of which are either side effects of the medications, which make it impossible for them to take them on a reliable basis, or individuals who have challenges in their life which have made adherence difficult. Either situation which leads to poor adherence can result in the failure of the ARV regimen.
So that's really what we are faced with today in our clinic. As you pointed out there are patients like you who were treated very early in the epidemic, with what is referred to now as sequential monotherapy, and who subsequently developed viruses which are resistant to multiple medications and multiple classes of medications. It has been difficult to construct effective regimens for these patients. This has significantly changed in the last 12-18 months with the development of two exciting new classes of compounds, the entry inhibitors, such as enfuvirtide [T-20] and the CCR5 inhibitor maraviroc [Selzentry], and the first of the integrase inhibitors, raltegravir [Isentress] and elvitegravir.
The first drug in the new classes of drugs, T-20 [Fuzeon], made a significant difference for patients with multiple-resistant HIV, especially if we could partner it with another active drug. We know now that to be effective in treating any type of HIV infection -- whether it's naive [never before on therapy] or failing [treatment] infection -- we have to put together at least two active drugs, preferably two or more in order to effectively suppress HIV replication. T-20 came along at a time when we really didn't have highly effective second agents to partner it with to get a fully suppressive regimen. Now we really are in a situation where we have these newer classes of drugs which are making it much easier for us to develop regimens with two or more active agents, which has really changed the entire paradigm for treating failure.
As you might be aware, the guidelines to reflect these significant changes were changed in the last 12 months in terms of what our goals should be for treating a failing patient -- now we have our primary objective to get the virus suppressed to less than 50 copies -- and I think thankfully now with the two new classes of drugs we seem to be there. And the good news is that these new drugs are much more tolerable in terms of their side effects profiles, and they are pharmacologically more friendly in terms of their dosing schedules.
MS: Okay, if you had a patient now who came to you who needed to get their virus under control and had not used T-20 but yet had options to not use T-20, I guess you would think of them individually, but what is your decision about using T-20 in these patients?
HK: There is nothing magical about T-20. It's a perfectly excellent drug and we have to think about it like we would think about any other drug to which the virus is not susceptible. The first cut on our decision-making is to think about the drugs that are available to us that are active against this virus. The next issue we have to come up with is that we have two or more of those drugs to utilize in a regimen, and third is what the tolerability and the effects on the activities of daily living are for this particular individual when designing that next regimen. If T-20 needs to be used to be one of the active drugs, then I would not hesitate to use it. If we can design a regimen which is a completely oral regimen with relatively well tolerated drugs then it doesn't have to include T-20. I don't want to think about T-20 any differently than any other drug, other than the fact that it has to be injected.
MS: Some of the most exciting recent data showed that use of Prezista and T-20 with Isentress showed up to 98% undetectable viral load responses. How would you balance the decision to treat to maximize response based on all these new drugs? Or would you weigh on the side of practicality?
HK: The first cut is always to get the most potent regimen, and the second is to evaluate that regimen and make sure the patient can tolerate it. Therefore if I have to use a drug that's injectable I'll use it, otherwise if I have oral drugs I'll use them first. I think the fact that we now have PIs such as darunavir [Prezista] and tipranavir [Aptivus] which have an expanded resistance profile, in other words a greater likelihood that virus will be susceptible to [these drugs] than it is to the other PIs, along with maraviroc, along with T-20, along with raltegravir, which is available through expanded access, we start to think now about new regimens which may not even include drugs from the older classes. The other drug that we may be remiss in not mentioning is etravirine, or TMC-125, the new NNRTI which also looked excellent in combination with darunavir [DUET study] in a highly-resistant patient population. So it's quite exciting and we really need to think about not only the drugs we talked about but etravirine as a new expanded spectrum NNRTI in designing our new regimens.
MS: The understanding is that etravirine is nearing FDA approval.
HK: As far as I know, raltegravir is nearing final approval and etravirine will be following close behind.
MS: Okay. Let's talk about maraviroc. There has been some concern about the safety of this compound, but the data thus far shows that it's pretty safe. I guess there is unknown concern with the tropism shift and if it's real. Would you expand upon what we understand and what your feeling is about maraviroc.
HK: The first concern is that this is a drug that targets the host, not the virus -- it's a totally different paradigm in thinking about the drugs. It inhibits the CCR5 receptor on human cells, not on the virus. The receptor is an important target in relationship to normal immune function, so some of the concerns have been about using a drug which theoretically could have immunosuppressive properties, which would be counterintuitive [for] use in treating an infection which causes immune suppression. In fact, from the earliest stages of the development of maraviroc, at least looking at in vitro assays to determine its effect on immune function, it was not shown to be immune suppressive. Studies in mice suggested that maraviroc may have some impact on normal host defenses against herpes virus infection. In humans there has been a suggestion that for individuals who are deficient in part of the CCR5 molecule, there may be an increase in risk of symptomatic West Nile virus. But beyond that we really don't have many current data suggesting long-term adverse outcomes with maraviroc. On the other side of the coin, we are very early in our clinical experience with use of the drug. There continues to be some caution in the infectious disease and HIV-treating community in getting longer term safety data on the use of maraviroc. But so far, as you point out, the safety profile is excellent, and there has been quite extensive scrutiny by the FDA on the current data which suggests it is very safe. So I think maraviroc is a very important drug for us to be using in patients with multi-drug resistant virus. The question is whether maraviroc should be used in naive patients. Based upon one data set that we have available it did not seem to perform as well in naive patients when compared to a Sustiva- containing regimen. Some of the difference may have had to do with the way the study was designed in terms of non-inferiority. That's kind of a statistical technicality that we'll have to take into consideration.
One of the key aspects of the use of maraviroc is that we have to determine that the virus that we're going to treat utilizes exclusively the CCR5 co-receptor to gain access to cells. The assay that's currently available to do that is called the Trofile test developed by Monogram Biosciences. It's an assay which uses a technology similar to the phenotype resistance test. One of the concerns about the assay is that it's very expensive -- somewhere between $1,700 and $1,900, and the assay suffers from limitations in sensitivity, just like the phenotype test. We know that the phenotype assay does not recognize small sub-populations of virus which are resistant to HIV drugs, something less than 10% of the whole population of all the viruses in the body. Those can be missed by the assay. It looks like the Trofile assay may be missing 8% of small sub-populations which are not CCR5 virus [and] therefore are resistant to maraviroc. In some cases we may do the Trofile assay and place the patient on maraviroc and not see the result that we'd hoped to see because we probably missed some of these sub-populations. Monogram is working on an enhanced sensitivity assay, but for now we have to use the drug with the knowledge that 8-10% of the time we may not succeed with maraviroc because of these minority sub-populations, much in the same way we may not always succeed in choosing our next regimen based upon the result of a phenotypic assay, because we may be missing sub-populations which are resistant in the assay.
MS: Are you having issues in reimbursement for the Trofile assay?
HK: I haven't because I haven't ordered one yet. In terms of third-party payment, I believe that it's being covered. I'm not quite sure of the status of public aid. My guess is it will also pay for it, but that will have to be verified.
MS: Let's talk about HIV resistance with raltegravir and maraviroc. What do we know thus far?
HK: The resistance to maraviroc we know very little about at this point in time. It's more a question of whether a virus is CCR5-using.
In terms of the resistance to the integrase inhibitors, it appears resistance can take one of two different resistance pathways. One pathway seems to be more common for raltegravir and the other for elvitegravir based on in vitro data. It seems to require more than one mutation to develop resistance to one of the integrase inhibitors, but it may take as few as two mutations to become resistant.
There was a recent small study designed to determine if patients who had become resistant to elvitegravir could be treated with raltegravir to look at cross resistance in this class. Based on in vitro data the hope was that you could treat patients who were resistant to elvitegravir with raltegravir. Unfortunately, after the first two patients in this small pilot study were enrolled it was shown that neither one of them had any meaningful antiviral response so the study was stopped. It looks like we're going to be dealing with significant cross-resistance within this class, at least with the first two drugs in this class.
MS: Are there other integrase inhibitors in development that you're aware of?
HK: Yes, I know that Merck and Gilead have follow-up compounds, and I'm sure there are some other ones out there that I don't know about. There was an integrase inhibitor being developed by GSK [GlaxoSmithKline] that didn't pan out.
MS: Can you comment on the safety profile on the two new classes, besides what we mentioned already with maraviroc?
HK: You can talk about both the tolerability and safety, as they go hand in hand. Both of the new classes seem to be extremely well tolerated, and when you look at safety compared to the comparator arms they are either identical or better. Importantly, the newer drug classes seem to have very favorable lipid profiles, which of course is always a concern for us in terms of long-term potential cardiovascular effect. We do not have long-term safety data so we have to remain diligent in continued monitoring for any as of yet unrecognized adverse events.
MS: Right, and if the safety and efficacy hold out in these drugs and if there are more studies looking at them in naive populations, would you foresee both of these drugs being used in first-line therapy?
HK: I think there is every likelihood that we may get to a situation that we get to a NRTI regimen, for example. The combinations are endless. You can talk about TMC-125, in combination with darunavir. There's a compound coming along called rilpivirine [TMC-278] which is another NNRTI that is a companion drug to 125. The difference is that rilpivirine is going to be a once-a-day drug compared to etravirine, which requires twice-a-day dosing. Therefore, you have a once-a-day NNRTI with a higher genetic barrier to resistance than efavirenz [Sustiva], which you could combine with a once-a-day PI, such as the new data on darunavir 800 mg boosted with 100 mg ritonavir, which could be a highly effective regimen without having to use NRTIs. You could also have new triple-combination compounds like Atripla, because you could potentially co-formulate ABC+3TC [Ziagen plus Epivir, or Epzicom] with one of these new drugs like rilpivirine, or combining with a PI such as atazanavir [Reyataz]. I think the combination potential is quite promising. These new drugs will not only have an impact on patients failing their antiretroviral therapy, but also the naive population down the road.
MS: One of the things that struck me at ICAAC in reviewing the posters on new drugs was that I became aware that there are more new drug developments in the co-receptor and integrase realm. It kind of shows us where we're at with drug development today.
HK: Yes, it's all good news. Recently, I wrote a blog on clinicalvillage.com, which is a website for HIV treaters. It's a wonderful site for treaters to interact with their colleagues. It's kind of like a MySpace for HIV treaters. The blog was titled, "Do we really need any new HIV drugs?" Again, I think we're at a point in time where it's wonderful to have these new drugs. We need them because there are individuals who are going to be challenged in taking their drugs, and are going to have the potential to develop resistance. But in reality we have enough new drugs now that if we get them to the people who really need them, and work hard with those individuals and choose those individuals carefully to take the existing drugs, we probably have the drugs available to treat 98% of HIV-infected people.
I think it's gratifying that we're continuing to see developments of new drugs, because the rewards to the pharmaceutical indusctry in terms of the return on their investment is becoming much more challenging. As there are more and more drugs, and as people are doing better for longer periods of time on their initial regimens, the potential market for these newer drugs become smaller and smaller. Thankfully, the pharmaceutical companies continue to forge ahead to investigate new classes of drugs and new drugs from existing classes. So I think the news is all very good for us.
MS: In the early days we had only one or two drugs to consider, and it's clear today we've come a long, long way.
HK: It's phenomenal, it really is!