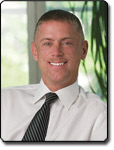 During a recent trip to San Francisco, I had the opportunity to visit the National AIDS Memorial Grove in Golden Gate Park. My partner and I rented bikes, and spent several hours riding through the park. It was a perfect day, and in addition to the bike ride, we walked through the rose garden, sat by the lake, and took in the sights. We stopped at Ocean Beach, ate lunch, and on our way back, we happened upon the Grove.
The Grove is situated in a beautiful section of the park known as de Laveaga Dell, which had once fallen into a state of disrepair. According to their website, it was "conceived in 1989 by a small group of San Francisco residents representing a community devastated by the AIDS epidemic, but with no positive way to express their collective grief. They envisioned a serene place where people would come alone or in groups to hold memorial services, to remember among the rhododendrons and redwoods. It was to be a place dedicated to all lives touched by AIDS."
In 1996, Congress and President Clinton passed the National AIDS Memorial Grove Act, marking it as the first national AIDS memorial. It is a place for people to remember, to grieve, and to honor those whose lives have been touched by HIV/AIDS, without fear of stigma or reprisal.
Advertisement
I peered over the tops of the trees, and down into the dell. I was caught off guard as tears began to suddenly well up in my eyes, and I briefly reminisced about a few of my friends who I have lost to this disease.
I thought of my friend Eugene. His dreams of becoming a dancer were cut short by AIDS. I remember his wide grin, his salty humor -- even his voice, which to this day I can still hear, clear as a bell. I wondered why I didn't make more of an effort to go visit him after he became really sick.
I thought of my friend Ian. It was the 1980's, and it was one of the last times I visited him in the hospital. I remember he was sitting up in bed, his body riddled with KS lesions. He had by that time become bitter and angry, and rightfully so -- back then there were virtually no treatments that might have helped him. Feeling helpless, in my infinite wisdom, along with my unique sense of timing, I suggested he might want to borrow one of my Louise Hays books. I was startled when he snapped back that he "didn't believe in that crap."
I thought of my friend Carl. There couldn't have been a sweeter guy than Carl. Always soft-spoken, he could at once charm you and put you at ease with his sexy, southern, Kentucky drawl. He never had a bad word to say about anybody, not that I recall anyway. Why did he have to die so young?
I thought of my friend Larry. Larry was a gifted, dedicated and hardworking individual, who came to TPAN as a volunteer in the agency's resource center. Although he suffered from constant pain due to his neuropathy, he rarely complained about it. He insisted that he never once had unprotected anal sex, and was adamant that he had gotten HIV through oral sex. He was estranged from his family, and died in a hospice not far from my house, alone. I had left his side only hours earlier.
I thought of my friend Lou. Lulu was a dear friend, and my mentor. He taught me pretty much everything I know about music, deejaying and working a crowd. I moved to Chicago because he had offered me a job. By the time he developed AIDS, I was one of only two people he would allow to come to his home to visit and care for him. He shut himself off from his entire circle of friends, for whatever reason -- fear, stigma, stubbornness. He came to me in a dream the other night, and he looked healthy, whole and happy. I guess he wanted me to be sure I knew he was all right.
So many more friends, and yet there was so little time to reflect upon them all. It was getting late, and we had to get back to the hotel and pack our bags. While we could not stay at the Grove for very long, I left feeling a sense of renewal, and vowed to revisit the Grove the next time I was in San Francisco.
I am proud to live in a country where there is such a beautiful, living memorial, a safe space where we can pay tribute to those who we've lost to HIV/AIDS. I only wish I could have had more time.
For more information visit www.aidsmemorial.org