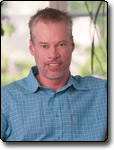 Photo © by Russell McGonagle
I was recently flown to Washington, D.C., by the AIDS Treatment Activists Coalition (ATAC) to present open public testimony at a Food and Drug Administration (FDA) hearing for the approval of Isentress (raltegravir), an integrase inhibitor, which is a new HIV drug class (see also News Briefs). This is the first integrase inhibitor that had reached this far in drug development and I was to be giving my own personal history about this drug to the FDA and Merck, the drug's maker, and an unbiased panel of experts. The purpose of the hearing was to scrutinize the available data and recommend or not recommend approval.
It wasn't like the testimonies you see before Congress on CNN, those distressed people pleading for some issue before the legislative twangs and glasses-hanging-off-noses, representing various constituencies from across the country. But I felt in somewhat of a twilight zone, amazed that so much history had passed since HIV drugs have been in development. At least for me, I felt passionate and sure about this new drug, and I was committed to telling my story.
I had testified in front of the FDA before, and had appeared on the "panel of experts" in the community role. But this was different as I was telling my story about a new HIV drug that was actually helping to keep me alive. I have come a very long way with this disease called AIDS and it was surreal that I was even alive to be there at all.
Advertisement
As an activist I also felt conflicted about this experience as I never want to appear as if I am "promoting" or favoring one drug over another. But this was different and I was happy to tell my story in order that others could share my experience, and hopefully support the panel in a favorable vote to approve the drug.
For about three hours the FDA Antiviral Advisory committee grilled Merck about particular points as the myriad of study data was presented. The company rebutted with a repertoire of over a thousand slides at their disposal, confidently poised and answering in the shortest responses possible.
Clearly the clinical trial data for this new drug spoke for itself and it was clear that the road was paved for approval. At that point I wasn't sure what my testimony would add to the day. This new drug was the first in a long time to work to bring treatment-experienced people to undetectable and out of the woods, especially if they added another new drug they had not used before. It is the highlight of a new treatment phenomenon in HIV.
There were no clear safety issues and few drugs that would interact with Isentress. In speaking on behalf of this drug, knowing that I had remained undetectable for over a year on it -- for the first time in 20 years living with HIV -- I felt no qualms about its approval, and knew that my story would bring a personal affect to the hearing, a face to the story, a period at the end of a sentence.
I was given a place to sit in front of the general audience for the "open public hearing," where I was allowed two minutes to give a five-minute speech I had prepared a few weeks beforehand. When the time came I was nervous, despite the fact that public speaking is my specialty. Speaking about myself, in front of scientists and government officials, cameras and even reporters, especially for the approval of a drug that will hopefully save thousands with few options, was a bit intimidating. My mouth was dry, and I couldn't catch my breath. I had my reading glasses on to see the written speech but that prevented me from seeing the audience. I was looking at a bunch of bureaucratic blurs.
I finished in my time allotment without the federal officer hauling me off the microphone and felt relieved once again that I could do my two cents to help save a few lives. It was a relief knowing my point had been made.
The vivid evidence that this new drug was one of the brightest lights in the last several years of HIV drug development was just too compelling for the panel. Despite some issues about the final wording on the indication, and some valid concerns around malignancies reported early on in the studies, the panel voted unanimously to approve.
I had followed the development of Isentress since before it even had a name. I waited for access knowing I needed this new drug, and I anticipated success like so many times before when the drugs ended up failing. Speaking in Washington to simply tell it like it is was icing on the cake, because after all these years of struggling to survive I was actually a part of the success.
See, advocacy is not that hard at all.