A significant portion of this year's International AIDS Society Conference was devoted to current developments in the area of HIV prevention -- specifically, those that have come to be known as biomedical prevention. Unlike traditional prevention strategies, such as the promotion of condom use and the knowledge of one's own HIV status, biomedical prevention generally involves strategies that are more deeply rooted in medical science, requiring more rigorous and heavily scrutinized study in clinical trials before they are approved for use among the general population.
All photos of IAS 2007 Conference courtesy of International AIDS Society.
In addition to discussion about recent trials involving HIV vaccine candidates (the original attempt at biomedical prevention, which have been slow coming and often disappointing in their development), the IAS Conference this year focused on four other emerging and innovative technologies that are gaining momentum around the world -- pre-exposure prophylaxis (PrEP), male circumcision, microbicides, and HSV-2 (herpes simplex virus type-2) suppression.
Advertisement
PrEP
Clinical trials that are currently exploring the safety and efficacy of PrEP involve the use of currently approved anti-HIV medications -- Viread (tenofovir) in particular. In these studies, antiretrovirals are prescribed to high-risk HIV-negative people in an effort to prevent the onset of the virus in the event of actual exposure.
Trials are presently underway in several countries, including Thailand, Botswana, Peru, Ecuador, and the United States, most of which are safety trials. The study in Thailand, which is specifically looking at the use of PrEP in intravenous drug users, appears to be furthest along, with preliminary data projected to be available in the spring of next year and a final analysis expected the following year. There is also a safety trial being developed in that country which explores the use of Viread as an alternative prevention strategy for women.
The trial in Botswana is looking at both heterosexual men and women, while trials in Peru and Ecuador are exploring the use of PrEP in men who have sex with men (MSM).
Researchers are very optimistic about these trials for a number of reasons. "Number one," explains Dawn Smith, M.D., MS, MPH, a principle investigator for PrEP clinical trials conducted through the U.S. Centers for Disease Control and Prevention (CDC), "is that there is biological plausibility.
"We know that these drugs have concentrated levels in the genital tract, which is where the majority of the world's transmission occurs. We know that it works in animal models. We know that PrEP works for post-exposure prophylaxis [after exposure to the virus]. And we know that safety was demonstrated in the FHI [Family Health International] trial that has already been completed."
Smith stressed the importance of preparing for the implementation of PrEP even before trial results are in because, she says, we've never had a biomedical prevention method such as this one in the U.S. Therefore, she explains, the CDC will need adequate time to prepare for it. And even if by some small chance these trials prove to be ineffective, this planning will still be useful for "the next biomedical intervention, whether that be microbicides or vaccines," she said. "So it's not a wasted exercise in that event."
Smith argues that the most important advantage to PrEP, aside from the fact that it may work for more than one type of exposure, is that it is the first opportunity to get high risk people in for periodic risk reduction counseling and HIV testing.
Microbicides
Hope for an effective prevention method that women, in particular, can control was dampened at the conference when news regarding the failure of a once promising microbicide was presented. Data from two studies showed that Ushercell, a microbicide containing 6% cellulose sulphate, did not protect women against sexually transmitted HIV infection, and suggested that it may have even contributed to an increased risk of HIV acquisition.
Microbicides are anti-HIV substances, in the form of creams or gels, that can be applied to the vaginal or rectal areas in an effort to prevent HIV infection. There are currently no microbicides approved for use, however, there are a number of them being studied in clinical trials.
Ushercell showed no signs of potential harm in pre-clinical testing, and was considered to be acceptable to the women in the studies, causing minimal side effects when used vaginally.
A large-scale phase 3 study of the microbicide that was being conducted in Benin, South Africa, Uganda, and India was stopped in January 2007, however, when an interim analysis revealed that more women who were actually using the gel had become infected than those using a placebo gel. These findings also led to the pre-mature termination of Ushercell trials in Nigeria, though upon analysis of these studies, the women enrolled in this country were experiencing an opposite effect (which researchers did not deem statistically significant).
Scientists are still uncertain as to what may have been the cause of these disappointing findings, but speculate that there may have been inflammatory reactions to the gel, and/or localized immune dysfunction or disruption of the normal vaginal flora as a result of frequent cellulose sulfate use. Extensive testing is currently being done to accurately determine the cause of failure.
Male Circumcision
Three randomized controlled trials conducted in Africa have shown that male circumcision reduces the risk of HIV acquisition in heterosexual men. However, because circumcision is not a universally feasible or acceptable prevention strategy for various reasons, the promotion of genital hygiene -- which includes washing the uncircumcised penis after vaginal intercourse -- has been suggested as an alternative.
A study of 2,552 uncircumcised men conducted in Rakai, Uganda, however, showed that cleaning the penis after vaginal sex does not protect men from HIV infection. In fact, the study found that the men who washed with soap, as well as those who washed a few minutes after having sex, were at highest risk for acquiring HIV.
Dr. Fredrick Makumbi, a researcher from the Makerere University Institute of Public Health in Uganda who presented the study at the conference, believes that this could be for two reasons: 1) failure to thoroughly dry the penis after washing with soap results in wetness of the mucosal area, which increases the likelihood of cells becoming inflamed making the uncircumcised man more vulnerable to HIV infection, and 2) washing the penis too soon after sex could remove enzymes found in vaginal fluid that help to neutralize HIV.
And, while circumcision as a prevention strategy has not been a popular topic among MSM, interesting data was presented about the use of the procedure among this high-risk population. On the one hand, a study that explored the willingness of MSM living in South America to participate in circumcision trials yielded a favorable response (meaning they were willing to go through with it), but a separate study conducted in Sydney, Austrailia found no difference in the risk of becoming infected with HIV between circumcised and uncircumcised MSM. So, the verdict is still out on the benefit of circumcision for MSM.
Finally, an additional study that examined the adverse effects of circumcision on HIV-positive and HIV-negative men in Uganda found the procedure to be equally safe in both populations, though more of the HIV-positive men had not fully healed 30 days out from the operation. This difference could be the result of weaker immune systems among HIV-positive men.
HSV-2 Suppression
Data presented from a 30-month randomized study conducted in Tanzania by researchers from the London School of Hygiene and Tropical Medicine showed that treatment with acyclovir, a medication used to treat HSV-2 (also known as genital herpes) infection, does not protect women against HIV.
These findings came as a shock to many, including the researchers themselves, considering that the relationship between HSV-2 infection and the risk of acquiring HIV has been well established. In fact, a recent study found that HSV-2 infection increased the risk of HIV acquisition by three-fold. The National Institutes of Health (NIH) also estimates that nearly half of the people in the U.S. who are living with HIV are also co-infected with HSV-2.
All photos of IAS 2007 Conference courtesy of International AIDS Society.
We also know that HSV-2 outbreaks in HIV-positive people tend to last longer and have more severe symptoms than in HIV-negative people. Studies have shown that HSV-2 infection is also associated with an increase in HIV viral load in the genital fluids.
This particular study recruited 820 "high-risk," HIV-negative women who were infected with HSV-2 into a placebo controlled trial using a daily oral dose of 400 mg of acyclovir. The women were randomized to either acyclovir or placebo and followed up with at three monthly intervals, during which time they were provided with further study treatment packs, condoms, safer sex counseling, and HIV testing.
There was no significant difference in the HIV incidence between the women in the two arms, and researchers also found only modest decreases in the amount of HIV present in the genital secretions of these women on long-term therapy with acyclovir.
Though adherence was monitored through pill counts and random urine tests to check acyclovir levels, and information about the importance of adherence was given to the women, researchers suggested that poor adherence was likely the cause of the disappointing results. The data showed that only about 50% of the women in the treatment arm had 90% or better adherence to acyclovir, with only 19% taking between 75-90% of their doses.
Also presented during this session was a study conducted by the U.S. military, which revealed a high prevalence of HSV-2 among U.S. military personnel, and a strong association between HSV-2 and the risk of HIV infection among those studied.
Recurring Themes and Discoveries
It is important to note here that many researchers at different periods throughout the conference made reference to a couple of critical discoveries about HIV prevention in general, that have come as a result of the process for developing these biomedical interventions.
The first of these is that in order for effective research and implementation of biomedical prevention technologies to take place, there must emerge a stronger relationship between the world of science that is behind them and the community-based organizations that have their hands on the pulse of the people for whom they will benefit most.
This realization comes as more and more physical scientists begin to collectively understand what social scientists have been saying about HIV for years -- it is just as much a social problem as it is a biological one. In fact, HIV infection is usually directly related to one or more social problems, including but not limited to disparate access to quality health care, poverty, homophobia, sexism, and racism.
Dr. Smith from the CDC put it this way, "If we fail to plan to deal with the disparities (associated with HIV infection) and the causes of these disparities, then we will have much less impact on the epidemic than we might have otherwise."
Further support for this idea is provided by Dr. Somyot Kittimukona of the Thailand Bureau of AIDS, TB and STIs, Department of Defense in her discussion of PrEP.
"Unlike a vaccine, which might be reasonably offered to the general public, PrEP is only going to be cost effective if it can be targeted successfully to high-risk individuals," she says, "and these are individuals who are HIV negative. They are not self-identifying as patients, they are self-identifying as members of the community ... and I think it's going to be our community-based organizations that will have the best information, the most sophisticated information, about where these people can be found, how they can be identified, and how best to counsel them."
The other finding of medical researchers, as more clinical trials are developed for proposed biomedical prevention strategies, is that an integration of several proven strategies must become common practice.
So, for instance, if a consenting adult male in Uganda undergoes circumcision in order to reduce his risk for HIV infection, he should still be encouraged to make condom use during intercourse a part of his regular sexual routine. By the same token, women who understand that their risk of contracting HIV decreases when their male partners are circumcised, should be encouraged to also use microbicides when they are made available.
This leads us back to our primary recurring theme of the conference -- the importance of the relationship between scientist (both medical and social) and community-based organization, because it is mostly the work of the CBO's to debunk myths and promote prevention.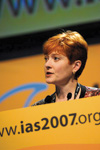 All photos of IAS 2007 Conference courtesy of International AIDS Society.