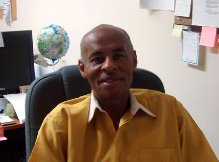 Will Parrish at his desk at Recovery Consultants of Atlanta
Will Parrish says he habitually shared needles with other users before activists started the
Atlanta Harm Reduction Center
, the city's first and only syringe exchange program, in the early 90s. "We would keep the syringes in a jar, and we would pick the one that we thought was sharpest, because it wouldn't hurt," Parrish says. Now four years in recovery and an outreach worker at
Recovery Consultants of Atlanta
, Parrish credits the Atlanta Harm Reduction Center for keeping him HIV negative. Now, he agitates with a brand new activist group, the Georgia Prevention Justice Alliance (PJA), to demand that the county legalize and fund syringe exchange.
"We have one syringe exchange program in Atlanta that has operated for the past 13 years," Parrish says. "I was there when they first showed up, and they needed people to look out for when the police would come around." While volunteering as an outreach worker about five years ago, he says, "I got locked up myself because I had a bag of unopened syringes. I spent 15 days in jail."
While the center is still an underground effort, he says, it has a better rapport with the local precinct now. "They don't arrest the workers, but it's left to their discretion whether they'll arrest the users." This shaky but relatively workable trust relationship would have to be built anew, precinct by precinct, if the program expanded to other neighborhoods.
Advertisement
Georgia is consistently in the CDC's top ten states of reported HIV and AIDS cases, and Atlanta is the state's epicenter. The PJA's
briefing paper
argues that one-third of HIV and nearly all
hepatitis C
transmissions in the county could be prevented with improved access to clean syringes. But the county has ignored the overwhelming body of research showing that syringe exchange is highly effective in reducing the spread of HIV and viral hepatitis among injection drug users and their partners, without increasing injection drug use, drug-associated crime, or the number of discarded syringes.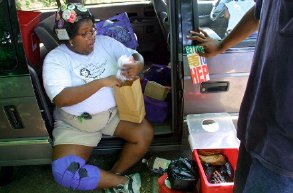 Outreach worker Mona Bennett, who has worked with Atlanta Harm Reduction since its founding, distributes clean syringes and collects used ones for proper disposal.
"It's unconscionable that these volunteers, who are well-respected in local communities by neighborhood and religious leaders, and even local police, have to risk arrest every day," says longtime AIDS activist Jeff Graham.
"The PJA started in March 2007, and we've come quite a ways already," Graham says of the new activist group, which also includes students of the health professions from Health Students Taking Action Together (HealthSTAT). The PJA has begun to build support for its campaign by asking local organizations to endorse a sign-on letter detailing its demands. "After a decade or more of really no concerted effort around HIV prevention advocacy, there have been so many organizations and individuals getting involved in this local effort, and also to support this national mobilization."
Graham is inspired by working with a mix of new and veteran activists, both in his hometown and in the national Prevention Justice Mobilization that will converge there the first week of December. "I remember the impact on local organizing as hundreds of AIDS activists came to the CDC to protest twice in 1990. That helped give birth to a local movement that was incredibly successful throughout the 90s, not only around HIV, but in including LGBT issues in other social justice movements."
"There's a lack of information and awareness of how bad the HIV crisis continues to be in Atlanta," Graham says, explaining that new HIV infections in the city are disproportionately among people of color -- 81% Black, 4% Latino. "I hope that this national mobilization can have a long-lasting result in the local community."
As for spreading the word that syringe exchange works, Will Parrish is the right person for the job. "I used for over 32 years, and I've been blessed to remain HIV negative," he says. "I attribute that directly to syringe exchange and the harm reduction process of educating us about the dangers we were facing. And I know many others like me. It didn't cause us to use -- we were already using. It allowed us to use safely. In the end, it got me into treatment. I can't do anything but advocate for syringe exchange programs, because I'm living proof."