•

LIVING WITH HIV

Do My Boyfriend and I Need to Worry About Superinfection?
I got HIV from my boyfriend of two years -- I was just diagnosed last week. We are in a monogamous relationship and don't use condoms. Since he's the one who infected me, we figure that we have the same strain of HIV and we can still have "bareback" sex. Does that logic work?

New research on HIV superinfection published earlier this month suggests that superinfection might be more common than experts have long thought and may take place years after a person was first infected with HIV. Click here to learn more.
•

HIV TREATMENT

I'm Resistant to Many Drugs and Considering a New Regimen
I've been on HIV treatment for about 20 years and have tried several different regimens. My viral load consistently hovers around 1,000, and I'm worried I may have developed resistance to a lot of HIV meds. How can I use my complex treatment history to decide which HIV meds to try next?


Can Taking HIV Meds an Hour Early or Late Cause Drug Resistance?
I take my HIV meds consistently, but sometimes I end up taking my single dose of Atripla (efavirenz/tenofovir/FTC) an hour earlier or later than usual. I've never missed a dose, but I've been told that taking HIV meds at different times increases the risk of developing drug resistance. Is this true?


What to Do When Viral Load is Undetectable But CD4 Count Remains Low
My husband has taken his meds faithfully since he was diagnosed with HIV a year and a half ago. Today his viral load is undetectable, but his CD4 count is still only 170. How can we raise his CD4 count? Could the immune booster interlukin-2 help?


Is Isentress a Good Choice For First-Line HIV Treatment?
I was recently diagnosed with HIV, and I'm already thinking about which HIV meds I want to take when my doctor says it's time. I've seen a lot of publicity about the new drug Isentress (raltegravir, MK-0518). Is that a good choice for someone who has never taken HIV meds before?


How Serious Is a CD4 Count Drop of 300 Points in Three Months?
I was infected with HIV a year ago, and was diagnosed just three months ago. Since then my CD4 count has fallen 280 points (from 700 to 420) and my viral load has risen from 10,000 to 40,000. My doctor suggests that I start HIV meds. Should I be concerned?
•

COMPLICATIONS OF HIV & HIV MEDS

Does Marijuana Cause Mental Illness?
Dr. Bob: You sometimes discuss smoking medical marijuana as a way to help cope with certain HIV-related health problems. But aren't there dangers in smoking marijuana as well? I've heard that it is linked to mental health problems such as depression.


All My Tests Are Normal; Why Am I Still Fatigued?
I'm battling fatigue, and I don't know why. My doctor ran a bunch of tests and they all came back normal. I have an undetectable viral load and a CD4 count of 200. I take an antidepressant and Provigil (modafinil) to combat fatigue. Why am I still tired all the time?


Kaposi's Sarcoma Not Responding to Chemotherapy
I've had Kaposi's sarcoma for more than three years. I've been through three rounds of chemotherapy, but it hasn't helped. Now I'm about to start my fourth round of chemo, and my doctor says if it doesn't work, we may have to try radiation next. I'm so frustrated because nothing my doc has done so far has worked. Is it time to get a second doctor's opinion?
•

HEPATITIS

My Hepatitis C Is Back!
I completed 14 months of hepatitis C treatment. I achieved an undetectable hep C viral load, but four months after I stopped treatment, the virus showed up again. What can I do now to treat this virus?


Diagnosed with HIV and Hepatitis B at the Same Time
My uncle was recently diagnosed with both hepatitis B and HIV. Are there treatments that work against both infections?
•

HIV TRANSMISSION & TESTING

Is HIV Vaccine Research Doomed?
I understand that the failure of Merck's HIV vaccine might have something to do with its use of adenovirus, the kind of virus that causes the common cold. Are the other vaccines being tested likely to have the same flaw, and therefore the same eventual failure? Is the Merck vaccine's failure going to be a huge setback for HIV vaccine research in general?


How Risky Is Swallowing an HIVer's Pre-Cum?
I'm recently diagnosed and just began a new relationship. My boyfriend is negative, so I don't let him swallow my semen when he gives me blow jobs (oral sex), but a lot of precum (pre-ejaculate) seeps out before I ejaculate. It gets in his mouth when he is giving me oral sex and on his stomach and thighs when we are cuddling. Is this risky?


Could I Have Caught HIV by Touching a Condom?
I had protected vaginal sex with an HIV-positive woman. As I pulled out, I touched the condom with my hand for a moment. Later, I put my hands in my mouth. My gums may have been bleeding. Could I have contracted HIV?


Testing for HIV: How Do ELISA and PCR Differ?
I've heard of two types of HIV tests: ELISA and DNA PCR. What are these tests and how are they used?
•

STRANGE BUT TRUE

A Hangnail Tale
I had a small hangnail that made contact with some watered-down blood on a wet towel. Do you think I got HIV?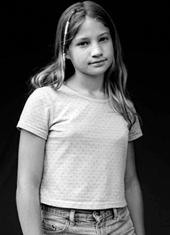 "When I was in the second grade ... there was a girl named Kailey in my class," Lesley recalls. "We were going outside to play Duck-Duck-Goose one day for free time, and I wanted to be her friend 'cause she was new. I told her that I had HIV, and she told her mom that night when we went home from school.
"'I don't want you hanging around that girl,' her mom told her. ... And then the next day, when we played Duck-Duck-Goose, whenever I went to hold Kailey's hand to make the circle, she said, 'Oh, I don't wanna touch your hand. My mom told me I can't.'"
Lesley's story is one of many inspiring, yet often heartbreaking, recollections by young people growing up with HIV in the United States.
Click here
to read them all.
Be sure to visit
TheBody.com's World AIDS Day 2007 home page
for a host of event listings, personal stories, podcast interviews and much more!
"Papi Chulo #5," 2003; Gregory Veney
Visit the
November 2007 Visual AIDS Web Gallery
to view our latest collection of art by HIV-positive artists! This month's gallery, entitled "Mnemonic Provocations," is curated by Mario H. Ramirez.