Bush Sez Speaker Pelosi, Dems Must Cut Labor-H Budget -- Hey Pelosi, Why Not Cut Ab-Only?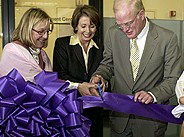 Just make the right cut ...
When President Bush vetoed the Labor Health and Human Services appropriations bill Tuesday, he told Congress to find programs to cut. We have just one enthusiastic recommendation: The shocking $176 million Congress approved for programs that teach abstinence-only sex education.
When Speaker Nancy Pelosi (D-CA) took control of the House, we expected a progressive voice who would champion science over politics. Instead, Pelosi oversaw a $28 million increase in Community-Based Abstinence Education funding in hopes of winning enough Republicans to support a veto-proof Labor HHS appropriations billl. Never mind that abstinence-only programs have been proven ineffective at reducing sexually transmitted infections and teenage pregnancies and completely ignore LGBT youth who can't get married (for a dose of outrage over the funding check out this Indianapolis Star op-ed).
Advertisement
What did Pelosi get for her pains? The House was still three votes short of withstanding a presidential veto, and, as of press time, the chance of an override looks slim to none.
But despite the heartbreak of the increase in abstinence-only funding, there are critical dollars for HIV/AIDS in the HHS bill, such as $84 million for the Ryan White CARE Act, including $33 million for the AIDS Drug Assistance Program (ADAP), $6.2 million to HIV Prevention at the Centers for Disease Control and Prevention (CDC), and $1.1 billion to the National Institutes of Health (NIH), and we can't afford to lose that funding.
Though a veto override seems highly unlikely, contact your representative and tell him or her when they have make some painful cuts, one decision should be easy: eliminating the $176 million for abstinence-only sex-education funding. Pelosi particularly needs to get a (wake up) call.
You can reach Senators and Representatives by calling the Capitol Switchboard at 202-224-3121 and asking for them by name. To find out who your Senators and Representative are, click here and type in your zip code in the space provided. You can also e-mail your Representative directly by going here and typing in your zip code in the space provided.
To view the roll call vote in the House, click here.