Way back in 2000, Sen. Clinton unequivocally endorsed lifting ban on needle exchange funding. Will she stick to it in '08?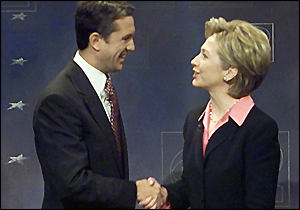 A lot has changed since 2000: Has Clinton's position on needle exchange?
Several weeks ago, the Update delved into the mystery of Sen. Hillary Clinton's position on lifting the federal ban on funding for needle exchange, a proven HIV prevention method. This week, we turned up a compelling -- and promising -- piece of evidence that suggests that "President" Hillary Clinton might do the right thing and end the pointless and harmful federal needle exchange restrictions.
Thanks to a tip, the Update hit the archives of the defunct LGBT paper LGNY in an effort to dig up an interview it did with then-Senate candidate Clinton in October 2000. In that interview, Clinton was asked about her position on needle exchange. She replied, "I think that we should go with the science and the science has been pretty clear on this ... [I]f the states and localities are willing to do it, the federal government will support it."
Advertisement
When LGNY asked whether that support would include "specific federal dollars earmarked for needle exchange," Clinton stated unequivocally that it would.
"That's a shift from current Administration policy," LGNY observed.
"It is," Clinton acknowledged.
Back to the Future
The LGNY article is somewhat reassuring to needle exchange advocates who were disheartened by a bird-dogging clash this spring between Housing Works president and CEO Charles King and Clinton. Clinton hedged on the issue, telling King, "I want to look at the evidence on it," referring to the effectiveness of needle exchange in preventing the spread of HIV without increasing illicit drug use. If so, said Clinton, "states and localities should have the option of doing it." (Sparks flew when Bill Clinton's decidedly mixed track record on needle exchange came up.)
Political Director of AIDS Action William McColl said the comments in LGNY could be used to Clinton's advantage, showing that she is reconnecting to past leadership on the issue. "Clinton would show real leadership if she were to strongly recommit the federal government to evidence-based HIV prevention," said McColl. "It's the right thing to do and it's a good time for her to say so."
Nonetheless, the pressure is still on the '08 frontrunner. "Clinton should clearly and unambiguously say that as President she will lift the ban on Federal funding within the first 100 days of taking office," King said. Bill Piper, the Director of National Affairs for the Drug Policy Alliance, echoed that sentiment: "What really matters is what Senator Clinton says now. And right now she has yet to say she'll repeal the federal syringe ban if elected President."
Insiders say Clinton will outline more specifics of her domestic AIDS plan by World AIDS Day. Here's hoping lifting the ban on needle exchange funding is a part of it.