A Dozen Activists Arrested in High-Profile Street Protest Demanding U.S. End Puerto Rico's AIDS Nightmare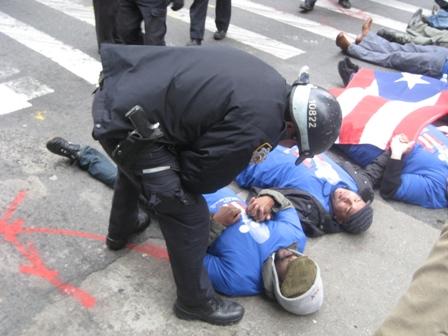 Long and Guaylupo talk to a cop after stopping traffic.
It was everything you could hope for in a protest.
After staging a spirited press conference in lower Manhattan's Foley Square decrying U.S. neglect of Puerto Rico's worsening AIDS crisis, about 50 AIDS activists marched the short distance to Broadway and Worth streets. A dozen brave souls wearing blue T-shirts bearing a ghostly skull superimposed on a Puerto Rican flag paused for a red light, then lined up across Broadway holding up signs reading "Health and Human Services Must Act Now. People with AIDS in Puerto Rico are Dying." And then they waited for the cops.
It took New York's finest a while to arrive, giving the activists -- supported by Housing Works, UDCAS New York, CitiWide Harm Reduction, Harm Reduction Coalition, New York City AIDS Housing Network, Gay Men's Health Crisis, Washington Heights CORNER Project and ACT UP Philly -- plenty of time to chant "Puerto Rican AIDS Crisis, Save Lives Now," and make their point about U.S. inaction in the Commonwealth.
Advertisement
The goal of the protest was to pressure the Health Resources and Services Administration (HRSA), the division of HHS that oversees HIV/AIDS in all U.S. states and territories, to take over the dispersal of millions in Ryan White CARE Act funds in Puerto Rico. Mismanagement and fraud of those dollars have led to a crippling of the island's AIDS infrastructure and grievous delays in care for people living with HIV/AIDS, including lack of access to medication.
The protest prompted HRSA to respond to the protestors demands.
In interviews with the Update and El Diario, HRSA spokesperson Tina Cheatham said the agency wished to take control of Ryan White funds in Puerto Rico and San Juan, but that both municipalities had refused. "Believe me, we do care, and we've had numerous conversations with officials in San Juan and Puerto Rico and we've explored every option out there," Cheatham told the Update. "But the law as it is right now says that the funds go to the elected officials."
Cheatham said HRSA's only option is taking funding away, which it won't do because it believes that would cause even more turmoil for people with HIV/AIDS on the island. Right now, Cheatham said, all the department can do is provide "technical assistance" to Puerto Rico. HRSA has taken such action in U.S cities such as Washington, D.C, Baltimore and Orlando, but in those cases the cities all voluntarily ceded control, according to Cheatham.
"To our knowledge, this is the first time we have a statement from a HRSA official that Puerto Rico has not relinquished the power over the funds," said Tamara Oyola-Santiago, Housing Works New York City Issues Organizer and Policy Analyst, who was arrested during the protest. "Puerto Rico and San Juan of course must be pressured more, but it seems as though HRSA is trying to make them scapegoats and not accepting responsibility."
Trouble in Paradise
Onlookers support those getting arrested.
Since 2006, AIDS services and treatment in Puerto Rico have been crippled by mismanagement and fraud.
Audit after audit by the federal government of millions in U.S. tax dollars has documented Puerto Rico's failure to provide basic care to people with HIV/AIDS.
In December, the FBI raided four San Juan Health Department offices, freezing millions of U.S. Ryan White CARE Act funds intended to help people with HIV/AIDS.
The Puerto Rican Health Department claims there is no longer an AIDS Drug Assistance Program (ADAP) waiting list for medications, but advocates have documented hundreds of people who are still waiting to receive medications on which their lives depend.
"I've been to Puerto Rico, and what we are seeing on the ground there is a lot of people infected with HIV/AIDS, and a lot of people who are not getting access to the services they need," Paula Santiago, at the Harm Reduction Coalition said at the pre-protest press conference. For example, she said, there is a lack of social services such as Meals on Wheels, and a lack of transportation services for people who are living up in the mountains and need access to HIV/AIDS services in the city.
At the press conference, activists also demanded an independent authority to investigate the mismanagement of Puerto Rican AIDS dollars and a plan to end it and immediate action to provide HIV prevention tools to IV drug users, who account for the majority of new infections in Puerto Rico.
The Take-Down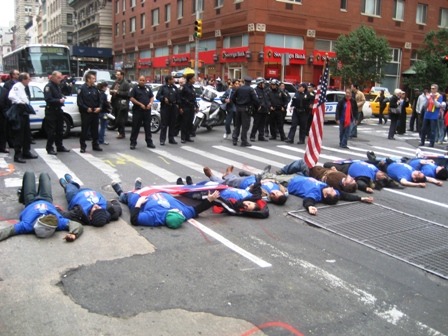 Protesters took over Broadway
It took the NYPD a good half-hour to finally impose its will on the activists who blocked Broadway but when they got their act together some 25 officers in blue (two on gigantic horses) had responded to the "Level 1" NYPD alert. The arrestees -- many of whom had to be dragged off, or chanted till the last moment -- included Eddie Fukui, Charles Long, Robert Cordero, Rafael Torruella, Tamara Oyola-Santiago, Diane Williams, Amy Velez, Mel Stevens, Julie Peña, Johnny Guaylupo, and Thomas D'Angelo. They were charged with disorderly conduct and obstruction of vehicular traffic and released in an amazing two hours. For the brave activists, lying in the middle of Broadway was only one part of their committment to ending the HIV/AIDS crisis in Puerto Rico.
"I'm a Puerto Rican living on the mainland and I have family and friends who have died on the island from HIV," said Cordero, director of Development for Housing Works. "Visiting Puerto Rico, I saw people who lacked access to medical care, to prevention, to clean needles. I left compelled to do something and I promised that I would do anything possible I could to support the people in Puerto Rico."
Torruella also was motivated to participate in the action after seeing first-hand the crisis on the island. "The government keeps putting this under the rug and not treating people as human beings," he said.
This common feeling of highlighting the horror in Puerto Rico united those involved in the action. "We all felt a sense of purpose and knew we were doing the right thing," Oyola-Santiago said.
Wednesday's action in New York was only one of various efforts to put pressure on the federal government. On Tuesday, November 13 Housing Works, the Latino Commission on AIDS, the Community HIV/AIDS Mobilization Project, UDCAS NY and UDCAS Puerto Rico collaborated on a phone zap targeting Puerto Rican Gov. Aníbal Acevedo Vilá and San Juan City Mayor, Jorge Santini Padilla. More than 30,000 people in Puerto Rico have HIV/AIDS, and more than 19,000 Puerto Ricans have died from AIDS-related causes.
Activists have been talking about a possible boycott of Puerto Rico rum. We'll keep you posted with more details as they come.
To read more coverage of the protest go to NY1, El Diario and POZ.com.