The year 2006 began solemnly, with the death of a movement icon, Coretta Scott King. As hundreds of mourners gathered in Atlanta to remember her sacrifices as first lady of the civil rights movement, we all also reflected on the long road Black America has already traveled. King represented a halcyon era for many, a time when the community came together to stand up and demand its place, to save itself even when few others cared about its fate. But that was not the only movement Coretta Scott King helped nurse from infancy. She was also a foundational leader in Black America's newest movement: the battle to save ourselves from the AIDS epidemic.
In the years following Martin Luther King, Jr.'s death, Mrs. King continued to speak out about and build upon his mission of creating a truly just society. And as she did so, she framed the fight against AIDS as a core part of that mission. During the Southern Christian Leadership Conference's annual meeting in 2001, she marked the epidemic's 20th anniversary with a striking call to action. "AIDS is a global crisis, a national crisis, a local crisis and a human crisis," she told the delegates that August. "No matter where you live, AIDS is one of the most deadly killers of African Americans. And I think anyone who sincerely cares about the future of Black America had better be speaking out."
Mrs. King would have been proud to watch as her community took those words to heart in the months that followed her death. She would have celebrated as she watched the community's traditional leaders -- from civil rights to business, from entertainment to faith -- step forward and make dramatic, public vows to end this epidemic in five years.
Advertisement
Sadly, she would also be deeply troubled by the snail's pace at which those leaders have traveled toward making their commitments reality. The task before us is undoubtedly massive. The myriad barriers are no less daunting. But Black America is long past the point when it can accept these challenges as excuses for inaction.
In an ideal world, we'd have time for a slow, gradual windup in our campaign against AIDS. Time, however, is a resource Black America long ago exhausted. We've sat back and watched as the virus has wormed its way deeper into our community. As a result, African Americans now account for half of the epidemic and AIDS remains the second-leading cause of death among Blacks aged 25 to 44. (See "The Black Epidemic: By the Numbers".)
Twenty-six years into the epidemic, Black America must now face AIDS as the urgent, life-and-death priority that it is.
Our Problem
In June 2007, the U.S. Centers for Disease Control reported that Blacks again accounted for 49 percent of all HIV/AIDS cases diagnosed in 2005.1 African Americans, meanwhile, represent just 12.8 percent of the U.S. population.2 According to the CDC's June data, the AIDS case rate among African Americans is 10 times that of the rate in the general population.3 These facts are alarming. However, they represent just one dimension of a multifaceted problem.
Our epidemic is not only disproportionately large, it's disproportionately damaging. CDC researchers have found that Blacks are more likely to discover they are infected only after the virus has progressed to an advanced stage, making treatment more difficult.4 When Black people gain access to treatment, they are more likely to be dependent upon public insurance programs and publicly financed care -- systems that are now teetering on the brink of collapse due to neglect at all levels of government. (See "The State of Treatment: A Domestic Crisis".) Ultimately, according to the CDC, "survival, particularly at more than 48 months after diagnosis, [is] greater among Asians/Pacific Islanders, whites, and Hispanics, than among Blacks."5
The treatment challenge is not limited to care for HIV infection. In Blacks, HIV/AIDS is frequently merely one element in a jumble of interlocked health problems ranging from alcohol and other drug use to chronic illnesses like diabetes and heart disease. Often, it all piles up on top of social and economic challenges such as lack of access to health insurance, poverty and homelessness, not to mention emotional concerns stemming from the stigma and social isolation so many people living with HIV/AIDS continue to face.
Calling All Leaders
Excerpts from NAACP Chair Julian Bond's call to arms in an August 12, 2006, Washington Post op-ed:
"We're calling on Black America to engage in a coordinated campaign with concrete, measurable goals and objectives and real deadlines ... each of us must identify strategies and activities that match our unique niches and capabilities."
"We must build a new sense of urgency in Black America, so that no one accepts the idea that the presence of HIV and AIDS is inevitable."
"We're calling on Black America to get informed about the science and facts about AIDS ... knowledge is a powerful weapon in this war."
"We're calling on Black Americans to get screened and find out their HIV status."
"We're calling for a massive effort to address the disproportionate impact this epidemic is having on Black youth, women, injecting drug users and men who have sex with men."
"We must also pressure our government and elected officials ... to be far more responsible partners than they have been."
Source: Bond, Julian. 2006. Black America Must Confront AIDS. Washington Post, August 12.
Bold leadership and action is needed now within Black America if these deadly trends are ever going to be reversed. National Association for the Advancement of Colored People Chair Julian Bond perhaps said it best in an August 2006 Washington Post op-ed, succinctly titled "Black America Must Confront AIDS." "We're calling on leaders to lead," Bond wrote. "The AIDS story in the United States is partly one of a failure to lead." (See "Calling All Leaders".)
Our Squandered Time
We are now more than a quarter of a century into the HIV/AIDS pandemic, and it's fair to ask a tough question: Have traditional Black institutions done enough to end HIV and AIDS in Black America? The answer, sadly, is no.
Former President Ronald Reagan is widely derided as having been callously and murderously asleep at the wheel during the epidemic's first decade, in the 1980s. But the silence and inaction among traditional Black institutions was just as deadly. History has demonstrated that bold Black leadership can force change. Our community's mass mobilization has beaten back slavery, lynching, Jim Crow and all manner of governmentsanctioned brutality and depravity. If we've learned nothing else over the years, it is that we can neither expect nor rely upon our government to do its job to save our lives until we demand it. New Orleans and Hurricane Katrina stand as stark modern reminders of the simple fact: We cannot wait for someone else to send the boats or the busses for us.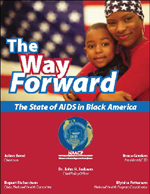 University of Chicago political scientist Cathy Cohen's seminal 1999 study of Black America's response to AIDS remains an invaluable and sobering reminder of our failure to save ourselves in the epidemic's early years. AIDS has been a uniquely Black problem ever since the CDC's June 5, 1981, notification that launched the epidemic. In 1985, African Americans already accounted for roughly a quarter of all people diagnosed with AIDS. Yet, as Blacks died of AIDS in large and disproportionate numbers, too many traditional Black leaders failed to do the minimum: speak up. Cohen notes that the "first article on AIDS to appear in The Crisis, the monthly magazine of the NAACP, was not published until 1989 ... years after the first diagnosed cases and nearly 17,000 Black Americans had already died of opportunistic infections related to AIDS."6
Today, the Black Press is a standout. As most mainstream media has turned away from the epidemic in recent years -- having run a host of premature late 1990s stories about its conclusion -- Black media outlets have stepped in to fill the void. Magazines, newspapers, broadcast outlets and websites have all begun aggressively covering the epidemic, pumping everything from news to analysis to humanistic features into the communal dialogue.
Essence magazine prominently featured AIDS stories in at least three of its 12 2006 issues, including a massive two-part cover series in November and December to mark the epidemic's 25th anniversary. December 2006 in fact proved a big month for AIDS and Black Press magazines. In addition to Essence, Heart & Soul featured "The Fight Against AIDS" as its singular cover story in its December/January issue, proclaiming to its readers that "the face of AIDS in America is becoming decidedly more brown and female." The remarkable package included several personal testimonies and profiles and a lengthy roundtable of women talking about their sex lives and safety in "the age of AIDS." Ebony magazine also joined the parade of December coverage by turning over its monthly editor's letter to the subject and publishing a lengthy profile of four Black women living with HIV.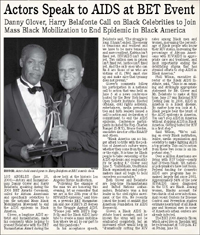 Click image to enlarge.
Meanwhile, American Urban Radio Networks'
Bev Smith Show
features regular, ongoing discussion about the epidemic. AOL's Black Voices website features several AIDS blogs (including one by Institute Executive Director Phill Wilson). And under the leadership of former director George Curry, the National Newspaper Publishers Association's News Service runs a monthly AIDS column by Wilson, along with ongoing, week-in and week-out news coverage of the epidemic for its more than 15 million readers.
Too many traditional Black community institutions, however, are not following the Black Press's lead in getting the word out. An August 31, 2007 examination by the Black AIDS Institute of the home pages of 16 national Black organizations' websites found that only two -- the National Coalition of Pastors' Spouses and Rainbow/PUSH -- featured any information or links to information about HIV/AIDS.
Our Pledge to Lead
It is, however, important to note the many heartening examples of traditional Black leadership on AIDS in recent months.
As the nation paused to mark the epidemic's 25th anniversary in June 2006, a host of Black leaders gathered in New York City to pledge themselves and their organizations to helping slow the pace of new Black infections. "For Black America, the moment of truth has arrived," declared actor and activist Danny Glover. "If we are to survive the AIDS epidemic, we are going to have to gather all of our resources and marshal them for the political struggles that lay ahead."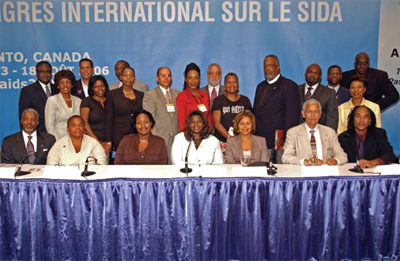 Black Leaders gather to launch national Black AIDS Mobilization at 2006 International AIDS conference in Toronto, Canada
Attendees included top executives from American Urban Radio Networks, BET networks, the Congressional Black Caucus, the National Urban League, the National Association for the Advancement of Colored People, the Congressional Black Caucus, the National Newspaper Publisher's Association, leading Black churches and others.
In August, those leaders were joined by a host of others in convening at the biannual global AIDS conference in Toronto, Canada to draw up a plan for just the sort of resource- marshaling that Glover urged. Leaders from 25 of Black America's most venerable institutions met at the 2006 International AIDS Conference and pledged themselves to a five-year "Marshall Plan" for dealing with the Black epidemic. It was an unprecedented gathering of Black leaders focusing on AIDS, and it created the most significant Black leadership presence ever seen at the massive AIDS meeting.
Black AIDS Mobilization Goals
Each of the 16 traditional Black institutions that have vowed to contribute to the National Black AIDS Mobilization Plan will hammer out the details of making AIDS part of the fabric of their work. But all have agreed to focus on four ambitious goals.
Reduce infection rates. The plan seeks to slash HIV infection rates in our community by half over the next five years.
Get Blacks tested. The plan seeks to boost the number of Blacks who know their HIV status by 50 percent in the next five years.
Support appropriate care. The plan seeks to insure that African Americans who do test positive have access to appropriate care and are personally able to take the necessary steps to live healthily with HIV. It seeks to increase utilization of HIV treatment by Black Americans by 50 percent in the next five years.
Eradicate stigma. The plan seeks to finally wipe out all of the needless, deadly stigmas associated with HIV/AIDS that have for too long blocked Black communities and individuals from saving themselves from this epidemic.
"This is historic," said Grazell Howard, program director of the National Coalition of 100 Black Women, remarking on the cooperation across sectors. "Black people don't talk to each other."
The meeting also marked the beginning of the Black AIDS Mobilization. As part of this historic initiative, 16 Black institutions have vowed to hammer out their own plans for integrating AIDS into their organizational agendas. All have agreed to focus on a set of specific goals: cutting infection rates; increasing the number of Blacks who get tested regularly; helping more HIV-positive Blacks get into appropriate care; and taking on stigma associated with the virus. (See "Black AIDS Mobilization Goals".)
Each of the organizations has also pledged to appoint a national AIDS director for the campaign, to set annual testing goals and to spotlight the epidemic at their national conferences.
As a whole, these individual plans will inform the development of a National Black AIDS Mobilization Plan, which will incorporate the role of governments, corporations, foundations and healthcare finance mechanisms. The plan will ensure that the pledges our leaders have made in recent months are tied to concrete, measurable goals and objectives -- with deadlines. With that tangible end in mind, each participating organization is now at work on crafting plans for eight areas of strategic action:
Obtaining sufficient full-time, paid staff to mobilize their individual constituencies and evaluate their campaigns;
Developing and adopting a five-year plan to engage Black Americans in ending the epidemic;
Creating an internal program for HIV health education and risk-reduction for all of their employees;
Establishing annual goals for providing HIV/AIDS testing to constituents and employees;
Including HIV/AIDS information in all communication vehicles at their disposal;
Disseminating HIV/AIDS information through major plenary sessions at national meetings and conventions;
Developing an HIV/AIDS policy agenda and, where appropriate, educating policy makers on the need to support increased funding and bold initiatives to bring an end to the Black epidemic; and
Participating in at least two annual AIDS public awareness commemorations, such as World AIDS Day and National Black HIV/AIDS Awareness Day, designed to raise community awareness about the need for individual and collective action.
The State of Our Movement
The story of the movement thus far is an uneven one -- a few outstanding leaders are blazing the way, while the rest are still failing to make the necessary hard work a priority. Many traditionally Black institutions are clearly engaged in HIV/AIDS work of some sort. But that work remains scattershot and sporadic. The vast majority of organizations who have signed onto the Black AIDS Mobilization have not yet made meaningful progress in turning their promises into action.
Few, if any, of our national organizations appear to have devoted sufficient resources to the Black AIDS Mobilization thus far. A key measure of whether sufficient resources are being devoted to the campaign is the amount of staff time set aside for it. The Institute surveyed 16 key organizations who have signed on to the Black AIDS Mobilization about this and other measures of progress. The preliminary results indicate that staffing -- where it exists at all -- ranges from one-quarter to one-half time person. With that level of commitment, it is not surprising that most of our traditionally Black institutions do not yet have an HIV/AIDS strategic action plan, with clear goals and specific objectives.
In the past, observers within the AIDS community have been quick to point out Black America's slow response to the epidemic, but have been slow to acknowledge the significant barriers that stand in our community's way. If we are to move past talking about failure to planning for success, we've got to identify the roadblocks -- and figure out how to remove them.
Perhaps the leading barrier to Black community mobilization on AIDS is the perception that we've already got our hands full with other problems. Cohen's 1999 study highlights the ways in which this reality worked against a meaningful community response for much of the early epidemic. Needle exchange programs offer an ideal example. In the early days of the epidemic, African American community leaders were some of the most vocal opponents of giving injection drug users clean needles, despite the deluge of research identifying such programs as among the most effective way to stop the spread of HIV, worldwide. But for a community that was gripped by the ravages of drug addiction and violent drug trade throughout the 1980s, the idea was a tough one to digest.
Still today, Black America is plagued by a daunting list of intractable problems -- high incarceration rates, racial discrimination and injustice, continuing poverty and joblessness, not to mention broader health disparities, to name a few.
While acknowledging the reality of these challenges, to accept them as insurmountable is to also embrace a notion of Black powerlessness. Moreover, it assumes that AIDS exists outside of these existing challenges. In fact, AIDS is the natural consequence of many purportedly more pressing issues, and it insidiously reinforces each of them as well. Families gripped by an expensive, debilitating disease are in no position to contribute to their community's economic, social or political success. The converse is also true: Some of the most remarkable examples community leadership are found in the ranks of former addicts, sex workers, prisoners and other supposed pariahs who, upon plugging into services for their HIV infection, harnessed their skills and talents to help strengthen their communities.
In sum, the skills, knowledge and experience that a community can develop through mass mobilization to address HIV/ AIDS will also be useful in addressing other challenges -- the problem of HIV/AIDS in Black America does not exist in a vacuum, it is intricately tied to nearly every other major social and economic challenge we face.
Organizations, however, face real resource challenges in confronting the onslaught of issues Black America must simultaneously address. They need help from both public and private sector players who profess interest in ending AIDS in America at large. That means foundations, pharmaceutical companies and academic institutions must all start providing meaningful support for work traditional Black organizations are gearing up to do on AIDS. It means that corporate America -- including Black-owned business -- must begin to give back some of the profits it reaps from the $773 billion Black market it taps.7
It also means both federal and state government must make a far greater contribution than it has ever marshaled. Since 2001, the federal budget for AIDS services has held practically flat. Congress and the White House have sat back and watched as their own public health agency has estimated 40,000 new people a year get infected. As the need grows, the money for the domestic epidemic stays the same. (See "The State of Treatment: A Domestic Crisis".) This trend must be reversed.
But here again, these resources won't materialize on their own -- we've got to go get them. Luckily, we have a road map for how to do so. The Minority AIDS Initiative, which targets federal funds at service providers working in minority communities, stands as one shining example of Black community leadership in garnering resources.
The initiative grew out of a March 1998 meeting in which the CDC convened Black AIDS leaders to discuss the increasingly divided American epidemic -- one white, the other Black and Latino. The agency called the meeting to plot its response, but the assembled leaders left the gathering and sprung into their own action. In a joint statement, they declared HIV/AIDS had reach a "state of emergency" in Black America and began making the rounds in Washington, D.C. to see what could be done about it. The White House Presidential Advisory Council on HIV/AIDS endorsed the community declaration, and in April long-time Black AIDS leader Dr. Benny Primm presented it to the Congressional Black Caucus' Health Brain Trust, led by Virgin Islands congressional Del. Donna Christensen. The CBC, under the leadership of California Rep. Maxine Waters, picked up the ball and ran with it, rallying its congressional colleagues to do something about the crisis.
The result was that in October 1998 Congress passed the Minority AIDS Initiative. The initiative's goal is to build up the oftenstruggling minority AIDS service groups' capacity to deal with the massive challenge they face. In its first year, the federal government directed $166 million to the effort.
The initiative was hailed as a crowning achievement, and energized Blacks concerned about AIDS both inside and out of government. But it has significant limitations. The program has been plagued by lingering debates about how exactly the money should be spent -- and who should be spending it. Some Black-run service providers complain that large, white AIDS organizations have crowded them out by developing programs that target minorities. The CBC has tried to tailor the language to specify that grants should go to organizations based in minority communities, but some debate lingers about the legality of such rules, given recent Supreme Court rulings limiting af- firmative action programs.
More to the point, however, in the grander scheme of the federal AIDS budget, the Minority AIDS Initiative is a tiny pot of spoils to be tussling over. In 2004, federal funding for the initiative topped out at $404 million. Traditional Black organizations must now step in and demand Congress do better.
There can be no mistaking the point: Stopping AIDS in Black America will be costly, for everyone. But it will cost far less than allowing the epidemic to continue worsening.
Ending Our Stigma
Sadly, stigma surrounding HIV/AIDS remains a towering barrier to action in Black America -- even 26 years and tens of thousands of Black lives after the epidemic began. If we are to save ourselves, it must finally end. Research shows stigma not only frustrates efforts to slow the virus' spread, it discourages people from seeking necessary care.8
Luckily, traditional Black leaders have in fact begun stepping up their efforts to wipe out this scourge. Increasingly, our leaders have begun making the sort of strong, no-excuses denunciations of AIDS stigmas that Mrs. King was known for. In an August 2007 report, the National Medical Association identified stigma as an "additional contributor to less-than-optimal outcomes for persons of color living with HIV/AIDS ... these attitudes, coupled with attitudes about homosexuality, and its inherent connection to HIV/AIDS, have frequently left ethnic minorities to conceal their behavior and health condition."
One could easily add that stigma has also inhibited the exercise of leadership. The late Dr. Herb Nickens, the first Director of the Office of Minority Health at the Department of Health and Human Services, confided in 1987 that when he raised the issue of HIV/ AIDS among Black Americans, they wanted to know, "Why are you raising this issue, are you gay?" The condemnation of the people originally considered most at-risk for the virus -- gays, sex workers, injection drug users -- cascaded into condemnation for anyone seeking to help.
Much has thankfully changed since the days when Dr. Nickens made that observation. While Black gay, bisexual and transgender people continue to be at great risk for HIV, today they are in abundant company in Black America. Nearly 1.2 million Americans are living with HIV/AIDS, and half of them are Black. Now, the "least of us" includes a lot more of us.
Leadership Roll Call
The following 16 traditionally Black organizations had signed on to the Black AIDS Mobilization as of this report's writing:

100 Black Men of America
American Urban Radio Networks
Congressional Black Caucus Foundation
National Action Network
National Association for the Advancement of Colored People
National Black Caucus of State Legislators
National Black Justice Coalition
National Coalition of 100 Black Women
National Coalition of Pastor's Spouses
National Council of Negro Women
National Newspaper Publishers Association
National Urban League
Rainbow/PUSH Coalition, Inc.
The Potter's House & T.D. Jakes Ministries
Southern Christian Leadership Conference
National Medical Association
Our Trailblazers
Although too many traditionally Black organizations are not yet doing enough, a number are already on their way to developing specific goals, objectives and timetables for their contribution to the Black AIDS Mobilization. The following are just a few of these shining examples, which by no means capture the depth of the commitment that is already in play in many more organizations. The Black AIDS Mobilization will be successful only if all of the groups that have signed on to the campaign take similarly bold steps.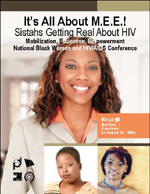 The National Coalition of 100 Black Women and the National Council of Negro Women have sponsored the groundbreaking National Black Women and HIV/AIDS Conference since 2005. NCBW plans to expand the annual initiative by adding regional symposia on HIV/AIDS in Black women. NCBW is also planning to vastly expand its national billboard campaign to reach women in all of the 72 communities in which NCBW has chapters. These annual billboard campaigns will be coupled with a local "Teach, Learn and Outreach" campaign, involving two-day workshops to increase awareness, knowledge and skills in HIV prevention and to provide HIV counseling and testing followed by linkage to appropriate services.
The Potter's House and T.D. Jakes Ministries in 2007 launched a national and international AIDS awareness campaign called It's Time to Step Up! This campaign will form the foundation of the strategic action plan that The Potter's House will pursue as part of the Black AIDS Mobilization. Over the next five years, The Potter's House intends to disseminate information about HIV/AIDS in Black America through nationally televised programming and through its national conferences and meetings; to maintain a Web page dedicated to HIV/AIDS; and to provide structured health-education and risk-reduction sessions at its national conferences, along with HIV counseling and testing.
National Action Network is formulating the initial framework of actions it will engage in over the next five years, including coordinating a national HIV/AIDS education and prevention campaign through its structure of 40 local chapters, each of which will annually develop and provide at least one HIV health education and prevention workshop, and also collaborate with local HIV counseling and testing programs to offer and provide HIV testing and counseling to a minimum of 1,000 individuals per chapter, annually. These efforts will be coordinated with the annual HIV/AIDS public commemoration days.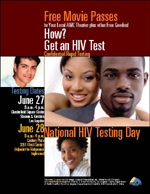 The National Association for the Advancement of Colored People has been a steady partner with the Institute in launching the Black AIDS Mobilization. The NAACP was among the first organizations to sign a declaration of commitment and call for the creation of a national Black AIDS Mobilization. In August 2006, the NAACP was among a group of Black institutions that convened at the global AIDS conference in Toronto, Canada to launch a "Marshall Plan" to end AIDS in our community. Like the others present, the NAACP pledged to encourage HIV testing, hold policymakers accountable for treatment access in Black communities, and attack stigma surrounding the virus, among other commitments. It was an historic meeting in which the NAACP played a crucial role. Subsequently, NAACP has put action behind its words. At its annual convention in 2005, NAACP offered onsite HIV testing and hosted several educational and cultural events raising awareness about the epidemic. Both then-director Bruce Gordon and NAACP Chair Julian Bond publicly took HIV tests. In the area of policy, NAACP organized a national petition to reauthorize the Ryan White CARE Act and launched both a national HIV testing campaign and its NAACP Cares campaign to eradicate AIDS across the African Diaspora, including among African Americans.
Magic Johnson Foundation, in partnership with Abbot Laboratories, has launched the Campaign to End Black HIV/AIDS. As described at the I Stand with Magic website, the campaign provides communities with information and resources for prevention and testing, educational materials to share with family and friends and a way to join together to make a difference. Individuals can sign up at the website and get access to the most upto- date information on key HIV/AIDS issues, including information about safer sex and prevention, regular HIV testing and available treatment.
Notes