They were needless, nameless deaths. And of the hundreds of thousands of people who died from AIDS worldwide in 2006, they were among both the least expected and most predictable: In November 2006, South Carolina's health department confirmed that four people had died while waiting for access to AIDS treatment.
These people didn't die in some poor country on the other side of the globe, where expensive medicines and support systems don't exist. They died right here in the United States, where we spend nearly $2 trillion a year on healthcare, and where many consider the epidemic to have ended ten years ago.
Thousands of people still die of AIDS in the U.S. every year, under a wide range of circumstances. Certainly, none of those deaths have to occur, given what we know about preventing infection in the first place and treating it once it happens. But these four deaths were particularly appalling because they appear to represent people who were taking the necessary steps to live -- and had turned for help to the very system we set up to stop AIDS deaths in America. They stand as damning evidence that the system is broken.
Advertisement
Public information about the four lives lost in South Carolina is scant. But what we know is enough to shame the nation. We know they neither qualified for Medicaid nor had enough resources to buy health insurance on their own, and we know that put them among the ranks of an estimated 47 million uninsured Americans.
1
We know they were stuck on a hundreds-deep waiting list for the state-run program that subsidizes HIV meds for the uninsured.
2
And we know that this waiting list, like the deaths it spawned, was neither a secret nor a surprise to the policymakers who go on allowing it to persist today.
In fact, at the time South Carolina con- firmed the deaths, it was among six states in which uninsured people with AIDS were waiting to get into the local AIDS Drug Assistance Program (ADAP).3 These programs, which are jointly funded by federal and local money but administered by each state, were created in 1990 as part of the Ryan White CARE Act -- the nation's first comprehensive response to the AIDS epidemic. They subsidize for low-income, uninsured patients the cost of wildly expensive antiretroviral drugs, which can run up to $20,000 a year for just one pill in a combination of meds needed to stave off death.
"The meds are only half of it -- poor people living with AIDS work until they're too sick to work anymore," South Carolina AIDS activist Stephanie Williams told the Housing Works newsletter AIDS Issues Update. "They're living in substandard housing or going back to live with mom and dad. Parents are dying, and old folk are raising their grandkids and great grandkids. This affects whole communities, and the federal government must fully fund the Ryan White CARE Act to even begin solving the problem."
Sadly, AIDS safety net watchdogs have been saying that same thing since 2001 -- and Washington has yet to listen.
Falling Behind
Since 2001, the federal AIDS care budget has failed to keep pace with the epidemic. The Ryan White CARE Act is the primary federal vehicle for funding AIDS care programs, supporting services ranging from support groups and mental health counseling to drug rehab. But while federal health monitors announced in 2005 that there are more Americans living with HIV or AIDS than ever before (over a million), Congress has kept the Ryan White budget essentially flat since 2003.

Ryan White CARE Act funding, fiscal years 1995 to 2006 (in billions):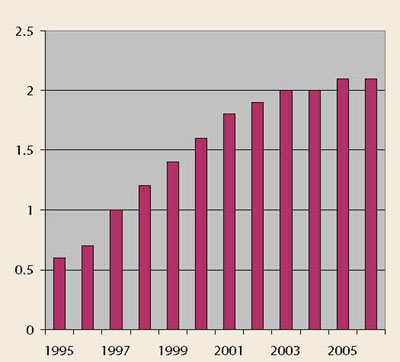 Sources: Kaiser Family Foundation. Trends in U.S. Government Funding for HIV/AIDS, Fiscal Years 1981 to 2004. Fig. 4. March 2004. And, U.S. House of Representatives, Appropriations Committee. Highlights of the Fiscal Year 2006 Labor, HHS, Education & Related Agencies Appropriations Conference Report. Nov. 16, 2005.
Pennies from Washington
Ever since the advent of the "AIDS drug cocktail" in the mid 1990s, the ADAP program has struggled to keep up with demand.
Antiretroviral drugs don't provide a cure, but they do keep people alive -- and, therefore, in ongoing need of expensive medicines and services. So with new infections still coming at an estimated 40,000 a year and those already infected living longer, the ranks of Americans living with HIV/AIDS has swelled to an estimated 1.2 million people, according to the U.S. Centers for Disease Control and Prevention.4 Those who can't pay for their own meds land in Medicaid and ADAP, and both programs grow weaker every year as state and federal funding fail to keep pace.
According to the National Alliance of State and Territorial AIDS Directors, the $1.4 billion a year program spent more than $100 million on AIDS drugs in June 2006 alone.5 Year after year, states run out of resources and implement a host of cost-cutting measures -- creating waiting lists for services, boosting income caps for qualifying, restricting medicines that are available.
Waiting lists have been particularly persistent in states in the South, where a burgeoning epidemic continues to outpace both state and federal response. As of March 2007, South Carolina still had 463 people on its waiting list.6 In previous years, states like Alabama, North Carolina and Kentucky have been standouts for lengthy waiting lists.7 In 2004, the number of HIV positive Americans in line to get drug assistance through ADAP topped 1,600.8
The program is uniquely relevant to people of color, who account for almost two-thirds of its clients; 33 percent of ADAP clients are Black.9 And most enrollees live both in deep poverty -- more than 80 percent had incomes at or below 200 percent of the federal poverty level in 2006 -- and in real danger of getting sick -- half had CD4 counts at or below 350,10 the point at which federal treatment guidelines recommend patients begin considering treatment.
ADAPs around the country are jointly funded by federal and state coffers, and as the federal money has failed to keep pace with the epidemic, many states have been unable or unwilling to make up the difference. States decide for themselves how much money to kick in to their programs to augment the federal allotment, and the amount varies greatly. Overall, the state contribution is by far the fastest growing share of the budget, but some of the states with the biggest ADAP crisis are as lax as Washington in funding the program. South Carolina, for instance, contributed a mere $500,000 to its struggling $15 million program in fiscal year 2005. Indiana, another state that has had waiting lists, didn't contribute a dime to its $7.2 million ADAP.11
But ADAP's troubles are part of larger problems with the AIDS safety net. The CARE Act, which governs not just ADAP but a range of care and support services for lowincome and uninsured patients, has similarly fallen into disarray in the 21st century. Since 2001, the Ryan White CARE Act budget has grown by a mere $300 million, to $2.1 billion in fiscal year 2006.12 As of January 2006 we were spending $200 million a day on the war in Iraq, according to the Congressional Budget Office -- which means the monthly war budget nearly tripled what we spent on AIDS all year.13
Meanwhile, the U.S. government estimates an additional 200,000 Americans have contracted HIV since 2001. (See "Falling Behind")
Fighting Over Scraps
In addition to allotting money for the CARE Act each year, Congress must re-approve the entire program every five years, updating it to make sure it continues to meet the epidemic's current realities. Rarely has the AIDS community found itself as divided as it has been surrounding the most recent CARE Act update, which was completed in the final hours of the outgoing Republican Congress in late 2006.
Southern AIDS service providers have argued that Ryan White must be drastically rewritten to remove a built-in bias that funnels money to the large metropolitan areas where the epidemic began. Today, they note, 41 percent of people living with HIV/AIDS reside in the South; in 2004, Southern states boasted 7 of the 10 highest rates of AIDS cases per capita, nationally.
14
And the South's burgeoning epidemic is uniquely Black. All told, eight of the nation's 10 Blackest epidemics are in states in the South, at least in part due to the region's racial demographics.
15
Those southern states are clearly struggling to keep up with the building crisis. In addition to ADAP waiting lists, southern states often have far too few care providers to meet their epidemics' unique dynamics. The dispersed geography means people often must travel across counties to find an AIDS service provider for counseling, medical care, substance abuse treatment and other services. Clearly, these states need greater help from the federal government in combating this epidemic. Access to quality AIDS care should not depend on where you live in a nation as wealthy as ours.
How the Safety Net Works
Public funding for HIV/AIDS services in the U.S. comes from both federal and state coffers, and is spent at the city level. State money is added to an annual allotment dished out by the feds through the Ryan White CARE Act. Unlike most social safety net programs, the CARE Act is not an entitlement program, which means it is budgeted in one lump sum payment that must be renegotiated every year. Since the Bush administration took office, CARE Act funding has failed to keep pace with the rapidly expanding epidemic. Since fiscal year 2003, in fact, the CARE Act's budget has remained largely flat.
The CARE Act is divided into several "titles," with the bulk of the money spent on Titles I, II and III.
TITLE I pays for a range of emergency support and medical services, including primary care, mental health, cash assistance, case management and more. The CARE Act divides the nation into 51 major metropolitan areas, and disperses these funds to community boards that work with local health departments to spend it.
Title I money funds nearly three million health care visits a year. About two-thirds of the people who use these services are people of color and nearly a third are women.
In FY2004, Washington cut funding for this title of the program, causing several metropolitan areas to restrict access to some services, scale back the scope of others, and simply stop offering others altogether. The FY2005 budget flat-funded this title, leaving the previous year's budget cuts in place.
TITLE II funds states to provide treatment for people with AIDS who are uninsured, including paying for the AIDS Drug Assistance Program, or ADAP. More than 30 percent of people with AIDS who are in treatment are paying for it through ADAP, and 60 percent of those people are of color.
Three quarters of the money states use to pay for this treatment comes from Title II. And every year since the discovery of combination therapy states have faced funding shortages, in many cases leading them to limit or discontinue services.
TITLE III directly funds over 300 community-based clinics and health services centers in 41 states, plus Washington, D.C., Puerto Rico and the Virgin Islands. These funds are meant to support health care providers that are working in communities with the greatest risk for HIV -- Black neighborhoods, low income areas and among women. But this title is also the primary route for funding services in rural areas; half of the grantees work in rural communities. Seventy percent of their clients are people of color.
In addition to providing healthcare, Title III clinics test more than 400,000 people for HIV every year.
At the current funding level, 30 percent of the agencies funded by Title III say they are unable to provide services to everyone seeking them, according to a survey conducted by the CAEAR Coalition.
Source: The CAEAR Coalition, an umbrella organization representing AIDS service agencies funded by the Ryan White CARE Act.
The White House and many congressmembers have signaled their support for such reforms, and proposals floating in both the House and Senate during the 2006 CARE Act debate would have reshaped the program to funnel more money to rural areas.
New York Sen. Hillary Clinton angered many AIDS service providers and activists in southern and rural states by blocking those proposals, arguing the reforms would have dangerously cut New York's funding. Members of New York's House delegation echoed Clinton's concerns, as did a chorus of congressmembers from other states with old epidemics, such as Illinois and California.
Sen. Clinton and her colleagues are right to insist that help for rural states not come at the expense of the large metropolitan areas that have spent decades working to bring their own epidemics under control. AIDS service providers in places like New York City, Chicago and Oakland are having just as much trouble keeping up with the grimly growing demand for their services as those in the rural South.
But the dilemma these two realities present is a false one. It is possible to meet both new and old challenges -- our government has simply chosen not to do so. Ultimately, no matter how the Ryan White CARE Act gets rewritten, it will fail to meet the needs of people with HIV/AIDS all over the country if it is not adequately funded.
The Compromise Plan
Senators Ted Kennedy (D-Mass.) and Mike Enzi (R-Wyo.) stepped into the CARE Act debate in the eleventh hour to hammer out a compromise plan for its reauthorization. The compromise bill reauthorized the CARE Act for just three years, rather than the usual five, and set in motion a process for a thorough review of the program's structures.
The bill assuaged the concerns of states with older epidemics by ensuring that all states must maintain at least 95 percent of their 2006 funding levels over the next three years. It also eased the fears of some states about a new mandate that federal money be handed out based solely on data collected by recording the names of those who test HIV positive, as opposed to using a coded identifier. The compromise bill gives states a penalty-free transition period for moving from coded identifiers to name-based systems.
But most importantly, the compromise bill opens the door for a thorough re-examination of the CARE Act. In January 2007, Kennedy's office began a series of forums and hearings on the CARE Act. Kennedy's office has said it wants to hear from "regular people living with HIV/AIDS" about how the system has and has not worked for them, and that it wants to explore how the CARE Act interacts with other healthcare safety nets, such as Medicaid and Medicare.
Slicing Up the Money Pie
The biggest slice of the federal HIV/AIDS budget goes to Medicaid and Medicare, which account for about half of all the money Washington spends on the epidemic. Here's how the $17.8 billion allocated in fiscal year 2006 was split up.
Medicaid/Medicare: 51%
National Institutes of Health: 16%
Ryan White CARE Act: 11%
Social Security and Disability: 9%
Centers for Disease Control and Prevention: 4%
Other services and programs: 9%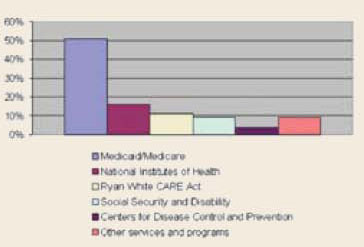 Source: Presentation by Deborah Parham Hopson, HIV/AIDS Bureau of the Health Resources and Services Administration at Black AIDS Institute briefing, October 13, 2006. Washington, D.C.
Medicaid's Maladies
Medicaid, which shelled out $6 billion for AIDS treatment in fiscal year 2006,16 is in its own state of crisis.
Medicaid is the national program designed, as part of Lyndon Johnson's 1965 Great Society, to keep America's poor healthy. Since the early 1990s, progressives have sought to expand it, conservatives have worked to erode federal control over it, and everyone has groped for ways to keep it from bankrupting state governments. Medicaid expenditures at all levels of government have exploded in the last 15 years. States now spend, on average, 17 percent of their budgets on Medicaid (making it second only to education as a money grubber).17
Who Needs It?
When the AIDS care safety net frays, who loses out? You guessed it -- African Americans.
Number of people the CARE Act serves: 530,000
Share who are racial minorities: 59%
Share who are women: 33%
Share of people in AIDS treatment paying with ADAP: 30%
Share of those who are people of color: 60%
Share of Blacks in treatment paying with public insurance: 64%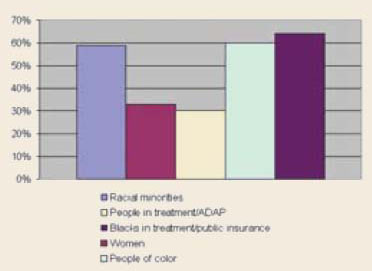 Source: Presentation by Deborah Parham Hopson, HIV/AIDS Bureau of the Health Resources and Services Administration at Black AIDS Institute briefing, October 13, 2006. Washington, D.C.
State governments are groping for ways to reign in these costs. Though there was evidence of some easing in the budget crunches in fiscal year 2006 -- Medicaid spending grew by less than three percent, the slowest growth since 1998 -- all states instituted cost-cutting measures.1818 As Kaiser Family Foundation Executive Director Diane Rowland put it, "This news that revenues are up a little and that spending is down does not mean that states are going to give up on cost containment."
Since 2001, the Bush administration has worked tirelessly to push its own answer for relieving these budgetary pressures: ending the federal government's open-ended commitment to Medicaid and, instead, handing out fixed annual "block grants" that free states from overarching rules and give them wide flexibility to cut costs however they see fit.
In December 2005, Congress handed the administration a significant victory in its campaign to make this vision reality. As part of a massive and last minute budget deal, Congress voted to cut federal Medicaid spending by $11 billion over the next five years and $42 billion over the next decade. These savings will come in large part by boosting the fees poor patients must pay from the former $3 limit to what, for some, could reach hundreds of dollars.
The new Medicaid allows states to charge co-pays of up to 10 percent on each service performed for people living between 100 percent and 150 percent of the poverty level -- which is around $16,000 to $24,000 a year for a family of three. People above that mark could be charged premiums for the first time ever, and co-pays of up to 20 percent.19
The only limitation on all of these new fees is that medical bills may not exceed five percent of a family's annual income. But that restriction provides little comfort for those living so close to the poverty line, because nothing stops a catastrophic event -- like a recalcitrant opportunistic infection for someone with an AIDS diagnosis -- from eating all of a month's income and driving families into immediate homelessness, or worse.
Medicaid's fate has great consequences for the nation's fight against AIDS. Public insurance pays for half of all people getting treatment for AIDS. A disproportionate share of those people are Black: while 44 percent of whites in treatment for AIDS pay for it with private insurance, only 14 percent of African Americans have that luxury. As a result, two-thirds of Blacks getting AIDS treatment pay for it with Medicaid or Medicare.20
Change Coming?
Many observers have declared the November 2006 elections a watershed moment in modern politics and policymaking: America decided that one-party control of Washington sent the nation down a dangerous path and threw the bums out, as the saying goes. Perhaps. The Democrats certainly stoked that emotion on the campaign stump. And following their victory on November 7, Democrats pledged to bring sweeping change. As Speaker Nancy Pelosi declared, "It's time for a new direction."
The proof of change will be in the legislating.
If the Pelosi is good for her word, the Democrats must make charting a new course on AIDS treatment and care a priority. A place to start will be this fall's budgeting process. Rather than once again approving a federal budget that pinches pennies for the range of crucial health care safety nets America needs to thrive, Congress must redirect resources from war making and tax cutting to save Black lives. Anything less will be more of the same: needless, predictable deaths for African Americans at the hands of a wholly treatable disease.
Notes