Donate goods to victims of Tropical Storm Noel in Haiti and the Dominican Republic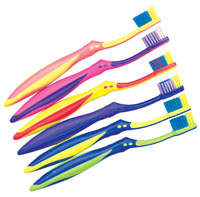 Just donating a (new) toothbrush will help those hurt by Noel
Of all the countries it affected, Tropical Storm Noel hit the Dominican Republic and Haiti the hardest. In the Dominican Republic, Noel caused more than 82 deaths and left more than 67,000 people without homes. In Haiti, at least 64 people were reported dead, and thousands are homeless. From now until World AIDS Day on December 1, Housing Works and AID for AIDS will be collecting essential items to send to Haitians and Dominicans living with HIV/AIDS at all locations, as well as at the City Hall park for the 24-hour World AIDS Day Commemoration.
In Haiti and the Dominican Republic combined there are more than 250,000 people living with HIV/AIDS. Haiti has the highest HIV rate in the Western Hemisphere. A shocking 3.8 percent of Haitians between the age of 15 and 49 have HIV, and in 2006 alone 17,000 Haitians died due to AIDS-related causes. In the Dominican Republic 1.1 percent of 15 to 49 year olds have HIV. In 2006, 6,700 people died of AIDS-related causes.
Advertisement
Here's where to donate (by borough):
BROOKLYN
Housing Works
57 Willoughby St. (Jay St/Borough Hall)
2640 Pitkin Ave. (bet. Fountain & Crystal)
2605 Pitkin Ave. (bet. Logan & Fountain)
122 Montague St. (corner of Montague & Henry)
THE BRONX
Hispanic AIDS Forum
886 Westchester Ave.
MANHATTAN
AID For AIDS
515 Greenwich Street, Suite 506
Bioscrip Pharmacy
197 8th Avenue
Gay Men's Health Crisis
119 West 24th Street, 7th floor
Hispanic AIDS Forum
213 West 35th Street, 12th Floor
Housing Works
126 Crosby St.

594 Broadway, 7th floor (bet. Houston & Prince)
80 Broad St., 15th floor
306 Columbus Ave. (bet. 74th & 75th)
157 E. 23rd St. (bet 3rd & Lexington)
202 E. 77th St (bet. 2nd & 3rd)
743 E. 9th St. (bet. C & D)
330 W. 38th St. #106 (bet. 8th & 9th)
245 W. 10th St. (corner of 10th & Hudson)
1730 2nd Ave (corner of 90th & 2nd)
320 W. 13th St., 4th floor
143 W. 17th St. (bet. 7th & 8th)
1730 2nd Ave. (corner of 90th & 2nd)
QUEENS
Hispanic AIDS Forum
62-07 Woodside Ave, 3rd Floor
48-49 35th St., Long Island City
STATEN ISLAND
Housing Works
36 Richmond Terrace, Suite 208
And here's the list of items you can donate:
Toiletries
Toothpaste
Toothbrushes
Deodorant
Soap
Shampoo
Disposable Razors
Combs
Chlorine Tablets
Toilet Paper
Handi-Wipes
Over-the-counter meds

Tylenol
Alcohol wipes
Bethazine
Band-aids
Dressings
Aspirin
Mosquito repellant
Pedialyte
Mosquito nets
Clothing
Men's and women's undershirts (NEW)
Men's and women's underwear (NEW)
Sandals
Cloth diapers and safety pins
Food
If your organization would like to be a drop-off point for donations, e-mail terri smith-caronia at smith-caronia@housingworks.org. If you would like to financially contribute to the effort you can donate to Housing Works here or AIDS for AIDS here and specify the money is for the "Noel AIDS Relief."