• COMPLICATIONS OF HIV & HIV MEDS



Side Effects of HIV Meds: Dr. Joel Gallant Answers Your Questions
What's the best way to treat diarrhea? How can you avoid losing -- or gaining -- body fat while on HIV treatment? What's the scoop on side effects with the newest HIV meds? Last month, HIV expert and physician/researcher Dr. Joel Gallant sat down for a live, hour-long chat on TheBody.com, where he answered dozens of questions like these. Read this blow-by-blow summary to learn the latest about how to take charge of HIV medication side effects.


When Taking Pot for Pain, Dosing Must Be Just Right, Study Says
Smoking marijuana can help relieve pain -- but only if taken in the right amount, a small study suggests. U.S. researchers using marijuana grown by the federal government found that too low a dose failed to dull a person's pain enough, while too high a dose actually increased pain. The researchers weren't sure why more marijuana led to more pain. Regardless, the study "does not tell us one way or another that this is going to work in clinical pain," the study author warned. "We still have a way to go." (Web highlight from ScienceDaily)

For additional info on this study, read this article from Medscape News (free registration required).


Are We Nearing a New Generation of Hep C Meds?
Hepatitis C treatment is no walk in the park: Current hep C meds can cause a host of side effects and often fail to work. That's why it's such welcome news to hear that not one, but two hep C drugs in development impressed researchers at a recent conference. Although Alinia (nitazoxanide) and telaprevir (VX-950) work very differently from one another, both appear to work better against hep C than standard meds. (Web highlight from the New York Times)

This new research on hep C meds is part of a flurry of recent studies that have propelled hep C research forward after a long period of stagnancy. This article from aidsmap.com summarizes other recent research, the results of which drive home the importance of getting tested and treated for hep C before the virus is able to cause severe liver damage.


HIV and Tuberculosis in the United States: What the Numbers Say
Tuberculosis (TB) is the leading cause of death among HIVers worldwide, and though it mostly impacts people in the developing world, HIVers in the United States can get it too. Read this report from the U.S. Centers of Disease Control and Prevention for an update on how many people have both HIV and TB in the United States, and which groups of people may be particularly at risk.
• YOU AND YOUR MEDS: TAKE A NEW SURVEY

How do you feel about being on HIV treatment? How often do you and your doctor discuss the latest information on HIV meds? This survey, developed by Gilead Sciences, Inc., under the guidance of Benjamin Young, M.D., Ph.D., aims to help provide a better understanding of how HIVers and their meds get along in this rapidly evolving era of HIV treatment. The survey is completely anonymous and only takes five to 10 minutes; click here to begin!
• HIV TREATMENT

New HIV Treatment Guidelines in Europe Recommend Starting Meds at 350
The drive to start HIV treatment earlier has hit a new milestone. Recent research has consistently called attention to the possible dangers of waiting too long to begin HIV treatment, so it was inevitable that HIV treatment guidelines would change as a result. Although we're still awaiting the latest edition of the U.S. treatment guidelines, Europe has already taken action: New European guidelines say that HIVers should start taking meds as soon as their CD4 count drops below 350. (U.S. guidelines still list 200 as the CD4 count at which treatment is recommended.) (Web highlight from aidsmap.com)


Can Kaletra Monotherapy Work? Studies Say Yes, But ...
The idea of "monotherapy" -- taking only one HIV medication rather than an entire regimen -- may sound like a relic of the past, but over the past few years, researchers have been giving the idea another look, partly because it may provide a way to reduce the cost of HIV treatment. New studies from Europe suggest that HIV treatment using only Kaletra (lopinavir/ritonavir) can often be successful, but with two "buts": One, it requires nearly perfect adherence, and two, it doesn't work as well against the strains of HIV that are most common in the developing world. (Web highlight from aidsmap.com)


Agenerase Goes Dodo: Outdated HIV Med Removed From U.S. Market
It was just a matter of time before Agenerase (amprenavir) bit the dust in the United States, and now it's official: The maker of Agenerase discontinued the sale of the drug in the United States as of the end of October. It's not particularly earth-shattering news, considering Agenerase had been rarely prescribed in the United States anymore. Since 2003, it had been all but replaced by Lexiva (fosamprenavir, Telzir), a newer version of the drug that requires fewer pills per dose.
• MAKING A DIFFERENCE


Calling All Artists: Can You Fit Your Creativity on a Postcard?
Whether you're an accomplished artist or creative work is simply your hobby, Visual AIDS wants your help! Next month brings the culmination of the annual Postcards From the Edge benefit, in which artists from around the United States submit postcard-sized works of art that are put up in New York City for display and sale. Friday, Nov. 9 is the postmark deadline for any and all artists interested in submitting their work! All benefits go to Visual AIDS, a nonprofit organization that supports HIV-positive artists, preserves their works and uses art to spread HIV awareness throughout the country.

Mark your calendar: This year's Postcards From the Edge benefit sale will take place at the James Cohan Gallery in New York City on Dec. 1 and 2. Click here for more info.
• HIV IN THE NEWS

News That a TB Vaccine May Harm HIV-Positive Babies Creates a Dilemma
A tuberculosis (TB) vaccine used in the developing world can potentially make some HIV-positive infants seriously ill, researchers have announced. The Bacille Calmette-Guerin vaccine, which is given shortly after birth in most developing countries, made 4 out of 1,000 of the HIV-positive babies in one region of South Africa ill, according to Dr. Mark Cotton, a South African pediatrician and HIV researcher. The findings have left public health officials with a conundrum: In the developing world, HIVers are especially vulnerable to tuberculosis, but babies don't usually get tested for HIV until weeks after they receive their TB shot. (Web highlight from Reuters)


Haitian Americans Fuming Over Study Finding That HIV Came to U.S. From Haiti
Some Haitian Americans have reacted with outrage to a recent study finding that HIV originally came to the United States through Haiti. Many in Miami's Haitian community have complained that Haitians are being accused of starting the HIV epidemic in the United States based on thin evidence. In response to criticism from Haitian activists and fellow scientists, Dr. Arthur Pitchenik, a co-author of the study, stressed that HIV "has nothing to do with race or sex or color of skin, and we should not stigmatize any particular group." (Web highlight from the Miami Herald)

Click here to read more on the reaction to the study.
• HIV TRANSMISSION & TESTING

U.S. State Laws Block Federal Push for Universal HIV Testing, Report Says
It's been more than a year since new U.S. recommendations urged routine HIV testing for nearly all U.S. adults. But routine testing is still not a reality in the United States, and a new report suggests why: Many U.S. state laws require things like pretest counseling and informed consent, which run counter to the new recommendations. States have made almost no move to change their laws to allow for routine testing, the report says. (Web highlight from PLoS ONE)


Baltimore Sun Series Examines Link Between Commercial Sex Work, HIV Transmission in Baltimore
When we talk about HIV prevention in the United States, we usually talk about it in terms of dating, relationships or using injection drugs. What we don't talk about much is that sex work is still a booming -- and unregulated -- business in much of the country, and might sometimes be a driving force behind the spread of HIV. A two-part series published in the Baltimore Sun recently examined the role that commercial sex work may play in the city's high HIV rate, and investigated the halting efforts that have been made thus far to do something about it.
• HIV OUTSIDE THE UNITED STATES

By 2010, 2% of People in Central America May Be HIV Positive, UNICEF Says
Sub-Saharan Africa and the Caribbean may come to mind as regions that have been the most severely impacted by HIV, but Central America, which gets relatively little attention, has its own growing epidemic, according to UNICEF. At current rates, 2 percent of Central Americans will be HIV positive by 2010, UNICEF predicts. Many Central American countries are already hard-hit: HIV is one of the top 10 causes of death in half of Central America's countries. (Web highlight from UNICEF)


3,000 People in China Diagnosed With HIV Each Month
Since January, about 3,000 people each month have been diagnosed with HIV in China, the country's official media reports. Reports also suggest that the sexual transmission of HIV is increasing, which suggests that the virus is spreading into mainstream society. As disturbing as it may be to read, 3,000 diagnoses per month may be an understatement: China has often tried to sweep its HIV problem under the rug. For instance, while China's government claims 220,000 people in China have HIV, the United Nations says 650,000 is a more likely figure. (Web highlight from Reuters)

Sex, Privacy and the Law
When You're HIV Positive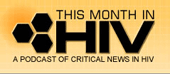 Since the mid-1980s, people with HIV in the United States have been fired, evicted, injured, imprisoned, ostracized and even killed simply for having the virus in their blood. As an HIV-positive person, what can you do to protect yourself -- in life, in love, at work and elsewhere?
In our newly launched October edition of
This Month in HIV
, attorney and HIV advocate Catherine Hanssens walks us through the facts about HIV, sex, privacy and the law in the United States.
Click here
to read the interview, listen online or download an MP3!
"Dinosaurs and Old Photos... 1 of 2" 1991; Rubin Gonzalez
Visit the
November 2007 Visual AIDS Web Gallery
to view our latest collection of art by HIV-positive artists! This month's gallery, entitled "Mnemonic Provocations," is curated by Mario H. Ramirez.

At The Body's Bulletin Boards
How Do I Stop From Feeling Like Damaged Goods?
(A recent post from the
"Gay Men With HIV" board)

I'm three months into my knowing my status, breaking up with my "boyfriend," living in a new city, and feeling very lonely at the moment. ... What do I do? Where do I go from here? ... If you only knew how needy, selfish and what a pain in the ass I can be. How am I going to add this to the list of things that need to be "addressed" in the interview/dating process? I am cute, but not THAT cute, for Christ's sake! Thoughts? Advice? Dating services? No, seriously, I would love something to help me not feel so alone and "damaged."

--Nathan

Click here to join this discussion thread, or to start your own!

Donate Your Extra Meds and
Save Lives (Postage Paid!)
Your extra medications are needed by many people with HIV. Organizations across the U.S. quietly take unused HIV meds to distribute to people without insurance who can't get on government assistance. Other organizations, like Aid for AIDS and the Starfish Project, will pay for you to send them your extra meds for HIV and related illnesses, and then ship them to people in South America and Africa who would die without them.
If you have extra meds you don't need, please take a moment to learn more about
Aid for AIDS
and the
Starfish Project
, or
click here
for additional news and information about medication recycling programs.