Will Sen. Clinton Come Clean on Needle Exchange?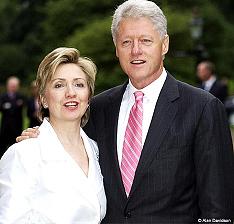 Hill, don't make the same mistake as Bill
Last April, Housing Works president and CEO Charles King tried to pin down 2008 presidential frontrunner Senator Hillary Clinton about her position on lifting the ban on federal funding for needle exchange. Six months later -- despite a high-profile story on the website Politico and frequent bird-dogging to get Clinton to release her plan to fight AIDS -- advocates are still left to wonder what action Clinton will take on needle exchange, and why she seems so hesitant to lead on the issue.
Besides Clinton's exchange with King, the Update found virtually no other public comments from Clinton on the issue. In that exchange, Clinton said, "I want to look at the evidence on it," referring to whether needle exchange would prevent the spread of HIV without increasing illicit drug use. If so, said Clinton, "states and localities should have the option of doing it." King reminded the senator from New York that her own husband's Health and Human Services Secretary, Donna Shalala, had "certified" the safety and effectiveness of such programs in 1998.
Advertisement
"And then she refused to order it, as you remember," Clinton shot back. In fact, Bill Clinton allowed Shalala to
announce
that a "meticulous scientific review" had "proven" needle exchanges were safe and effective but maintained the federal ban on funding them. When King corrected Clinton, she admitted, "We knew we couldn't maintain it politically. I wish life and politics were easier." (To see a video of the whole battle click
here
.)
Director of National Affairs for the Drug Policy Alliance Bill Piper confirmed that Clinton's position on lifting the ban remains unknown. "I don't know what her position is and I don't expect that to change. Hillary is the frontrunner, and frontrunners tend not to take positions on tough issues," Piper said.
William McColl, the political director for AIDS Action, agreed but expressed a more sympathetic view. "I realize she has been reluctant to be clear about her position on syringe exchange," McColl said, "But it has been so politicized over the years, I can understand why someone like Hillary might be hesitant to get out in front of it." McColl acknowledged that Sen. Barack Obama, John Edwards, and Bill Richardson have all said they support ending the federal ban on needle exchange.
'80s Thinking
What else might explain Clinton's reluctance to endorse needle exchange as HIV prevention and lift the federal funding ban when other candidates have had the courage to do so? After all, there's good reason to believe that the American public supports the idea. According to a 2001 Kaiser Family Foundation Survey, 58 percent of Americans favor needle exchange programs, while just 38 percent oppose them. And a 1997 Harris Poll found that 71 percent of Americans support lifting the ban on federal funding for needle exchange programs.
Clinton's reluctance could be due to the particularly brutal scrutiny that conservatives reserve for her. After she voiced support for the allocation of $350,000 of federal funds to the Gay Men's Health Crisis (GMHC) to help combat methamphetamine use, National Review Online sneered, "Will taxpayers' $350,000 help GMHC tell readers to avoid methamphetamine because it will affect their 'long f*** sessions,' but at least urge them to use clean needles if they must shoot up?" And the subject of needle exchange tends to bring out the crazies to begin with. "Give them all dirty needles and let them die," said TV's Judge Judy Sheindlen on a trip to Australia in 1999 when she was asked about allowing drug users to have access to sterile syringes to prevent the spread of HIV.
Piper guessed that Clinton may be locked in a cycle of "80s thinking," a phenomenon, he said, which particularly tends to affect Democrats. "They're still so afraid of appearing 'soft on drugs' that they fail to realize public perceptions have changed. Most people now view drug abuse as a matter of public health -- not as a criminal issue."
McColl offered a similar view. "There's been a 20 year campaign to confuse the issue of drug use with the issue of saving lives through syringe exchange," he said. "She's cautious because she's seen some of the damage that a charge of being 'soft on drugs' can do in a general election."
A Telling Apology
Whatever the case, given Clinton's use of the word "we" when referring to her husband's administration, it is worth noting that Bill Clinton's position on needle exchange has evolved significantly. In 2006, when asked if he regretted his decision not to support needle-exchange, the former president admitted that he did. "I was wrong," Mr. Clinton confessed at the XVI International AIDS Conference in Spain. "The evidence shows that it doesn't lead to increased drug usage."
Still, Clinton's approach to AIDS in general in the presidential race has remained strangely cautious. Last July, Black Press USA asked the Clinton campaign why AIDS wasn't mentioned anywhere on her website. Jin Chon, a spokesman for Clinton, replied, "We will have a whole section on health care and there will be a section on Hillary's stand on HIV/AIDS." Two months later, Gay.com asked Chon why Hillary's subsequently posted health plan included no AIDS-specific recommendations.
Chon's e-mailed reply stated simply that "Hillary Clinton's plan will make sure that all Americans living with HIV and AIDS have access to the health insurance they need." Both Edwards and Obama have released comprehensive strategies for fighting AIDS domestically and globally.
Clinton's Senate website continues to emphasize the "need to take bold steps to confront and eradicate AIDS and support those living with HIV." To that end, she says, she introduced the Early Treatment of HIV Act, and has been a strong supporter of the Ryan White Care Act. She also supports "full funding" for the President's Emergency Plan for Aids Relief (PEPFAR) and favors providing "additional funding" to the Global Fund to Fight AIDS, Tuberculosis, and Malaria.
Given her lack of leadership around AIDS on the campaign trail, is Clinton still worthy of being considered a staunch ally of efforts to end the epidemic? "Unquestionably," McColl said. "But I do think sometimes people are at a different place than we would like them to be, and it's our job to get out there and convince them that it's okay to move a step closer to our position."
King gave Clinton faint praise for engaging in the fight when it was "popular," but also emphasized that "a true ally is going to have the courage to stand up during every important battle -- not just when it is politically expedient to do so."