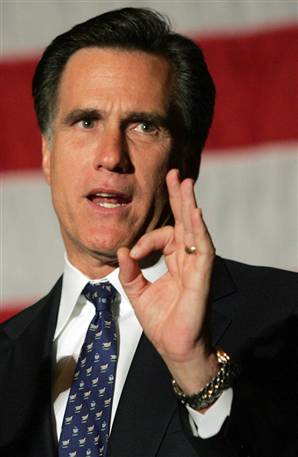 Ask Mitt anything -- though he might not want to talk about it
Although the Dems tend to be a little more accessible, AIDS activists are just as eager to corner Republican presidential candidates at meet-and-greets throughout the country to demand they explain their positions on domestic and global AIDS issues. With a little ingenuity, bird-doggers have gotten close to the GOP's would-be nominees -- only to find out that, in some cases, HIV/AIDS is barely on their minds.
When Luke Messac, a Harvard senior, and ten of his closest friends attended two "Ask Mitt Anything" campaign events earlier this month in New Hampshire , they found that just because they could ask Mitt anything, didn't mean he had to give a straight answer. When one of Messac's crew asked Romney to name the dollar amount he'd commit to funding global AIDS, Romney said he hadn't made a budget -- and that when he does make one, global AIDS won't be his first priority. When another bird-dogger asked Romney if he would commit $50 billion over five years to fighting global AIDS, Romney kept bringing the discussion back to the war on terrorism.
Advertisement
According to Messac, Romney grew so frustrated with the AIDS questions that the ex-governor of Massachusetts remarked, "We have to get our own house in order first, of course," and then went on to talk about giving money to countries with moderate politics and significant Muslim populations. When pressed further, Romney appeared agitated, asking "Is this really the most important issue to you? More important than military spending?"
For Messac the answer is yes. "At the end all we're asking for is one-fourth of one percent of the U.S. budget for one of the greatest catastrophes of all time, and it's an issue that's not getting play in Romney's campaign," Messac told the Update. "With Obama, even if he wasn't perfectly in line with everything, he'd definitely done his homework, and was versed on global AIDS. If Romney has done his homework, he didn't display it."
They Heart Huckabee?
Earlier this month three students at St. Michael's College in New Hampshire (including Madison Reeve, who bird-dogged Sen. Hillary Clinton into agreeing to provide $50 billion for global AIDS), pretended to be Young Republicans to attend former Gov. Mike Huckabee's meet and greet at a "green" energy efficient house. According to Kevin Anglin, a bird-dogging newbie, the three coconspirators mingled undetected among the 50 guests. Then Chris Riley approached Huckabee and asked about his knowledge of the President's Emergency Plan on AIDS Relief (PEPFAR). Huckabee said he had no knowledge of the $15 billion program.
Riley patiently explained PEPFAR to Huckabee, then asked if he would support broadening PEPFAR's HIV prevention education to include condoms and other methods. Huckabee said, to the approval of the crowd, that abstinence is the best way to stop HIV from spreading, and we should not condone such behavior. According to Riley, Huckabee also said, "With drunk driving, we don't say, 'Let's limit drunk driving,' but we aim to stop it." Anglin wasn't convinced. "It was kind of an inappropriate analogy," Anglin told the Update. "A more appropriate one would have been with drinking, where we expect people are going to drink, so we try to limit the destructive consequences."
McCain Off a Plane
While covert operations can be part of the bird-dogging fun, Housing Works legislative counsel Michael Kink recently showed that if a candidate crosses your path, don't hesitate to flag him down and fire away.
Kink was heading home from the Campaign to END AIDS town hall meeting about improving the Ryan White CARE Act, when he spied Sen. John McCain at the Columbia, South Carolina airport. Apparently McCain and his wife (on crutches) had just gotten off a flight.
Kink greeted McCain as the senator was heading for an escalator by thanking him for his leadership on HIV/AIDS, then told him that making a clear commitment to fight global AIDS would be the next strong step he could take. McCain said his campaign staffers gave him info on global AIDS and that he'd look into it. Kink also encouraged McCain to cosponsor the Early Treatment for HIV Act, explaining that South Carolina had people dying on the AIDS drug waiting list just this year. McCain said, "That's terrible" before being whisked off by an aide.
"Even if McCain doesn't win the presidency, he's still a powerful senator and it's important to get him to support ETHA," Kink said. "Because he's running for president though, we have a unique opportunity to talk to him about these issues, and historically any progress on HIV/AIDS policy and funding has come with support from both parties."
Stay tuned for more bird-dogging reports from campaign events -- on both sides of the aisle.