Women Give Powerful Testimony at Congressional Meeting on Outdated CDC Transmission Guidelines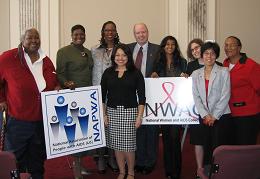 Ten smiling briefing attendees telling CDC marriage is an HIV risk factor
After Dr. Bishop Joyce Turner Keller was raped in 1995, she was tested for STDs -- but not HIV. It was only after she was in a car accident and developed a staph infection that she demanded an HIV test, which came back positive. "Had I not continued to seek answers, because I am a woman who does not fit the CDC surveillance criteria, before you today would be a woman with only one leg and a crutch," Keller, the Campaign to End AIDS National co-chair, told the crowd at Monday's Congressional Breakfast Briefing, Women and AIDS: Federal HIV-Reporting Policy and Its Impact on Women, sponsored by National Women and AIDS Collective (NWAC).
Sixty percent of women are classified as "no identified risk" under the Centers for Disease Control's transmission risk guidelines, a designation that affects funding priorities, prevention efforts and who is and who isn't tested for HIV. But over the last year NWAC (founded by the Ms. Foundation in 2005) with the help of the National Association of People With AIDS (NAPWA), organized the Congressional briefing as a first step in plans to raise awareness and to pressure legislators to push CDC to change the policy.
These organizations want the CDC to include all heterosexual sex as a risk and revise the transmission risks to accurately capture socioeconomic and environmental data, such as where one lives, post-incarceration rates, poverty and homelessness. Such factors play a role in high HIV infection rates among women of color, who make up 82 percent of all new infections among women, and low income women. Staffers from the offices of Hillary Clinton, Edward Kennedy and Yvette Clark, were all in attendance at the breakfast.
Advertisement
"The System Is Broken"
Currently, people who test positive for HIV are typically classified in one of the follow transmission categories (in order of risk):
MSM (male-to-male sexual contact)
MSM/Injection drug use
IDU
Hemophilia
Heterosexual contact (male or female who has sexual partner who is IDU, MSM and/or HIV positive)
Transfusion
Occupational exposure
Perinatal exposure
NIR (no identified risk)
"What we saw across the board at NWAC was that too many women who came to our agencies after finally testing positive said, 'I never heard a message that reflected me as a heterosexual woman in a monogamous relationship. I heard you had to be a gay person or a sex worker,'" said Carrie Broadus, executive director of the Women Alive Coalition and an NWAC member. "The data should be driving the system, but the system is broken."
With 25 percent of Americans with HIV still unaware of their status, changing the CDC's risk guidelines is crucial. Women comprised 27 percent of new HIV infections in 2005, up from eight percent in 1985.
NAPWA Vice President Vanessa Johnson spoke of how she "self-selected out" of being tested for HIV in 1990. "My doctor said, 'Do you do this, or do that?' and then told me I had mono," Johnson said. "It saddens me that 17 years later the same thing is happening." Another woman, who withheld her name, experienced a similar situation when she was diagnosed this year after incorrectly assuming her fiance was monogamous.
"Most policy initiatives begin with awareness," said Gay Mens Health Crisis executive director Dr. Marjorie Hill, who spoke at the briefing and fully supports the initiative. "We have to continue to build upon the organizing that's being done to make this change happen."