"New Ryan White" Town Hall at South Carolina HIV/STD Conference Elicits HIV Care Horror Stories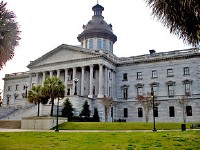 SC capital hosted RW town meeting
The last time the Campaign to End AIDS and NAPWA held a town hall meeting on "Creating New Ryan White Legislation" it brought together hundreds of people in a hotel ballroom in Cleveland with simultaneous sessions in English and Spanish on the problems PLWHAs face getting and keeping HIV health care all across the country.
This week in Columbia, South Carolina the proceedings were a little quieter -- and a little more personal.
"I've been off of HIV meds three times in the past two years, for a few weeks each time," said one participant. "I've gone from eight months on the ADAP waiting list to a pharmaceutical company program to nothing and back again. It's not the way it should be."
Advertisement
C2EA and NAPWA are holding the town meetings (with help from advocates and policy wonks from Housing Works, the AIDS Foundation of Chicago, the San Francisco AIDS Foundation, the AIDS Institute and others) to elicit real-world testimony on how the U.S. HIV care system functions as part of the preparation for the 2009 reauthorization of the Ryan White CARE Act. There's an online survey
here
that hundreds have already completed, and a series of sessions to get real stories from real people.
In Columbia, one of the biggest gripes was unequal access to care -- and poor quality care, period. ADAP, Medicaid, Medicare and state-funded care programs have different eligibility standards and different benefit packages. The result is few consumers getting HIV treatment that meets accepted standards of care.
"It feels like we have to beg for what we get," said a participant. "And what we get isn't enough." Many spoke of getting prescriptions for HIV meds and twice-a-year T cell and viral load tests, but no primary medical care or treatment for other conditions.
"It's like they (doctors) don't want to know too much about what's wrong with us -- we're not covered for much," said one participant, to an "amen" chorus from the group.
Disjointed funding streams and poor administration of funds leads to boom-and-bust health care, according to many. One woman said her local AIDS service provider had to spend an end-of-the-year surplus of funds quickly and bussed dozens of clients across the state to a low-cost dental provider for a one-day surge of dental care. "We get nothing for three years, and then everything in one day," she said. "It was crazy."
Several participants said staff at AIDS service organizations appears to be working harder to meet the conditions of their contracts than at providing quality, comprehensive services. Consumers are made to feel that the top priority for workers is to complete paperwork, ensure eligibility and get their organization paid -- and that complicated administrative tasks have to get done before even immediate health care needs can get met.
"I had to get out of my sickbed to wait in line for three hours to fill out a form, and then go across town to get more papers," said one participant. "I had to work for two days before a doctor would even see me."
"It's an emotional roller coaster," said David Bond of C2EA, a PLWHA activist from Las Vegas and a co-chair of the town meetings, characterizing the consumer comments. "There is no let-up. We are constantly putting out fires. One fire dies and another one is right behind it."
The South Carolina group agreed to continue to meet in preparation for advocacy around improvements to the U.S. HIV care system. Their demand? Universal, affordable comprehensive health care that meets quality standards for HIV/AIDS care -- and that's accessible to all!
For more information on how to become part of this national dialogue -- and on the next town meeting, to be held in November at NMAC's U.S. Conference on AIDS -- contact Christine Campbell at (202) 408-0305 or campbell@housingworks.org.