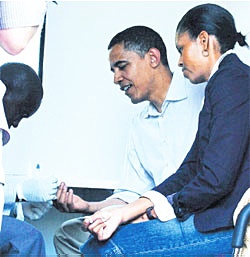 Obama's plan to fight global AIDS didn't pass the funding test
Sen. Barack Obama released his
plan to fight HIV/AIDS
on his website Tuesday morning and reviews are decidedly mixed. On the home front, there are cheers for Obama's call for universal health care, a national AIDS strategy, passing the Early Treatment for HIV ACT (ETHA), focusing on HIV/AIDS prevention and treatment in the African-American community and ending the federal ban on needle exchange, among other initiatives. Domestically, he hit all the same notes as his fellow candidate John Edwards
last month
.
That's just fine with David Munar, vice president for policy and communications for AIDS Foundation of Chicago, and other advocates. "Domestically, we're thrilled," Munar said.
But Obama's international AIDS plan failed to have the same exciting effect. He didn't commit $50 billion a year for five years to fight HIV/AIDS worldwide -- as he sort of, kind of told bird-doggers he would. Instead, he pledged $50 billion to cover all United Nation's Millenium Development goals which, in addition to fighting AIDS, include halving the number of people who die of tuberculosis, malaria and avian influenza, as well as reducing global poverty.
Advertisement
Obama also said he supports adding $1 billion a year to fight global AIDS through the President's Emergency Program for AIDS Relief (PEPFAR). But Obama didn't make clear if he wants to add $1 billion to the $15 billion annually in PEPFAR funds or the $30 billion
Bush proposed
. It is also unclear whether Obama plans to add $1 billion annually to PEPFAR or play the future by ear. Paul Davis of Health GAP points out that Obama's total for PEPFAR could be anywhere from $20 billion to $45 billion over five years, depending on the details of his position. (Obama's campaign could not be reached for further clarification).
"It's difficult to understand what he means," Davis said. "Senator Obama needs to include a real price tag on his global AIDS initiatives if he wants to show he's serious. Senators Edwards showed much more thought and care to people with AIDS in the developing world. Hopefully this is a false start for Obama."
Edwards, in addition to pledging $50 billion over five years for global AIDS, also said he will rescind the "gag rule" that doesn't allow global not-for-profits receiving U.S. funds to perform abortions or provide contraceptives. Edwards also calls for a cabinet level official to focus on global poverty.
Obama's plan includes:
a promise to provide universal health care
creating a national AIDS strategy
support for Early Treatment for HIV Act (ETHA) which would provide Medicaid coverage to low-income people living with HIV
particularly focusing HIV/AIDS efforts towards African-Americans
full funding of the Ryan White CARE Act and Housing for People with AIDS (HOPWA)
expanding access to generic HIV/AIDS drugs in poor countries
supporting "age appropriate" sexual education
lifting the federal ban on needle exchange
reauthorizing and revising PEPFAR to allow science-based prevention
putting $50 billion towards the Millenium Development Goals
allowing countries to access more low-cost generic medications
Keep reading the Update for presidential AIDS plans as they are announced.