Ignoring AIDS Stigma, House Passes Prison HIV-Testing Bill Without Provision for Written Informed Consent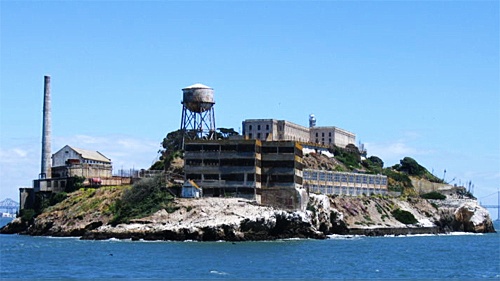 Alcatrez is the only federal prison where written informed consent should no longer apply
The Stop AIDS in Prison Act (H.R. 1943), passed by a voice vote Wednesday in the House of Representatives. Despite the praise some AIDS groups have given this legislation, which will amp up HIV testing in federal prisons, there's one crucial element missing: written informed consent.
The bill, introduced by Rep. Maxine Waters (D-CA), seeks to increase HIV testing in federal prisons by providing routine testing, with pre-and-post test counseling to prisoners leaving and entering facilities, as well as upon pregnancy or request. Waters listened to input by HIV/AIDS advocates when it came to including an opt-out provision (so those who don't want to be tested cannot be punished) and strengthening counseling. However, Waters didn't include written informed consent for testing, so prisoners can be tested consent with only their verbal permission.
Advertisement
"There's no way to fight HIV while short-changing basic human rights and informed consent for medical tests and treatment," said Christine Campbell, Housing Works director of National Advocacy. "America's history of experiments and ill-treatment of people who are incarcerated and people of color should lead us to be more careful in this area, not less. We need to make sure that everyone at risk in prison can get tested, but we need to respect their rights and their dignities in the process."
Written informed consent is a safeguard that institutions-such as prisons-live up to their responsibility of fully informing people about people get the information they need in order to decide when and where to get a test, and is required when the benefits and risks are not well known. Given the myriad social and legal consequences of an HIV diagnoses-particularly the stigma and discrimination that all-too-often affects HIV-positive people in prison-HIV diagnoses warrants written, informed consent before testing is provided.
The lack of written informed consent is unfortunately in line with Center for Disease Control regulations which states, "Screening should be incorporated into the general consent for medical care; separate written consent is not recommended."
Split Decision
Some organizations are putting aside their informed-consent reservations to support the bill. AIDS Action's release "applauds" and in the AIDS Institute's Release, executive director Dr. Gene Copello states, "The need for this legislation is great. We congratulate and thank Rep. Waters for her leadership on this and so many other HIV/AIDS issues."
But Gay Men's Health Crisis (GMHC), Americans for Civil Liberties Union (ACLU) and Housing Works all say that the lack of written informed consent is a deal breaker for their support. Jackie Walker, HIV/AIDS/Hepatitis Information Coordinator of the ACLU National Prison Project, said, "Written informed consent is the basis of the testing process. Moreover, testing in the prison system is very different than being tested in the community. They don't have the same access to support services and the level of stigma is extremely high."
Ronald Johnson, deputy executive director of AIDS Action Committee, said the bill was an acceptable step forward. "Given the higher rate of AIDS in correctional facilities, including federal prisoners inmates are returning to their communities not knowing they're infected," Johnson said. "This bill is an important piece of the overall goal of having everyone know their HIV status." He added that should the bill be introduced in the Senate, AIDS Action will work to strengthen the language and follow up if it is implemented. "We need to make the opt-out process as real as possible," Johnson said. "There is coercion or an undercurrent of coercion at many of these facilities. And as a supporter of this bill, we need to monitor it very doggedly if it comes to law."
While GMHC opposed the Prison Act, Kristin Goodwin, community organizer for public policy at GMHC's Action Center, said they didn't make a fuss "because any group that puts testing and HIV prevention in the spotlight is a good thing." Goodwin added that GMHC is a much stronger supporter of The Justice Act of 2007 H.R. 178, another prison bill by Rep. Barbara Lee (D-CA) that allows community organizations to distribute condoms and to engage in sexually transmitted infection (STI) counseling and prevention education in federal correctional facilities. It also prohibits federal correctional facilities from taking action against a prisoner who possesses or uses a sexual barrier protection device. So far there has been no movement of that bill in either house.