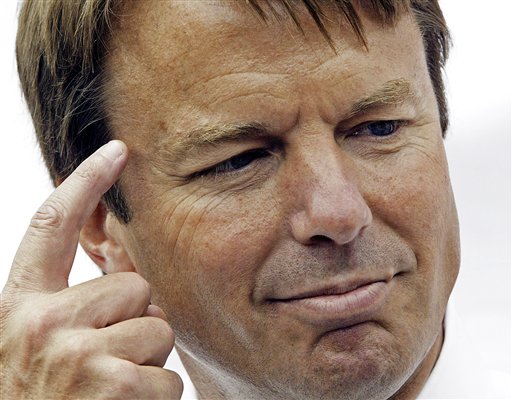 Edwards thinks -- and we agree -- that an AIDS strategy is a good idea
Iowan Tami Haught has been one of dozens of AIDS activists bird-dogging presidential candidates, and she had a particularly powerful exchange with presidential candidate John Edwards after one of his stump speeches. So Haught and other AIDS advocates were glowing this week when Edwards announced his comprehensive plan to fight AIDS in the U.S. and abroad, including a "National HIV/AIDS strategy."
"Other candidates need to follow Edwards' lead," Haught said."This is a wonderful start and I'm so glad that he paid attention to the concerns that have been raised."
Advertisement
Edwards' plan
, which he discussed during an
interview
with the Kaiser Family Foundation Monday, includes many of the recommendations that AIDS experts have made to all the candidates in both parties: at least $50 billion to fight global AIDS with specific investments in health care workers, and support for the Global Fund universal health care. Edwards also announced his support for effective science-based prevention -- including needle exchange.
"I would not impose the ideological limitations that we have seen in the Bush administration," Edwards said in the interview.
His plan includes:
a promise to provide universal health care to all Americans by 2012
creating a national AIDS strategy
support for Early Treatment for HIV Act (ETHA) which would provide Medicaid coverage to people living with HIV
full funding of the Ryan White CARE Act and Housing for People with AIDS (HOPWA)
lifting the federal funding ban on needle exchange programs
supporting comprehensive "age appropriate" sex education
particularly focusing HIV/AIDS prevention efforts towards Blacks and Latinos
expanding access to generic HIV/AIDS drugs in poor countries
overturning President Bush's "gag rule" -- the executive order barring U.S. family planning aid to foreign non-profits that offer abortion
Advocates Applaud Edwards
"If we do these things, the next President has a shot at actually ending AIDS as a killer pandemic," said Christine Campbell, director of national advocacy and organizing for Housing Works, which is active with AIDSVote.org, an online tool that will show where all the presidential wannabes stand on HIV/AIDS. "Every candidate should provide the details of what they'd do on AIDS, and we hope they'll listen to the ideas put forth by AIDSVote.org."
David Munar, vice president for policy and communications for AIDS Foundation of Chicago agrees with Campbell and hopes more presidential candidates put forth a national AIDS strategy. "The fact that Edwards acknowledges that the U.S. needs a strong evidence-based strategy is great. It would be tectonic shift for the U.S. government to develop a national strategy that has goals."
Edwards fellow Democratic front runners, Barrack Obama and Hillary Clinton haven't yet released plans and didn't respond to the Update's calls.
While Edwards was the first candidate to be interviewed by Kaiser Presidential forums, others are scheduled for a Kaiser interview throughout the next two months as well, and it is unknown if they will announce their plans to combat HIV/AIDS then.