Massive Coalition Urges Support for Resolutions Reaffirming U.S. Commitment to WTO Policies on Fair Drug Pricing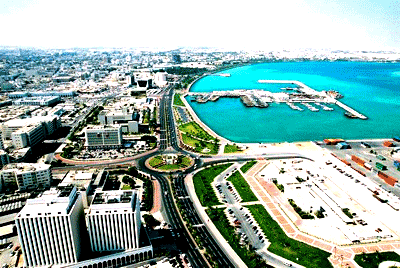 Doha, Qatar -- Where Big Pharma got beat
Over 100 HIV/AIDS, anti-poverty, health, faith, consumer, development, labor and fair-trade organizations delivered a letter to Congress this week demanding support for resolutions calling on the United States to reaffirm our nation's commitment to the 2001 Doha Declaration on the TRIPS Agreement and Public Health.
Senate Resolution 241 has been introduced by Senator Sherrod Brown of Ohio and House Resolution 525 was introduced by Representative Tom Allen of Maine. You can get full info on the resolutions here.
Advertisement
This week's
letter
emphasizes the importance of access-to-medicines issues for treating people with HIV/AIDS and maintaining the U.S. global AIDS program. Organizations endorsing the communique include Housing Works, the American Medical Student Association, the Consumer Federation of America, Consumers Union, Essential Action, Global AIDS Alliance, HealthGAP, Knowledge Ecology International, Oxfam America, Public Citizen's Global Trade Watch, Sojourners/Call to Renewal, the Student Global AIDS Campaign, the United Methodist Church, United Steelworkers and USPIRG.
"In developing countries, the price of medicines is often a life-and-death matter," the letter says. "For example, generic competition for the older first-generation AIDS drugs has reduced their price in developing countries by more than 98 percent, which was critical to the massive scale-up in AIDS treatment seen over the past five years. However, most newer second-generation treatments are under patent and current treatment levels (including people receiving treatment through PEPFAR funding) will not be sustainable unless much cheaper generic versions become available."
"The United States should support efforts to promote access to medicines in developing countries rather than extending Big Pharma's monopoly protections," said Robert Weissman, director of Essential Action.
Full information on the letter, the resolutions, the Doha declaration and how at least one big WTO action helps bring down the price of AIDS meds worldwide is available at www.essentialaction.org/access.