Abstinence is a prevention strategy that requires not only repeated attention, but also regular self-denial. Understandably, the poor results for abstinence education continue to pile up. In August, a review of U.S. abstinence education studies found that they made no difference in the HIV risk of U.S. youth (Underhill et al. BMJ 2007). The authors, from the University of Oxford's Centre for Evidence-Based Intervention, located 13 randomized controlled trials of abstinence interventions that explicitly focused on HIV prevention. The trials, appearing in eight papers, enrolled a total of 16,000 U.S. teens and young adults. Tellingly, the trials all evaluated vaginal intercourse; none looked at oral or anal sex or different sexual orientations. None of the trials detected any difference in vaginal sex rates or condom use when comparing the abstinence education students with those who received the comparison education (which might be the local schools' standard program, abstinence-plus, safe sex or no education at all).
HIV rates were not recorded and probably would be too small to analyze if they had been. Trials of seven abstinence programs did mention self-reported STD diagnoses. None could document any benefit from abstinence education over the comparison programs, and one trial noted significantly higher rates of STDs among the abstinence education recipients. Pregnancy rates also were no different between the abstinence education recipients and the control groups in the eight trials reporting this measure.
Two CDC studies at ISSTDR also described a lack of effect from abstinence education. The first noted that gonorrhea rates fell nationally from 2001 to 2005 (Hogben et al. ISSTDR 2007 abstract O-079) and tried to relate that decline to differences in state education policy. It turned out that states with no policy regarding abstinence as part of sex education had by far the lowest gonorrhea rates and states that required a stress on abstinence the highest. In the middle were the states that required only that the curriculum "cover" abstinence. The decline in gonorrhea occurred almost entirely in this last group of states. Furthermore, the same trends were observed in older adults as in teenagers, indicating that sex education has little to do with the decline. It turns out that the proportion of African Americans in a state most determined where gonorrhea rates fell. Probably, other, unidentified factors are involved as well. Abstinence education really had nothing to do with the drop.
Gonorrhea Rates According to State Sex Education Policy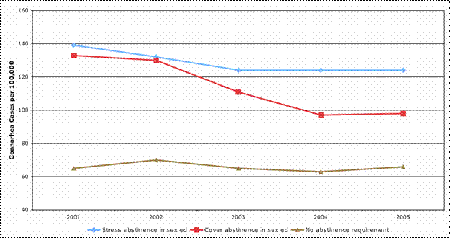 Click image to enlarge.
Advertisement
The second CDC study utilized the agency's National Survey of Family Growth, last conducted in 2002 (Kohler et al. ISSTDR 2007 abstract
O-083
). The innocuous name is misleading: the survey generates much detailed information about sexual practices that have little to do with family growth. In this case, the researchers singled out never married heterosexuals between the age of 15 and 19. There were 1,700 in the survey responding that they received either no sex education in school (10%), abstinence only (24%) or a "comprehensive" approach (66%). (Those that received only contraceptive education -- 6% -- were too small in number to include in the analysis.) 53% were male, 77% white, and only 59% from "intact" families.
After adjusting for confounding factors, there was no difference between the three categories in the percentage answering yes to the survey question about ever having vaginal intercourse or an STD. The respondents with past comprehensive education did have a sharply lower risk of pregnancy compared to either of the other groups, 60% lower than the no sex education respondents and half that of the abstinence-only ones. Of course, the survey data depend on the reliability of the respondents. That's a big weakness. Those who had abstinence-only education might be less inclined to reveal their sexual activity because they have been taught that it is undesirable. More fundamentally, it not clear that the survey respondents have a good grasp on what type of sex education they underwent in school. Still, this new study is the first nationwide summary of the fruits of abstinence-only education.
15-19 Year Olds' Reports of Sex Education compared with their Sexual Experiences, National Survey of Family Growth
Adjusted Rate Ratios with 95% Confidence Intervals
Abstinence ed vs. no sex ed
Comprehensive sex ed vs. no sex ed
Ever had vaginal sex
0.82 (0.51-1.31)
0.70 (0.49-1.02)
Ever pregnant
0.74 (0.38-1.45)
0.39 (0.22-0.69)
Ever diagnosed with an STD
1.65 (0.57-4.76)
1.82 (0.67-5.00)
See remarks about 95% confidence intervals in Herpes Supression: It All Seemed So Simple. The only significant finding here is the reduction in pregnancies among respondents reporting comprehensive sex education.
In a provocative ISSTDR talk (no abstract, see Monday 2:30 symposium), Dennis Fortenberry of the University of Indiana School of Medicine looked at first sex as a developmental milestone, giving a theoretical basis to the observations that programs urging teenagers to defer sex seem to have little ultimate impact. Fortenberry and his colleagues follow about 400 Indianapolis women, who are mostly African American, into their twenties. Every other three-month period, study participants keep sexual diaries that investigators review. Again the data is from self-reports, but the follow-up is rigorous and doesn't depend on distant memories.
Fortenberry's team has noticed that the women who have their first sexual intercourse in early adolescence, before age 14, have very intermittent sexual activity, with a high proportion of condom use. They have few sex partners until age 18, when there is a sudden burst that subsides by age 20. Women who start sex later have a still larger burst in sex partners centered at age 20. At this point, they catch up with their more advanced counterparts. When they reach their early 20s, the women have the same number of lifetime sex partners regardless of the timing of their sexual debut. By late adolescence, the period of highest sexual activity, condom use is likewise low for everyone. STD history turns out not to be much higher in the women with earlier first sex.
Fortenberry recalled that, in the past, he had been a prime proponent of programs to delay teens' sexual initiation. Now, he says, "The enhanced STD risk of earlier first coitus may be overstated… There are different periods of risk but similar developmental trajectories."
Back to September 2007 issue of HHS Watch