Homophobia, Discrimination, Homelessness Drive Epidemic -- New Infections Up by a Third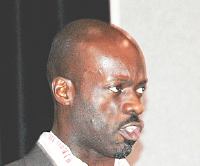 GMAD's Osubu says it's about "who we are as a community"
The New York City Health Department
reported
Tuesday that new HIV diagnoses in the city are rising dramatically among young men who have sex with men (MSM). Even as total infections among MSM have decreased by five percent since 2001, new infections among MSM under age 30 have increased by 33 percent during the past six years, according to the Department, from 374 in 2001 to almost 500 in 2006.
The percent of new infections among black men in that age group increased by 38 percent, with young black men accounting for 20 percent of all total new infections in 2006. Blacks and Hispanics still bear a disproportionate share of New York City's HIV burden. Among all MSM, blacks got twice as many "new" HIV diagnoses as whites in 2006 and Hispanics received 55 percent more than whites.
Also disturbing is that 20 percent of MSM diagnosed with HIV received a concurrent diagnosis of AIDS, meaning that they were not getting tested early and missed opportunities to receive crucial medical and supportive care.
Advertisement
The new statistics come as no surprise to those who work on the front lines of the youth AIDS epidemic. "Young people are coming in, and often they already have an AIDS diagnosis," said Johnny Guaylupo, 25, a Housing Works outreach coordinator who was diagnosed with HIV at age 17. "Sometimes they're homeless, or sex workers. They're just doing what they have to do to survive."
And what pushes these young people into the streets, away from family and other supportive institutions? Homophobia and discrimination, said Tokes Osubu, executive director of Harlem's Gay Men of African Descent, who has been working with black gay youth for over two decades.
"To make any progress at all on these terrible statistics we have to challenge and fight discrimination -- homophobia in our community is so deep and destructive," Osubu said. "Homelessness among youth is endemic, because of sexual or physical abuse or homophobia from their families. Runaways try to get away from that and fall into sex for survival or intimacy -- at the expense of their lives."
According to Osubu, strong and historic biases in African American community institutions cause serious damage to young black gay men, and will need to be reversed in order to heal the wounds and improve public health. "These young people are presenting with deep-seated problems. They are mentally and psychologically damaged. They're constantly condemned by faith and cultural institutions, by their families -- why would a parent turn his or her back on a child they gave birth to and raised? It goes back to the church, it goes back to shaming -- people have been carrying and living with these issues and their whole concept of identity has been damaged. That leads to the chaotic lives and dangerous patterns that drive up HIV risk."
Osubu says it will take courageous leadership to make a difference. "What is wrong is when our political leaders, our faith leaders, our health leaders -- you rarely hear them talk about gay men. It's easy for Hollywood celebrities and politicians and even AIDS community folks to talk about women. But you don't hear celebrities, you don't hear straight men say 'These are my brothers, and we need to reach out to them and care for them and bring them into our hearts.' That's what we need. We have condoms, we have education, we have health care -- but no one is talking about identity, about who we are as a community."