The Body Covers: The 4th International AIDS Society Conference on HIV Pathogenesis, Treatment and Prevention
Darunavir Matches, and in Some Patients Outperforms, Lopinavir/Ritonavir as Second-Line and Third-Line Treatment
Darunavir (TMC114, Prezista) is the first engineered protease inhibitor (PI) designed specifically to overcome PI-resistant mutations. At the 4th International AIDS Society Conference on HIV Pathogenesis, Treatment and Prevention (IAS 2007), several studies examining darunavir's use in different patient populations were presented.
One of those studies was the TITAN study.1 Although recently published in the Lancet,2 it still generated quite an impression since the details of those results were not on the top of the minds of most of the IAS 2007 attendees.
For many years, lopinavir/ritonavir (LPV/r, Kaletra) has been the standard of care for first-, second- and sometimes third-line therapy in patients previously naive to this drug and with no evidence of baseline lopinavir/ritonavir genotypic resistance. Although other PIs have been compared to lopinavir/ritonavir (i.e., atazanavir [ATV, Reyataz] versus lopinavir/ritonavir in the BMS AI424-045 study,3 and fosamprenavir [FPV, 908, Lexiva, Telzir] versus lopinavir/ritonavir in the GSK Context Study4), in the treatment-naive patient population, lopinavir/ritonavir always managed to outperform other PIs. For more experienced patients, tipranavir (TPV, Aptivus) (in the RESIST trials)5 and darunavir (in the POWER trials)6,7 have proven more efficacious than lopinavir/ritonavir or other optimized regimens.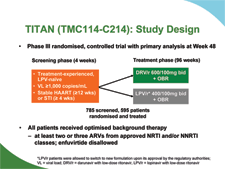 Click to enlarge
Reprinted with permission from Jose Valdez-Madruga, M.D., et al. Click here to download the complete slide presentation.
In the TITAN study, patients who were failing a first- or second-line regimen, and who had no prior history of lopinavir exposure or baseline genotypic resistance to lopinavir/ritonavir, were randomized to receive 600 mg darunavir + 100 mg ritonavir (RTV, Norvir) plus an optimized background regimen (OBR), or lopinavir/ritonavir plus an OBR. The OBR could not include either enfuvirtide (T-20, Fuzeon) or tipranavir. The formulation of lopinavir/ritonavir used was initially capsules, but patients were allowed to switch to the tablets when they became available, and about 20% did so.
The study was designed to demonstrate the non-inferiority of a darunavir + ritonavir-based regimen versus a lopinavir/ritonavir-based regimen in this patient population as defined by an HIV-1 RNA of less than 400 copies at 48 weeks.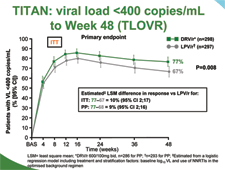 Click to enlarge
Reprinted with permission from Jose Valdez-Madruga, M.D., et al. Click here to download the complete slide presentation.
The results presented here are the 48-week planned analysis of a study that is scheduled to continue for 96 weeks. A total of 604 patients were enrolled in the study and randomized 1:1 into each treatment group. Baseline characteristics between both groups were extremely well matched, including patients' prior antiretroviral use and the current components in the OBR.
In the intent-to-treat analysis, 77% of patients in the darunavir + ritonavir arm versus 67% in the lopinavir/ritonavir arm achieved viral loads of below 400 copies. This was the study's intended primary end point and this response was statistically significant (P = .008), and not only met the criteria for non-inferiority, but it also satisfied the criteria for superiority when the complete population of patients is considered in the analysis.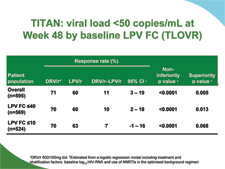 Click to enlarge
Reprinted with permission from Jose Valdez-Madruga, M.D., et al. Click here to download the complete slide presentation.
Similarly, in an intent-to-treat analysis of patients reaching viral loads of below 50 copies, 71% in the darunavir + ritonavir arm versus 60% in the lopinavir/ritonavir arm experienced a viral load decrease to below 50 copies, with higher levels of response seen in the patients with higher baseline fold change to lopinavir/ritonavir.
Another interesting finding was the development of International AIDS Society-U.S.A. resistance mutations in patients who developed virologic failure. In those patients: 21% who were taking darunavir + ritonavir had primary PI mutations versus 36% of the patients with virologic failure who were taking lopinavir/ritonavir.
| | | |
| --- | --- | --- |
| | Darunavir | Lopinavir/ Ritonavir |
| DC Total | 62 | 86 |
| DC Adverse Events | 20 | 21 |
| DC Virologic Failure | 4 | 34 |
| Virologic Failure 48 Weeks | 10 | 22 |
| Grade 3/4 Adverse Events | 27% | 30% |
| Diarrhea | 8% | 15% |
| Elevated Triglycerides | 19% | 25% |
| Elevated Cholesterol | 32% | 29% |

The authors concluded that darunavir + ritonavir was not only non-inferior, but virologically superior to lopinavir/ritonavir. It was also safe and well tolerated, and provided better protection of the nucleoside reverse transcriptase inhibitor (NRTI) and the PI classes upon failure versus lopinavir/ritonavir.
This is a tremendously important study. For the first time, a drug has been found that matches the potency of lopinavir/ritonavir in less treatment-experienced patients and may even potentially outperform lopinavir/ritonavir in certain numbers of those patients. All without compromising safety and tolerability, and apparently without paying resistance consequences if virologic failure occurs.
This study will definitively help move darunavir to earlier use in less treatment-experienced patients. An ongoing study using darunavir + ritonavir once daily in treatment-naive patients is underway, and we are anxiously waiting to learn the results from that study as well.
Resistance Analysis
In a different presentation at this conference,
8
investigators further dissected the resistance data obtained in TITAN, describing how many new mutations emerged when one of the boosted regimens failed.
In summary: 31 patients (10.4%) in the darunavir + ritonavir arm experienced virologic failure, compared to 65 patients (22%) in the lopinavir/ritonavir arm. There were proportionally fewer patients in the darunavir + ritonavir arm who developed new PI mutations leading to resistance to either darunavir or lopinavir/ritonavir (21% versus 36%). Similarly, fewer patients experiencing darunavir failure developed new NRTI-related mutations (14% versus 27%).
The investigators were able to quantify the number of mutations observed in the study that were noted to decrease susceptibility to lopinavir and darunavir. Patients who had started at baseline with three or more darunavir-related mutations or 13 PI-related mutations of any kind experienced a decreased response to darunavir + ritonavir. For lopinavir/ritonavir, six or more lopinavir-related mutations or two darunavir-related mutations at baseline were enough to decrease the lopinavir/ritonavir response.
References
This article was provided by The Body PRO. Copyright © Body Health Resources Corporation. All rights reserved.