Table of Contents
The TITAN Study: Ritonavir-Boosted Darunavir in Treatment-Experienced Patients Naive to Lopinavir
A review of:
Efficacy and safety of darunavir-ritonavir compared with that of lopinavir-ritonavir at 48 weeks in treatment-experienced, HIV-infected patients in TITAN: a randomised controlled phase III trial. José Valdez Madruga, Daniel Berger, Marilyn McMurchie, Fredy Suter, Denes Banhegyi, Kiat Ruxrungtham, Dorece Norris, Eric Lefebvre, Marie-Pierre de Béthune, Frank Tomaka, Martine De Pauw, Tony Vangeneugden, Sabrina Spinosa-Guzman, on behalf of the TITAN study group. The Lancet. July 7, 2007;370(9581):49-58.
STUDY SNAPSHOT
Design
Randomized, controlled, open-label study of lopinavir/ritonavir and darunavir + ritonavir along with optimized background therapy.
Population
Patients with viral load > 1,000 copies/mL while on HAART and lopinavir naive.
Main Results
After 48 weeks, 77% on darunavir + ritonavir and 68% on lopinavir/ritonavir had a viral load < 400 copies/mL (difference = 9% [95% CI: 2-16]) and 71% on darunavir + ritonavir compared to 60% on lopinavir + ritonavir had a viral load < 50 copies/mL (P = .005).
Significance
Darunavir + ritonavir did as well as, if not better than, lopinavir/ritonavir in patients with some, but not heavy, treatment experience, and had similar overall tolerability.
Before the gods of Olympus took to their mountain aerie, another group of deities ruled over the Golden Age of earliest history. They were known as the Titans. Powerful and seemingly invincible, the Titans were overthrown in the true mother-of-all-battles by an ambitious young upstart by the name of Zeus. The rest is mythology. Thus, TITAN is the curious choice of an acronym for an interesting trial
1
that pit lopinavir/ritonavir (LPV/r, Kaletra) against ritonavir (RTV, Norvir)-boosted darunavir (TMC114, Prezista) in their own battle over the viral loads of treatment-experienced HIV-infected patients.
A little background is in order here: For those new to HIV, it helps to keep in mind that the potent, fixed-dose protease inhibitor (PI) lopinavir/ritonavir began its antiretroviral career as a salvage agent reserved for heavily treatment-experienced patients. It is now a preferred agent for first-line treatment according to the U.S. Department of Health and Human Services (DHHS) HIV treatment guidelines.2
Darunavir is a potent PI that was approved by the U.S. Food and Drug Administration (FDA) in June 2006 for use as an agent reserved for heavily treatment-experienced patients when it is boosted with ritonavir. It may also now be a contender for a spot as a first-line PI, and darunavir's maker, Tibotec Therapeutics, hopes that it will usurp lopinavir/ritonavir as a first-line anchor.
The TITAN trial is one step in a number of steps that Tibotec is taking to demonstrate the merits of darunavir beyond salvage treatment. Unlike Tibotec's previous POWER trials,3,4 which enrolled the heavily treated, the randomized, open-label TITAN study was designed to examine the effectiveness and tolerability of ritonavir-boosted darunavir , compared to that of lopinavir/ritonavir, in patients without extensive antiretroviral experience. Participants were required to have a viral load greater than 1,000 copies/mL while on any highly active antiretroviral therapy (HAART) regimen and be lopinavir naive.
The mean number of prior antiretrovirals taken by those patients who were screened for the trial was 5.7. Of the 595 trial participants who were randomized and treated, almost half were triple-class experienced, yet the vast majority retained phenotypic susceptibility to at least two nucleoside reverse transcriptase inhibitors (NRTIs) (92%) and at least four PIs (82%).
TITAN was conducted in 26 countries across North, Central and South America, Europe, Asia, Africa and Oceania. At baseline, the median CD4+ cell count was 232 cells/µL and the median HIV RNA level was 4.31 log10 copies/mL. Those in the darunavir arm of the study received 600 mg darunavir + 100 mg ritonavir twice daily. Patients who were randomized to lopinavir/ritonavir received 400 mg/100 mg twice daily. Initially, the soft-gel formulation of lopinavir/ritonavir was used; when it became available, participants in the lopinavir/ritonavir study arm were switched to the newer tablet formulation (by week 48, 18% of the lopinavir/ritonavir-assigned participants had been switched to the tablet formulation).
The stated primary efficacy outcome of this non-inferiority study was the proportion of randomized participants who received study treatment and did not take disallowed medications (e.g., enfuvirtide [T-20, Fuzeon]) who had confirmed HIV RNA levels below 400 copies/mL at week 48. If the lower limit of the 95% confidence interval (CI) for the difference between the study arms did not exceed -12%, the treatments were to be considered non-inferior.
In a bit of a twist, the statistical plan called for a second analysis in the event of non-inferiority to determine if there was evidence of the superiority of one regimen over the other. For this analysis, the intent-to-treat population was to be used and superiority established if the lower limit of the 95% CI for the difference between arms was greater than 0% (i.e., statistically significant).
At week 48, 77% of the darunavir-assigned participants and 68% of the lopinavir/ritonavir arm had a viral load below 400 copies/mL (difference = 9% [95% CI: 2-16]). As the lower of the 95% CI was less than the -12% arrived at a priori, the results should be interpreted to mean that darunavir was not inferior to lopinavir/ritonavir in terms of this virologic endpoint. Enter the secondary analysis for superiority. This intent-to-treat analysis added 12 patients who were assigned darunavir and four who were assigned to lopinavir/ritonavir, all 16 of whom took disallowed medications. Here the proportion of participants with a viral load below 400 copies/mL at week 48 was 77% and 67%, again favoring darunavir. The difference was 10% (95% CI: 2-17). Therefore, this criterion for superiority of darunavir was met.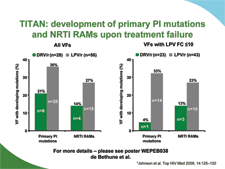 Click to enlarge
Slide by Jose Valdez-Madruga, M.D.; reprinted with permission. Click here to download the complete slide presentation.
Similar results were observed in the proportion of each treatment group to achieve a viral load below 50 copies/mL with
71% of those assigned darunavir compared to 60% of those assigned lopinavir/ritonavir achieving a viral load below 50 copies/mL (P = .005)
.
Most any way you slice the virologic results, darunavir outperformed lopinavir/ritonavir. Importantly, even when the 58 participants with at least a 10-fold change in susceptibility to lopinavir/ritonavir at baseline were excluded, more participants who were receiving darunavir (70%) achieved a viral load below 50 copies/mL compared to those who were receiving lopinavir/ritonavir (63%).
The development of PI and NRTI resistance was less common among those failing darunavir. CD4+ cell count increases were similar among the treatment groups, with approximately half in each group exceeding a count of 350 cells/µL.
The regimens, in addition to being potent, were generally well tolerated, with treatment-limiting adverse effects seen in only 7% of each study arm. Diarrhea was more common among participants who were assigned lopinavir/ritonavir, but to what extent this was related to the use of the older, soft-gel formulation of this drug is not clear. Changes in lipid parameters were very similar, with modest mean increases in triglycerides and all lipoprotein subsets seen in both groups.
The Bottom Line
These are impressive results. Ritonavir-boosted darunavir demonstrated, in this trial, that it could go toe-to-toe with lopinavir/ritonavir and do just as well, if not better, depending on how you slice the study cohort. Given the results of the POWER studies among a more treatment-exposed and treatment-resistant population, it is not surprising that darunavir continues to prove to be very potent. This study provides additional comparative safety and resistance data that clinicians can consider when selecting among these PIs.
To truly take on the convenient (and less expensive) co-formulation of lopinavir/ritonavir as an initial PI, darunavir needs to be studied in the treatment-naive. A head-to-head trial of 800 mg darunavir + 100 mg ritonavir once daily and lopinavir/ritonavir is ongoing. The name of the trial? ARTEMIS, after the Greek goddess and daughter of Zeus who, over time, came to supplant the Titan Selene as the goddess of the moon. She was also, fittingly, worshipped as the goddess of the hunt. Someone at Tibotec must be a classical studies major with a keen sense of humor.
It Takes Two Trials of Etravirine to Tango
A review of:
Efficacy and safety of TMC125 (etravirine) in treatment-experienced HIV-1-infected patients in DUET-1: 24-week results from a randomised, double-blind, placebo-controlled trial. José Valdez Madruga, Pedro Cahn, Beatriz Grinsztejn, Richard Haubrich, Jacob Lalezari, Anthony Mills, Gilles Pialoux, Timothy Wilkin, Monika Peeters, Johan Vingerhoets, Goedele de Smedt, Lorant Leopold, Roberta Trefiglio, Brian Woodfall, on behalf of the DUET-1 study group. The Lancet. July 7, 2007;370(9581):29-38.
and
Efficacy and safety of TMC125 (etravirine) in treatment-experienced HIV-1-infected patients in DUET-2: 24-week results from a randomised, double-blind, placebo-controlled trial. Adriano Lazzarin, Thomas Campbell, Bonaventura Clotet, Margaret Johnson, Christine Katlama, Arend Moll, William Towner, Benoit Trottier, Monika Peeters, Johan Vingerhoets, Goedele de Smedt, Benny Baeten, Greet Beets, Rekha Sinha, Brian Woodfall, on behalf of the DUET-2 study group. The Lancet. July 7, 2007;370(9581):39-48.
STUDY SNAPSHOT
Design
Randomized, controlled, double-blind studies of etravirine combined with darunavir + ritonavir as part of optimized background therapy.
Population
Patients with viral load > 5,000 copies/mL while on HAART and NNRTI resistance.
Main Results
After 24 weeks, those receiving etravirine did significantly better virologically than those receiving placebo. In DUET-1, 56% taking etravirine versus 39% not taking etravirine achieved a viral load < 50 copies/mL (P = .0050). In DUET-2, 62% of patients taking etravirine versus 44% not taking etravirine achieved a viral load < 50 copies/mL (P = .0003).
Significance
Among patients with NNRTI resistance and fewer treatment options, etravirine significantly enhanced the rate of virologic suppression.
Identical twin studies, published side by side -- it is difficult to believe that this is what the U.S. FDA intended when it required two separate trials of a drug for registration. One can imagine how difficult it must have been to write the two manuscripts to avoid their being the same word for word. And, again, how appropriately they are named -- the DUET studies.
5,6
DUET-1 was conducted in Thailand, France and North and South America. DUET-2 was done in Australia, Europe and North America. Both are double-blind, placebo-controlled studies of the second generation non-nucleoside reverse transcriptase inhibitor (NNRTI) etravirine (TMC125) in combination with ritonavir-boosted darunavir as part of an optimized regimen in patients with NNRTI resistance who were failing their current HAART regimen.
Approximately 600 patients were randomized in each trial to receive etravirine or placebo. The participants had extensive antiretroviral experience: two thirds had evidence of at least two NNRTI mutations at baseline, more than 60% had four or more PI mutations detected at baseline and about half had phenotypic sensitivity scores (PSS) that indicated susceptibility to only one or no antiretrovirals. Forty percent to 50% of the participants received enfuvirtide during the studies.
As expected, baseline CD4+ cell counts were low (~100 cells/µL) and viral loads were high (~4.8 log10 copies/mL). The primary endpoint was the proportion of participants with a viral load of less than 50 copies/mL at week 24 by intent-to-treat analysis.
No matter where on the planet the studies were done, the group receiving etravirine did better.
In DUET-1, 56% of participants taking etravirine versus 39% who did not take etravirine achieved a viral load of less than 50 copies/mL (P = .0050). In DUET-2, 62% of participants taking etravirine versus 44% who did not take etravirine achieved a viral load of less than 50 copies/mL (P = .0003). Further, the mean change from baseline in viral load by the end of the first six months of the studies was significantly greater for those receiving etravirine.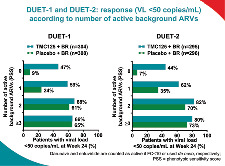 Click to enlarge
Slides by Anthony Mills, M.D.; reprinted with permission. Click here to download the complete slide presentation.
As was evident in other recent studies of salvage agents, such as the BENCHMRK trials of the integrase inhibitor raltegravir (MK-0518),
7,8
the fewer the number of antiretroviral agents that were predicted at study entry to be active, the more benefit participants received by being in the etravirine study arm.
For example, in DUET-1, among those with a PSS of 0 (indicating that no agents in the background regimen were expected to be active), 47% of the participants who received etravirine saw their viral load fall to less than 50 copies/mL at week 24 compared to only 9% of those assigned placebo. However, if three or more agents in the background regimen were predicted to be active, etravirine did not add any additional benefit, with 65% to 66% of such participants achieving viral suppression regardless of study arm.
Importantly, the DUET trials also permitted the examination of the effect of baseline NNRTI resistance on response to etravirine. As has been previously reported,9 the accumulation of specific NNRTI-associated mutations reduces the effectiveness of etravirine so much that the rates of viral suppression to below 50 copies/mL dropped from around 60% when only one of these NNRTI mutations was present at baseline to approximately 30% when four such mutations were present at baseline. So, not all drug resistance mutations are created equally.
In fact, a poster on the impact of baseline resistance on etravirine response in the DUET studies, which was presented at the XVI International HIV Drug Resistance Workshop last June, identifies the mutations that impede etravirine response and suggests that some of these mutations are more detrimental than others (
Figure 1
).
10
Importantly, these mutations usually occur in the presence of
other
NNRTI mutations and not in isolation.
During the trials, treatment-limiting adverse effects were rare (~5%). The incidence of rash among participants receiving etravirine was 14% to 20% -- this was double the rate for participants who were assigned placebo. There were no differences between the study arms in both studies in terms of nervous system or psychiatric disturbances.
The Bottom Line
These studies clearly demonstrate how effective etravirine is, particularly when coupled with an optimized antiretroviral background -- even in a cohort of patients with NNRTI experience. Although these are only 24-week data and longer term results are needed to determine ultimate effectiveness, these results are reassuring. The analysis of the impact of baseline NNRTI resistance on etravirine response is extremely useful. For patients who have multidrug resistant HIV infection, etravirine, along with raltegravir and enfuvirtide, offer a critical mass of antiretroviral agents with which to craft effective salvage therapy. Already in
expanded access
, it is expected that etravirine will soon receive U.S. FDA approval.
Entecavir and HIV Drug Resistance: Treating Hepatitis B Coinfection Gets Complicated
A review of:
The HBV drug entecavir -- effects on HIV-1 replication and resistance. Moira A. McMahon, Benjamin L. Jilek, Timothy P. Brennan, Lin Shen, Yan Zhou, Megan Wind-Rotolo, Sifei Xing, Shridhar Bhat, Braden Hale, Robert Hegarty, Curtis R. Chong, Jun O. Liu, Robert F. Siliciano, Chloe L. Thio. The New England Journal of Medicine. June 21, 2007;356(25):2614-2621.
STUDY SNAPSHOT
Design
Clinical observations followed by in vitro studies of virus from participants.
Population
Three patients with HIV-HBV coinfection.
Main Results
Decreases in HIV RNA levels during entecavir therapy for HBV raised concerns about anti-HIV activity by this drug. In vitro studies indicate that at even low concentrations, entecavir can inhibit HIV replication and potentially select for the M184V mutation.
Significance
The concern over HIV drug resistance during entecavir monotherapy should be taken as a warning against such use of this drug. Combination antiretroviral therapy with agents active against HIV and HBV may be a more prudent approach, even for those patients with a high CD4+ cell count.
Approximately 10% of HIV-infected patients in the United States are estimated to be coinfected with the hepatitis B virus (HBV). Fortunately, there are HIV agents that are also active against HBV. These agents are lamivudine (3TC, Epivir)-, emtricitabine (FTC, Emtriva) and tenofovir (TDF, Viread). Use of these agents can simplify the treatment of patients who harbor both viruses. However, for coinfected patients who do not yet require antiretrovirals, the cross-activity of these drugs is problematic, since they cannot be used independently as HBV therapy without risking the development of HIV drug resistance. Therefore, the release of entecavir (Baraclude), an antiviral that was billed as having selective activity against HBV, was welcomed by HIV practitioners.
However, a recent "Brief Report" in the New England Journal of Medicine11 provides compelling evidence that entecavir does have anti-HIV activity and may select for the HIV drug resistance mutation M184V. This mutation confers markedly reduced susceptibility to both lamivudine and emtricitabine.
This report describes three patients with HIV-HBV coinfection for whom entecavir monotherapy was associated with a significant decline in HIV RNA levels of at least 1 log10. Two of these patients were HIV-treatment experienced, but were off antiretroviral therapy when entecavir was started. The other patient was HIV-therapy naive when entecavir was taken.
In addition to these clinical observations, the authors conducted a series of in vitro studies of the virus collected from these individuals to examine the antiretroviral activity of entecavir and the potential for the drug to select for HIV drug resistance. These studies demonstrated inhibition of HIV at concentrations of entecavir achieved in vivo during HBV therapy.
Interestingly, entecavir's activity against HIV is not completely dose dependent; the antiretroviral effect plateaus at relatively low drug concentrations and does not appreciably increase with higher concentrations. This phenomenon may partly explain why previous study of the drug at higher concentrations did not reveal an antiretroviral effect.
HIV obtained from the two antiretroviral treatment-experienced patients was tested for drug resistance during entecavir therapy. The M184V mutation was found to increase over time in one of these patients. However, in the other patient, only one of the 175 clones studied seven months after entecavir was begun contained this mutation. Therefore, entecavir seemed to be able to select the M184V mutation in some, but not all, exposed patients.
A follow-up study of the ability of entecavir to suppress HIV with the M184V mutation was telling in that the drug was less effective against this virus compared to wild-type HIV -- again supporting a role for entecavir in selecting for this mutation.
The Bottom Line
The finding that entecavir, a guanosine nucleoside analog, may have a potential HIV effect is hardly a cause for celebration for those with coinfection, and has led to a U.S. FDA warning
12
regarding the use of the drug in coinfected patients. Entecavir was considered ideal for the treatment of the coinfected patient who, by virtue of a preserved immune system, did
not
require HIV therapy. Adefovir dipivoxil (Hepsera) was also considered for use in such patients, but the structural similarity between this drug and tenofovir was a bit too close for comfort and, in any case, adefovir dipivoxil is a less potent anti-HBV drug than other HBV agents.
Certainly, more studies of entecavir need to be done. Meanwhile, active HBV infection should justifiably be added to the list of conditions that should prompt HIV treatment regardless of CD4+ cell count and viral load. For patients with higher CD4+ cell counts and active HBV, a HAART regimen containing tenofovir and lamivudine or emtricitabine (along with a third antiretroviral) should be strongly considered and may be safer than entecavir monotherapy. Whether entecavir has a future as an HIV antiretroviral also remains to be seen, since the potency of the drug in these patients was modest at best.
Boosted Protease Inhibitors: Two Is Not Better Than One
A review of:
Virologic efficacy of boosted double versus boosted single protease inhibitor therapy. Maya L. Petersen, Yue Wang, Mark J. van der Laan, Soo-Yon Rhee, Robert W. Shafer, W. Jeffrey Fessel. AIDS. July 31, 2007;21(12):1547-1554.
STUDY SNAPSHOT
Design
Retrospective database analysis.
Population
Patients with PI experience switched to either one PI boosted with ritonavir or two PIs boosted with ritonavir as part of salvage therapy.
Main Results
A similar proportion of patients assigned to boosted mono-PI therapy and boosted dual-PI therapy achieved virologic success (~51%).
Significance
Boosted dual-PI therapy probably does not offer an advantage over boosted mono-PI therapy.
Faced with antiretroviral-experienced patients with virologic failure, it hasn't been uncommon over the past few years for some HIV providers to prescribe two PIs along with a boosting dose of ritonavir. . For these clinicians, the idea has been that different strains of HIV in the swarm circulating within a patient might respond differentially to each of the PIs. However, other clinicians find this approach akin to taking penicillin (Beepen-VK, Betapen-VK, Ledercillin VK, Pen-Vee K, Pfizerpen, Robicillin VK, V-Cillin K, Veetids) along with amoxicillin (Amoxil, Prevpac, Trimox). No study has found that boosted dual-PI therapy works, but then again, no study has shown that it doesn't work. Thus, the practice has continued.
Researchers from Kaiser Permanente in Northern California and Stanford University examined the database of the managed health care organization to identify patients who were PI experienced and then treated with one PI plus ritonavir or two PIs plus ritonavir.13 The first HIV RNA levels obtained, 12 to 36 weeks after the treatment switches, were compared between the two arms of the study.
Between 1998 and 2005, 183 patients switched to a boosted dual-PI therapy and 805 switched to a boosted mono-PI therapy. Of these, 139 patients in the first group and 664 in the second group had outcomes measured for the primary aim available. As expected, the patients were very treatment experienced, with all having had prior exposure to a PI, and 71% had exposure to an NNRTI. Most of the patients (69%) had a history of mono-NRTI therapy or dual-NRTI therapy in their past. Of the patients who were taking boosted dual-PI therapy, the most common pairing was amprenavir (APV, Agenerase) plus lopinavir followed by saquinavir (SQV, Invirase) plus lopinavir, indinavir (IDV, Crixivan) plus lopinavir, and atazanavir (ATV, Reyataz) plus lopinavir. Patients who switched to a boosted dual-PI therapy had more treatment experience, lower nadir CD4+ cell counts and more drug resistance than patients on a boosted mono-PI therapy.
Almost the exact same rates of success was achieved in the two study arms: 51.6% of the patients treated with boosted dual-PI therapy and 51.0% of the patients treated with boosted mono-PI therapy reached a viral load below 75 copies/mL at 12 to 36 weeks.
In a multivariable analysis adjusting for a number of treatment-related confounders, boosted dual-PI regimens were not more likely to produce better virologic responses than boosted mono-PI regimens. The variables that were associated with a better virologic success included more recent calendar date of the switch, a higher baseline CD4+ cell count and use of an NNRTI for the first time in the new regimen. A higher baseline viral load, more NRTI experience and more PI mutations at baseline were each associated with poorer virologic outcomes.
The Bottom Line
These data suggest that there is little to be gained from doubling-up on PIs boosted with ritonavir -- and common sense indicates there is much to lose. The study did
not
examine toxicity directly, but one can expect that there may be a greater risk of adverse effects when two, rather than one, PIs are co-administered with low-dose ritonavir. Likewise, the cost of boosted dual-PI therapy is not trivial.
Therefore, despite its limitations (retrospective design, lack of adherence data, lack of tolerability data, and important differences between the patients who were prescribed one versus two PIs), this analysis tips the scale away from the dual-PI approach -- an empiric response to the diminishing returns of salvage therapy that, with the advent of a new generation of antiretrovirals, may become a footnote in the history of HIV therapy.
Super-Sizing Saturated Fat Intake Contributes to HIV-Associated Hypertriglyceridemia
A review of:
Dietary fat intake and relationship to serum lipid levels in HIV-infected patients with metabolic abnormalities in the HAART era. Tisha Joy, Hester M. Keogh, Colleen Hadigan, Hang Lee, Sara E. Dolan, Kathleen Fitch, James Liebau, Janet Lo, Stine Johnsen, Jane Hubbard, Ellen J. Anderson, Steven Grinspoon. AIDS. July 31, 2007;21(12):1591-1600.
STUDY SNAPSHOT
Design
Secondary analysis of dietary intake data from several prospective cohort studies.
Population
HIV-infected patients without wasting syndrome, diabetes or substance abuse and HIV-uninfected controls.
Main Results
While caloric intake between HIV-infected and HIV-uninfected participants was similar, HIV-infected patients consumed more saturated and trans fat. Saturated fat in HIV-infected patients was directly, and total fat inversely, related to triglyceride levels.
Significance
Higher saturated and trans fat places HIV-infected patients at risk for cardiovascular disease. Saturated fat is linked to higher triglyceride levels rather than increased total fat and should be a target for intervention.
Are dyslipidemia, altered fat distribution and insulin resistance adverse effects of using HIV medications, or are some or all of these metabolic disorders a consequence, in part, of a general return to health during HIV therapy?
It's true, for instance, that patients generally eat more and gain weight after starting antiretrovirals, and subsequently their waist size, lipoprotein levels and triglyceride levels rise. An area that has received relatively scant attention, though, is what exactly are HIV-infected patients eating and how does their diet influence the metabolic changes often observed during HIV treatment.
In order to examine this issue, researchers in Massachusetts collected dietary intake data from 356 HIV-infected patients (197 men and 159 women).14 None had wasting syndrome or diabetes, and none were substance abusers. All had been enrolled in metabolic studies at the Massachusetts General Hospital in Boston.
These patients were compared to 162 HIV-uninfected non-diabetic controls (73 men and 89 women) recruited from the area. Participants in both groups were enrolled via advertisements and not referred by clinicians.
Whole body dual energy X-ray absorptiometry (DEXA) scans, cross-sectional abdominal computed tomography (CT) scans, indirect calorimetry, oral glucose tolerance testing and lipid profiles were performed on all participants after a 12-hour fast. In addition, dietary intake was assessed by four-day food diaries and 24-hour recall.
There were no statistical differences between the HIV-infected and HIV-uninfected groups in terms of age, gender, race (56% to 61% were white) and income. Of the HIV-infected group, 88% received HIV therapy (67% were taking a PI) and 72.5% were categorized as having "lipodystrophy."
Interestingly, the caloric intake of the HIV-infected and HIV-uninfected groups were similar: 2,235 kcal/d versus 2,065 kcal/d, respectively (P = .08). However, the HIV-infected participants consumed far greater dietary fat and saturated fat -- and, for these HIV-infected patients, a greater proportion of their total calories came from saturated and the dread trans fat.
The U.S. Department of Agriculture (USDA) recommends that less than 10% of total caloric intake come from saturated fat and that less than 300 mg of cholesterol is consumed per day. A higher percentage of the HIV-infected than the HIV-uninfected patients exceeded these guidelines for saturated fat (76% versus 60.9%, P =.003) and cholesterol intake (49.7% versus 37.9%, P =.04).
Insurance status, a surrogate for economic status, was not seen to influence dietary fat intake among the HIV-infected participants. Fiber and alcohol consumption were significantly lower among the HIV-infected participants compared to the controls.
Further, there was no difference in waist circumference or body mass index (BMI) between the study groups. However, hip circumference was smaller among HIV-infected patients -- likely due to fat wasting in the buttocks and lower limbs, given that limb fat measurements were also lower among the HIV-infected participants compared to the HIV-uninfected controls. Fasting glucose was no different by group, but insulin levels were higher in the HIV-infected group.
Importantly, 32% of the HIV-infected patients met criteria for the metabolic syndrome, versus only 22% of the controls (P =.02). When looking at the relationship between diet and lipid levels in the HIV-infected group, the investigators found that saturated fat intake was significantly associated with triglyceride levels (triglycerides increased 8.7 mg/dL with each gram of increased saturated fat intake). Total fat intake was inversely proportional to triglyceride level. Use of a PI was not associated with hypertriglyceridemia.
The Bottom Line
The old saw that you are what you eat certainly seems to apply to HIV-infected patients. In this study, HIV-infected and HIV-uninfected people ate the same number of calories, but the HIV-infected participants took in more of these calories in the form of saturated and trans fats -- fats associated with a higher risk of cardiovascular disease.
Among the HIV-infected, saturated fat intake was directly related to triglyceride levels. The authors calculate that a reduction from the daily intake of 31 grams of saturated fat to 25 grams/d (i.e., to less than 10% of caloric intake, as recommended by the USDA) would reduce triglyceride levels by 23% -- this is a reduction that is on par with fibrate or fish oil therapy.
While the disparities in saturated and trans fat intake among those with and without HIV infection can be explained in many ways (increased energy requirements during HIV infection, altered taste perception due to HIV therapies, need to take medication with food, etc.), the results of this study strongly suggest that, along with other interventions to improve the long-term well-being of our patients, dietary saturated fat needs to become a target for intervention.
Total fat in this study was not a problem and attention should be focused on saturated fats now that trans fats have largely been removed from the U.S. diet. Many HIV-infected persons may be feeding their own hypertriglyceridemia and rather than manipulate their antiretrovirals, clinicians must instead assess diets and intervene to reduce the amount of such fat being scarfed.
References