Brand Name: Emtriva
Other Name(s): FTC
Drug Class: Nucleoside Reverse Transcriptase Inhibitors
Approved Use: Treatment of HIV Infection
Chemical Image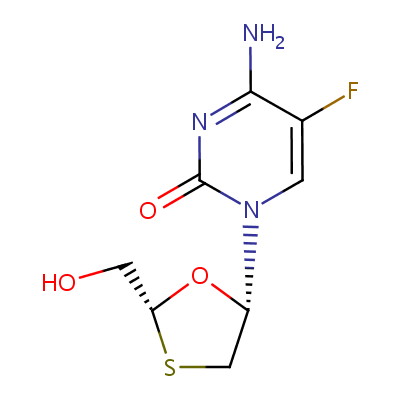 emtricitabine
Molecular Weight: 247.249
WARNING:
Emtricitabine can cause serious, life-threatening side effects. These include lactic acidosis (buildup of lactic acid in the blood) and serious liver problems.
Contact your health care provider right away if you have any of the following symptoms that could be signs of lactic acidosis:
Feeling very weak or tired
Unusual (not normal) muscle pain
Trouble breathing
Stomach pain with nausea and vomiting
Feeling cold, especially in the arms and legs
Feeling dizzy or lightheaded
Fast or irregular heartbeat
Contact your health care provider right away if you have any of the following symptoms that could be signs of liver problems:
Yellowing of your skin or the whites of your eyes (jaundice)
Dark-colored urine
Light-colored bowel movements
Loss of appetite for several days or longer
Nausea
Pain in the lower stomach (abdominal) area
Emtricitabine is not approved for the treatment of chronic hepatitis B virus (HBV) infection. If you have both HIV and HBV infection and take emtricitabine, your HBV infection may get much worse (flare up) if you stop taking emtricitabine. Do not stop taking emtricitabine without first talking with your health care provider. If your health care provider tells you to stop emtricitabine, you will be monitored closely for several months to check your HBV infection, or you may receive a medicine to treat your HBV infection.
While taking emtricitabine, it is important to keep all of your appointments with your health care provider.
What Is Emtricitabine?
Advertisement
Emtricitabine is a prescription medicine approved by the U.S. Food and Drug Administration (FDA) for the treatment of HIV infection in adults, children, and infants. Emtricitabine is always used in combination with other HIV medicines.
Emtricitabine belongs to a class (group) of HIV drugs called nucleoside reverse transcriptase inhibitors (NRTIs). NRTIs block an HIV enzyme called reverse transcriptase. (An enzyme is a protein that starts or increases the speed of a chemical reaction.) By blocking reverse transcriptase, NRTIs prevent HIV from multiplying and can reduce the amount of HIV in the body.
HIV medicines can't cure HIV/AIDS, but taking a combination of HIV medicines (called an HIV regimen) every day helps people with HIV live longer, healthier lives. HIV medicines also reduce the risk of HIV transmission. If you are taking HIV medicines, including emtricitabine, don't cut down on, skip, or stop taking them unless your health care provider tells you to.
Because emtricitabine is also effective against hepatitis B virus (HBV) infection infection, it may be included in an HIV regimen to treat HBV infection in people with HIV. In addition to emtricitabine, the HIV regimen should include another drug that is effective against both HBV and HIV. Emtricitabine should not be used to treat HBV infection in HIV-infected individuals who are not receiving antiretroviral therapy (ART). For information on the HBV-related use of emtricitabine, please refer to the HBV section of the Guidelines for the Prevention and Treatment of Opportunistic Infections in HIV-Infected Adults and Adolescents.
What Should I Tell My Health Care Provider Before Taking Emtricitabine?
Before taking emtricitabine, tell your health care provider:
If you are allergic to emtricitabine or any other medicines
If you have kidney problems
If you have any liver problems, including HBV infection
If you have any other medical conditions
If you are pregnant or plan to become pregnant. Whether emtricitabine can harm an unborn baby is unknown. Emtricitabine should be used during pregnancy only if clearly needed. Talk to your health care provider about possible risks with taking emtricitabine when pregnant.
If you are breastfeeding or plan to breastfeed. Do not breastfeed if you are infected with HIV or are taking emtricitabine.
If you are using hormone-based birth control (such as pills, implants, or vaginal rings). For more information about using birth control and HIV medicines at the same time, view the AIDSinfo HIV and Birth Control infographic.
About other prescription and nonprescription medicines, vitamins, nutritional supplements, and herbal products you are taking or plan to take. Emtricitabine may affect the way other medicines or products work, and other medicines or products may affect how emtricitabine works. Taking emtricitabine together with certain medicines or products may cause serious side effects.