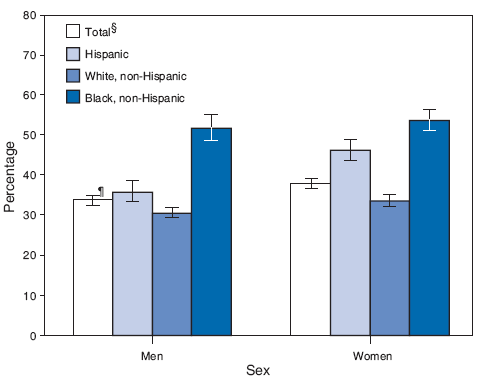 * Based on responses to the following question: "Except for tests you may have had as part of blood donations, have you ever been tested for HIV?"
† Estimates are based on household interviews of a sample of the civilian, noninstitutionalized U.S. population.
§ Total includes non-Hispanics of other races or multiple races.
Advertisement
¶ 95% confidence interval.
Among both men and women, non-Hispanic blacks (51.6% of men and 53.5% of women) were more likely to report ever being tested for HIV than Hispanics (35.7% of men and 46.1% of women) and non-Hispanic whites (30.5% of men and 33.5% of women). Overall, women (37.8%) were more likely than men (33.7%) to report ever being tested for HIV.
Source: National Health Interview Survey, 2006. Available at www.cdc.gov/nchs/nhis.htm.

This article was provided by
U.S. Centers for Disease Control and Prevention
. It is a part of the publication
Morbidity and Mortality Weekly Report
. Visit the
CDC's website
to find out more about their activities, publications and services.