The Body Covers: The 4th International AIDS Society Conference on HIV Pathogenesis, Treatment and Prevention
IAS 2007 Highlights: An Interview With Eric Daar, M.D.
This is Bonnie Goldman, Editorial Director of The Body PRO. I'm here in Sydney, Australia, at IAS 2007 with Dr. Eric Daar. Dr. Daar is the chief of the Division of HIV Medicine at Harbor-UCLA Medical Center, and a professor at the David Geffen School of Medicine UCLA. I'm going to be talking to him about some of the highlights of IAS 2007.
What do you think were the studies at IAS 2007 with the most impact, in terms of changing clinical practice?
I think that there were probably three studies that have the potential to have an impact. The one that's most obvious is PREDICT-1,1 which was the prospective, randomized, controlled trial that looked at individuals who were about to start abacavir [brand name: Ziagen; also known as ABC] for any one of a number of reasons, and randomly assigned people to either have HLA-B*5701 testing done or not.
It was interesting, the strategy they used so that people didn't actually know which group the patient was in. Basically, you enrolled the patient and blood was sent off for testing. You were told if a person had HLA-B*5701, and then he/she wouldn't go into the study.
If you weren't told, it either meant the person didn't or he/she was in the arm that wasn't tested, and you really didn't know. They followed these people over time, and then they validated the results of any suspected HSR [hypersensitivity reaction] with this skin test, which appears to be fairly reliable for determining whether what's been called an HSR is real or not.
The amazing result was that, when it was all said and done, people who were provided HLA-B*5701 testing were found to be negative, and got abacavir. There were no real cases of HSR. So it's pretty compelling evidence that we can use this test in clinical practice.
It doesn't answer all the questions. One of the things that was discussed was that there were a limited number of minorities. Some of that data suggests that it will apply to blacks and Hispanics, but we don't know. So I think what people would propose is that we do the test, if you can get it done in a reliable way, and also use clinical judgment. But it may suddenly shift the landscape where, up until now, we have thought that both abacavir + 3TC [generic name: lamivudine; brand name: Epivir] and tenofovir [brand name: Viread; also known as TDF] + FTC [generic name: emtricitabine; brand name: Emtriva] are both viable, dual combination nucleosides. Both are relatively lipid friendly, don't have immunologic toxicity, don't appear to cause a lot in the way of fat changes, and the one big difference has been the hypersensitivity reaction with one and not the other. If we have a way to determine who those people are, really it will force us to look again at the similarities and the differences between those two drugs.
So I would hope that from this study it's going to increasingly become standard care, that there will be competition amongst commercial labs to develop reliable and, hopefully, reasonably inexpensive tests.
Have you been able to use the test in your practice?
We have not. It's mostly been related to the ability to get a reliable test, and have a third party payer pay for it. I'm hoping that this will change all of that, because it could make a big difference.
So that one I think should make a difference. The other two studies, or sort of themes, that came out of the meeting that might influence things: one is the TITAN study.2 The TITAN study was just published in Lancet.3 It was a randomized, controlled trial of early failure patients -- well, they weren't necessarily early failure, but they were lopinavir/ritonavir [brand name: Kaletra; also known as LPV/r] naive. They got randomly assigned to softgel capsules of lopinavir/ritonavir or darunavir [brand name: Prezista; also known as TMC114]/ritonavir [brand name: Norvir; also known as RTV].
The goal was to look at safety and efficacy. The primary endpoint was non-inferiority of darunavir to lopinavir/ritonavir. Then they had secondary endpoints that included looking at superiority.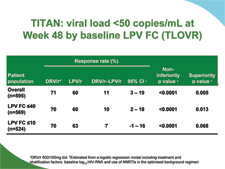 Click to enlarge
Reprinted with permission from Jose Valdez-Madruga, M.D., et al. Click here to download the complete slide presentation.
In their primary analysis, they did indeed show non-inferiority. In their secondary analysis, they showed actual superiority. The big limitation of the study: I think there are two. One is that the baseline characteristics of the population were
not
necessarily balanced, in that there was a larger proportion of people at baseline who were resistant to lopinavir/ritonavir than resistant to darunavir/ritonavir. That may have driven the results, to some extent.
They attempted to look at that in a variety of ways in the study, as well as in a resistance poster presented here. It doesn't seem like it explains all of it. There may be some real differences. But it certainly explains some of it. In clinical practice we wouldn't do that. If we had a patient we were looking to start a new PI [protease inhibitor] on, we would do susceptibility testing. If they were resistant to lopinavir/ritonavir and they had another option, we wouldn't give them lopinavir/ritonavir. So that's what separated this study a little bit from the way clinical practice goes.
The other thing is that if you say that there may be some differences in efficacy, or at the very least, non-inferiority -- and I think everybody would agree it's probably non-inferior, at the very least -- then you'd look at things like tolerability. From a tolerability perspective, they were actually fairly similar in many ways, including for lipids. The biggest difference was, there was more diarrhea in the people with lopinavir/ritonavir, and there was more rash in the people who got darunavir/ritonavir. The caveat there is that for the lopinavir/ritonavir they used the softgel capsules. While we don't have the data yet showing the differences in tolerability between tablets, which are not more commonly used than the softgel capsules, I think there's a sense that there is probably going to be less diarrhea. So again, it will make it a little difficult to completely extrapolate these results to what we do in the clinical practice, at least in the States and throughout Western Europe.
So you don't think it will change the sequencing of darunavir? Or do you think it will no longer be used only for salvage patients? That it will be used more for early failure?
I think it will certainly convince many people that that's a viable option to move it up. Sequencing, as far as: So what happens if I move darunavir/ritonavir up and people fail that? It's not enough, because we haven't had any experience at all. There was some intriguing data presented here, showing the number of people who develop new resistant mutations. It did seem to favor darunavir/ritonavir over lopinavir/ritonavir, even after they control for that whole baseline resistance issue. So I think people will look at it differently. Certainly, based on the data, it would not be unreasonable to think about moving it up. I just don't know that it's the definitive study to answer the question.
Did you have another?
So then there was this third area that was addressed at this meeting, though not with any single study. It was with regards to this recurring theme of when should we be starting therapy, and should the guidelines suggest that we start people earlier.
I think what generated some of the discussion was a presentation here as a poster from the SMART study. So the limitation has always been that we don't have a randomized controlled trial looking at early versus late therapy. Well, within the SMART trial,4 where people were randomly assigned to either continuous therapy or to not start treatment until their T cells were less than 250, there were a subset of individuals who were not on therapy at baseline.
So there were about 10% of the people, which was several hundred in each group, who in essence were a study of immediate therapy, with CD4s of greater than 350, versus deferred therapy, until CD4s are less than 250. They did indeed show -- although the number of events were small, they were significantly higher, whether it was opportunistic diseases or death, or non-AIDS-related events -- that it all favored the people who got started on therapy early.
Rather than the treatment naive?
These were in essence people who were off treatment, many treatment naive. So it's the first study. It wasn't designed to look at that question, but we have the data from that study that suggests being off therapy may be bad.
Then we have this smaller data set, suggesting in a head-to-head comparison, in essence, that the people who got started earlier were better off than those who started late.5 It emphasized the point that maybe in these people who were starting early, the events we should be looking for are not necessarily traditional AIDS events -- the whole issue of whether people off therapy are at higher risk for cardiovascular disease, renal disease, and hepatic disease.
So we're left with some data suggesting earlier therapy might be better in a head-to-head comparison. We're left with data from SMART and other studies suggesting that having viremia is a bad thing. There was another presentation here, looking at a non-invasive marker of cardiovascular disease, this brachial artery reactants. People who were started on therapy had improvements in flow, which is a good thing -- kind of like what you see when you start people on lipid-lowering therapy, or when you get people to stop smoking.6
So we have this growing body of evidence that having viremia is bad. The balance of not starting therapy based on that is the overall risks of treatment -- treatment failure and toxicity and resistance. Those were the main reasons why we stopped treating early in the first place.
I think we now know that our drugs are much safer and better tolerated, and are less likely to fail. So with all of that information, we really do, I think, need to start considering when we start treatment.
From a clinical perspective, the majority of the patients I have who are not on therapy aren't on therapy for really good reasons. It's because they have too many social issues, and problems with drugs and alcohol and psychiatric disease, that really limit their ability to take their medications consistently. But it may be time that -- in those people who are ready, willing and able to commit to therapy -- whenever we think it's appropriate, to really be seriously considering it in people with higher T-cell counts.
What's the new number?
Well, I don't think we're going to know. The SMART study would suggest 350 may be a reasonable way to start. It's all a best guess. I think 350 based upon the SMART study. Based upon other treatment interruption studies that didn't show adverse outcomes, where they used the 350 cutoff for starting therapy ...
The Staccato trial?7
Staccato, exactly. All of that would suggest that that might be a reasonable place to start. The discussion that went along with the session was, well, the guidelines8 don't say not to start at 350. They suggest between 200 and 350 to sort of offer treatment. Maybe it's time to make those guidelines a little bit stronger. That for the person ready, willing and able to commit, we really should be offering therapy at greater than 350 ... a little closer to what we're now saying at 200, and make a stronger statement.
What do you think was the most important advancement in our understanding of HIV treatment and care in the last year or so? Related to this, is the conversation about when to start the newest thing in 2007, 2006, because of SMART?
I think, from a treatment perspective, when to start is probably going to have a big impact, particularly if the CDC guidelines9 are ever implemented widely, and we really are testing people regularly, and we identify the other 200,000 or 300,000 people in the United States, for example, who are infected and don't know it. That may be a real issue. So I think we need to continue to have that dialogue. It probably has the potential to impact the most patients.
We tend, in practice, to focus more on a much smaller group of individuals, and those are our patients who have multi-drug-resistant virus. They get a lot of attention, particularly at these meetings. As we have seen, the new drugs move forward into expanded access, and we're anticipating potentially having three new drugs available by the end of this year [maraviroc (brand name: Selzentry; also known as MVC), raltegravir (also known as MK-0518) and etravirine (also known as TMC125)] or the beginning of next year. I think we're thinking strategically more than ever. We've always tried to say we did that, but when you have no options for people, there is not a lot of strategy. When you start having a lot of options, I think that we realize we need to be extremely careful of how we use the drugs that are available now, not necessarily waste new PIs like tipranavir [brand name: Aptivus; also known as TPV] and darunavir, if we don't have good combinations to use with them, and saving T-20 [generic name: enfuvirtide; brand name: Fuzeon] until we have a good combination to use with it.
Then, we need to start thinking about how we're going to start integrating three new drugs into clinical practice. Because, for many people, it's not going to be just throw everything we have at them. That might work, but it will come at the risk of toxicity. If they fail, they'll have limited options after that. It may be that we should be thinking very seriously about which of the drugs we need. Do we need one new active drug, or two new active drugs? Can we save some? Which ones are the best to save?
I think those are the things that we started thinking about over the last six months, and that we probably need to take even more seriously in the coming year.
Related to that, I wanted to ask you a question about eradication. I don't know if you saw the publication Journal of Infectious Diseases10 where Dr. Fauci suggested that, because of the strength of these new medications, we might be closer to eradicating HIV than ever before. What was your feeling about that?
I would love to be optimistic about it. I still think it's a worthwhile sort of area to explore and try to better understand. But it just seems like we are nowhere close to being able to even begin to think about eradicating HIV from the body. I don't think we fully even understand what's going on in various compartments, both in the peripheral blood and in potential reservoirs, like the brain and the genital tract. So I'm not as optimistic.
But the next best thing to eradication is long-term suppression, and we're certainly there, for most people. I think we're going to be there for even more with the availability of new drugs.
One of my final questions is: Do you think we're any closer in understanding the metabolic complications of HIV? How they occur, and how to intervene?
I think we have a better understanding about how drugs cause various complications like dyslipidemia and glucose dysregulation, and how subcutaneous fat loss relates to select drugs, particularly the nucleosides. I think we have made a lot of progress there.
But I think there are many things we still don't understand, including the relationship between HIV and therapy and fat accumulation syndromes, and more intriguing data from the head-to-head comparison suggesting that NNRTIs [non-nucleoside reverse transcriptase inhibitors] may be contributing.
You're referring aren't you to the AIDS Clinical Trials Group's trial known as 5142?11
5142, comparing people receiving the same nucleosides with either efavirenz [brand name: Sustiva, Stocrin; also known as EFV] versus lopinavir/ritonavir, and seeing greater loss of subcutaneous fat with NNRTIs. I don't think we understand the mechanism of that.
So there's still a lot of work to do.
A lot of work to do. But my hope is that with most of the regimens that we're using in the current era, it's going to be a minor problem. Because even in 5142, if you really focused on the people who received the non-thymidine analog nucleosides, although there was still a difference between lipoatrophy in those who received efavirenz versus lopinavir/ritonavir, the overall number in both groups was very, very small.
What about cardiovascular complications? Do you think we're closer to figuring out whether it's HIV or heart or lifestyle, or genetics?
It seems like there has been a lot of progress. I think everybody has to always remind themselves that the biggest risk factors are probably still the usual ones like smoking and dyslipidemia. I think there are a lot of modifiable risk factors that we should be targeting in our patients.
But the intriguing information is that it's more than just the effect of drugs on lipids and cardiovascular disease -- some of this information about viremia and inflammation. At one of the sessions, there was a presentation from SMART12 again where they did this nested case-controlled study, where they'd planned to look at lots of biomarkers. One they looked at was D-dimers, which is a blood marker of risk for cardiovascular and cerebrovascular disease.
They showed very nicely, in the population of patients who weren't on therapy coming into the study, that the levels of D-dimer were higher than in HIV-negative individuals, it would seem. When they started them on treatment, the level of D-dimers went down.
That, along with the data from, again, a sub-study of 5142 showing this other non-invasive marker of brachial artery reactants, showed improvements in flow in people whose viral loads were reduced, regardless of what they received. I think we're starting to get a handle on the fact that there's a lot more to this than dyslipidemia and glucose abnormalities. It may very well be related to chronic inflammation associated with HIV.
Finally, do you think that circumcision should be adopted in the developed world for HIV prevention? If not, why not?
I think that there was a very nice presentation yesterday13,14 where the point was made that the bar was very, very high to move forward on this strategy -- and I think, for good reasons.
But we now have three large, randomized, controlled trials in the developing world,15 where there's a high prevalence of HIV and a large proportion of that is driven by women's transmission to men. In that setting, I think it seems very clear that you protect HIV-negative men from infection from women, if they are circumcised, on the order of 60 percent, which is pretty dramatic. We probably need to move forward.
The presentation also included things like: how much it would cost; how many circumcisions you would need to do to prevent an infection. That's going to all be determined based upon the prevalence of infection within the community, and the nature of the epidemic.
It's clear that if you don't have a lot of infection in the community, and/or the epidemic is not being driven by women to men, or at least to a substantial proportion, you can't use this data to make any decisions.
So when you start thinking about this strategy in the developed world, where the epidemic is still mostly driven by men having sex with men, men transmitting to heterosexual women, and needle sharing, I don't think we have the data to justify this kind of an intervention -- which is going to have some morbidity and mortality, and certainly substantial cost associated with that.
I don't think there are any studies planned yet for studying this in the developed world.
I don't think so. I think that probably the next step is to try to sort out whether there's a rationale for doing it. The rationale for doing it in the developing world was the fact that there's all this epidemiologic data that suggests that in communities where circumcision was more common, HIV infection amongst heterosexual men was much lower.16,17 I think we need that kind of epidemiologic data.
There was a presentation today18 from a group in Australia, where they looked at this HIM -- HIV in men -- cohort, where they looked at a population of HIV-negative men who have sex with men. They followed them over time. About two thirds were circumcised, and a full third of them weren't. They simply looked at the incidence of infection over a relatively short period of time.
They found absolutely no difference whatsoever in incident infections amongst those who were circumcised, versus those who weren't. That included, interestingly enough, about 40% of them who described themselves as always being insertive.
Because that's the other part of that. Right now, at least, the way we believe circumcision helps men is when they are the insertive partner. So you could argue that there is little reason to believe it would protect a man from acquiring HIV if they were the receptive partner. But in a subgroup of people, 40% said they were only insertive. Despite that, although the numbers are small, they weren't able to see a difference. There are other studies that have suggested otherwise. So I think we need more information.
References
This article was provided by The Body PRO. Copyright © Body Health Resources Corporation. All rights reserved.