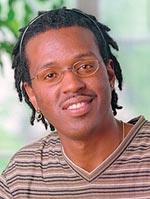 Following the 2004 CDC Prevention Conference, I received a call from Phill Wilson, executive director of the Black AIDS Institute, in L.A. He was preparing an open letter from leaders within the Black gay community in response to disturbing data presented from the now infamous five-city study of MSM. If you don't remember, 46% of the African American participants in that study were found to be HIV-positive. Sixty-eight percent of those did not know that they were positive.
His purpose in constructing the letter was to admonish Black gay men to step up, to take ownership of what these findings could mean for our community at large, and to do what we needed to do to curb the spread of this disease in our community.
He didn't have to work hard to convince me to sign on. (First of all, he's Phill Wilson! Who in their right mind would say no to him, right?!) Without question, I was in total agreement with the theme of the letter. I thoroughly understood the crisis that Black gay men are in and I was already committed to being a part of that solution.
Advertisement
In fact, a couple of months before, I'd been engaged in dialogue with a small group of folks here in Chicago who had already decided that enough was enough. We felt that the increasing rates of HIV and STI infection among Black MSM in our city were a direct result of the "AIDS fatigue" we were all witnessing and experiencing. We didn't know exactly what we would do or how we would do it, but we knew that we had to do something.
A meeting was convened to strategize a community-wide plan for addressing the issue. Community-based organizations were at the table, along with local party and club promoters, and several officials from the Chicago Department of Public Health. To bring us all into accord, available epidemiological data on Black MSM in Chicago was presented, along with an always useful HIV and STI prevention 101.
The data released from the CDC study shifted our efforts into high gear and soon the Chicago Black Gay Men's Caucus (CBGMC) was formed. I felt proud that my role as a founding member would speak to the commitment that the 50 men who signed on to Phill's letter had made.
The mission of CBGMC is to mobilize and empower Black gay men and their allies, for the primary purpose of identifying solutions to prevent new HIV infections in our city, by addressing the well-being of Black men who have sex with men. In an effort to fulfill its mission, the Caucus has developed a hip-hop themed public service announcement/music video, aptly titled "I Know. Do You Know?" The group has also coordinated HIV and STI screenings at numerous night clubs and social events throughout the city, including its own creation, LoveFest -- an end-of-summer outdoor festival in Chicago's most popular "cruise park." (Check out the new media page at www.tpan.com to view the video).
At the same time, community advocates and activists from New York, Atlanta, Washington, D.C., San Francisco and other major cities (many of whom had also signed on to Phill's letter), began to convene and discuss a national strategic plan.
The group came to be known as the National Black Gay Men's Advocacy Coalition (NBGMAC). Physically housed at Us Helping Us -- the largest Black gay agency in Washington, D.C. -- NBGMAC is committed to improving the health and well-being of Black gay men through advocacy that is focused on research, policy, education, and training. The fruit of the group's labor is already making a significant impact.
Major partnerships have been established (with NMAC, NASTAD, and the Black AIDS Institute, to name a few), town hall meetings have been hosted in several cities (including Charlotte, Miami, and Philadelphia) around the various issues facing Black MSM, and meetings have occurred with numerous government and political figures regarding how their agendas will address the needs of our community. In fact, following its spring meeting held in Washington, D.C. this past April, the group arranged a meeting with Christopher Bates (Director of the Office of HIV/AIDS Policy at the Department of Health and Human Services) -- to strategize a meeting that would bring the CDC and the NIH together to collabrate on research efforts on Black MSM.
It has become increasingly obvious that we cannot depend solely on the CDC, or any other government entity for that matter, to address the HIV/AIDS epidemic in our communities. If we are ever to experience the change that we desire and deserve for ourselves, it's going to be because we, like Phill Wilson and Cornelius Baker and Earnest Hopkins and Michael Roberson, stood up and boldly declared that enough is enough (or, in the words of Cornelius Baker, "the clock has tocked").
I say all of this to encourage you to discover "what's goin' on" for yourself and then get involved with the collaborative action plan. Whether you are Black, White, positive, negative, gay, straight, or indifferent, what affects one group of us affects us all. To do nothing could guarantee our collective demise.