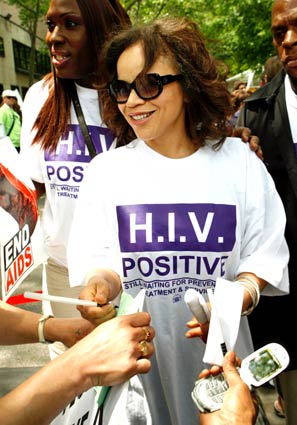 Perez at a rally outside the United Nations on the 25th anniversary of the AIDS pandemic, in 2006
AIDS Issues Update: What's the origin of your AIDS activism?
Rosie Perez:Twenty years ago, I got invited to an AIDS dance-a-thon, which was more about fundraising than activism. When I told a close friend who had AIDS about it, he got so angry at me. He said, "If you're going to be serious, then be serious." Ever since then I've committed myself wholeheartedly. He passed away at 45.
Advertisement
Then 15 years later, I found out my mother had AIDS. She didn't raise me, but it broke my heart. I remember thanking God I had chosen to focus on AIDS activism. She didn't want to use my help, and she passed away in 2000, but I feel like I was able to help her in a way through advocacy. It was much better for her then it was for my friend back then.
At the National Conference on Latinos and AIDS, you spoke about being culturally aware of differences within the Latino community when it comes to HIV/AIDS. What are some of those differences?
For example, the Cuban cultural world is completely different from the Mexican cultural world. It's very, very necessary to share this information with healthcare providers. I get a lot of complaints from Latin people saying, "My doctor was very rude," or, "I went to the clinic and they were talking so fast, and I didn't understand."
I've done a lot of work with the Latino Commission on AIDS, and we keep saying, "Why are the numbers rising when we're trying to do anything we can?" I remember telling Dennis deLeon, "They have the information, but we need to change the way we deliver the information." If you're giving a senior citizen an AIDS pamphlet, he'll be offended. That's part of the Latin culture. There's Puerto Rican men, where machismo is extremely high. If we ask, "Are you having straight sex or homosexual sex?" he might not get tested. In the Mexican community, they have this way of just saying, "Yes, yes, no" to whatever's asked. We have to take a much more personal, one-on-one approach. Even with young people. We need to be mature, like, "We got your back." We need to be like one of their aunts and uncles that they can sneak away and tell secrets to.
What should you and other Puerto Rican celebs such as Jennifer Lopez and Marc Anthony do to address the crisis in Puerto Rico?
I don't know what Marc Anthony or Jennifer Lopez should be doing. What I have learned is humility. I still am angry -- and not just at celebrities but regular people -- that are not doing more. But we just have to roll up our sleeves and not worry about what other people are doing. And the ones that are doing it, I stand up there and applaud them. In a machismo world where someone like Ricky Martin, with all those rumors floating around about his sexuality, can still stand up there and speak up about AIDS, I would say to him, keep going.
And what about your involvement with Puerto Rico? What needs to be done to address the AIDS crisis there?
Puerto Rico is the first U.S. territory that has become bankrupt. Don't get me wrong, I love my country, but Puerto Rico is struggling. And the meds are just not getting down there. There's still that 25-year-old stigma that it's a gay disease, or you did something bad or God is punishing you. There are some wonderful organizations down there. But their resources are extremely limited. They need money and meds and a real grassroots movement. But mostly money and meds.