The Body Covers: The 4th International AIDS Society Conference on HIV Pathogenesis, Treatment and Prevention
At the 4th International AIDS Society Conference on HIV Pathogenesis, Treatment and Prevention (IAS 2007), information on several entry inhibitors, specifically CCR5 entry inhibitors, was presented, including data on the use of maraviroc (the brand name is expected to be Selzentry) in treatment-naive patients,1 updated data on maraviroc use in experienced patients2,3 and the unveiling of a new comer from Incyte Pharmaceuticals with very potent antiretroviral activity when given as monotherapy for 14 days.4
In addition, several presentations shared information on vicriviroc, a CCR5 entry inhibitor from Schering Plough that is currently being studied in treatment-experienced patients. Dr. Roy Gulick, from Cornell University in New York, updated the results of the ACTG 5211 dose-ranging study, and two other posters presented preliminary safety and tropism data on the phase 2 vicriviroc treatment-experienced study VICTOR-E1.
ACTG 5211
ACTG 5211
5
is a randomized, 48-week study of vicriviroc (5, 10 or 15 mg) versus placebo in treatment-experienced patients taking a ritonavir (RTV, Norvir)-containing regimen with R5 virus and a viral load greater than 5,000 copies/mL. Vicriviroc or placebo was added to the failing regimen for 14 days; then the background antiretrovirals were optimized.
The 5 mg vicriviroc arm in this study was discontinued early after a data safety monitoring board (DSMB) data review found gross early lack of efficacy with the 5 mg dose. Last year, further data review of the remaining arms revealed that five patients had developed different malignancies while dosed with different dosages of vicriviroc.
At that time, it was necessary that the study be unblinded in order to further characterize those events. Those patients who had been taking the placebo were allowed to switch to vicriviroc if they suffered virologic failure, which was defined as a less than 10-fold drop in viral load by week 16 or thereafter.
Since then, five more malignancy cases were identified in this study, but two of them occurred on the placebo arm. The malignancies that have been reported so far in the vicriviroc treatment arms are: two cases of non-Hodgkin's lymphoma, two cases of Hodgkin's disease, one case of gastric adenocarcinoma, one case of squamous cell carcinoma, one case of basal cell carcinoma and one case of recurrent Kaposi's sarcoma. The investigators remain skeptical about the relationship between these malignancies and the use of vicriviroc.
The ACTG 5211 study then continued as an open-label study exploring the safety and efficacy of the 10 and 15 mg arms, compared to placebo, in the treatment-experienced population. The 48-week results presented at this conference showed that of the 60 patients randomized to receive 10 or 15 mg of vicriviroc, 33% discontinued treatment early -- 30% due to virologic failure.
The median viral load change at week 48 was -1.92 and -1.44, and the proportion with a viral load The two higher doses of vicriviroc were clearly superior to placebo, though median viral load drops and the percentages of people with viral loads under 400 or 50 copies/mL at week 48 proved slightly better with the 10 mg than the 15 mg vicriviroc arm. These responses appear to be on the low side when compared to the virologic responses that we have seen recently with other new agents, thus providing more evidence of a potential low dose potency effect.
Interestingly, of the 20 patients on 10 or 15 mg vicriviroc with a viral load of less than 50 copies/mL at 24 weeks, only 14 (70%) continued to have a viral load of less than 50 copies/mL at 48 weeks. This suggests a potential deficit with regards to durability. Also, the responses seen in this trial were better among those patients who added enfuvirtide (T-20, Fuzeon) for the first time to their regimen -- an additional one-log reduction in HIV RNA than when compared to non-enfuvirtide users or to patients entering the study with enfuvirtide experience.
Week 48 Results With Vicriviroc + Ritonavir in ACTG 5211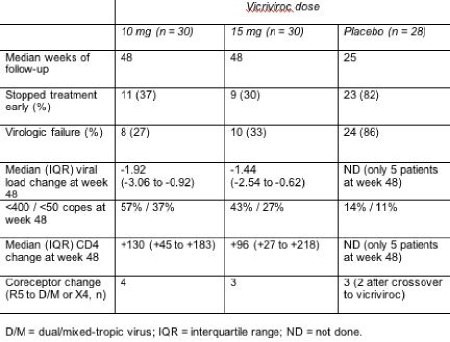 The investigators reported coreceptor switches in seven of the 60 people (12%) taking 10 or 15 mg of vicriviroc. As with other CCR5 trials presented at this conference, the sensitivity of the tropism assay is such that it is possible that up to 10% of patients screened as having R5-tropic virus, and allowed into a study on this basis, may indeed have dual-tropic virus. This is a problem related to the sensitivity of the assay in capturing the small quasi-species of X4-tropic virus. In this study, 12 patients (10%) entered the study with dual/mixed (R5/X4) virus despite a R5 result with the tropism assay. These dual viruses were discovered subsequently on further clonal analysis. Time to virologic failure in those patients has been proven to be shorter in comparison with patients who start the study with only R5 virus.
VICTOR-E1
VICTOR-E1 is an ongoing phase 2 study in 116 treatment-experienced patients. The patient population is similar to that of ACTG 5211, but in this study the patients were randomized to receive higher dosages (20 or 30 mg) of vicriviroc versus placebo plus an optimized background regimen. Two very preliminary analyses were presented at this conference with the following conclusions:
Approximately 35% of screened patients had dual or mixed tropic HIV: 4% had CXCR4 virus and 45% had R5 virus; the assay failed in 13% of the samples. The proportion of R5 virus was similar between patients from North America and rest of the world (52% and 54%, respectively). Having dual/mixed virus or X4 virus, versus R5 virus, at screening was significantly associated with a lower mean CD4+ cell count (179 versus 228 cells/mm3), but was not associated with viral load, number of resistance mutations, age, sex or non-B clade.6
Blinded safety results at 12 weeks showed that the incidence of adverse events of any severity was 105 (92%). Most adverse events were mild-moderate in severity. Grade 3/4 events occurred in 8% of patients, and a total of two (2%) patients discontinued due to an adverse event. Overall, 13 (11%) of the patients participating in the trial reported at least one severe adverse event. There was no evidence of vicriviroc-related hepatotoxicity.7
The changes in viral tropism after screening are shown in the following table:
Summary of Tropism Shifts
n (%)
Patients with R5 at baseline
108/114 (95)
Patients with pretreatment tropism shift
6/114 (5)
• no. of patients continuing on treatment
4
• no. of patients who discontinued due to virologic failure
2
Patients with a treatment-emergent tropism shift
13/108 (12)
• no. of patients continuing on treatment
6
• no. of patients who discontinued due to virologic failure
6
• no. of patients who discontinued due to an adverse event
1

Overall, the pretreatment tropism shift is consistent with what has been described in studies with other CCR5 antagonists, and is possibly due to the limitations of the current tropism assay. What is a bit disturbing is the number of emergent tropism shifts in patients still on treatment and with virologic failure (12%). This number should not be considered insignificant given the preliminary nature of this analysis (12 weeks).
Footnotes
This article was provided by The Body PRO. Copyright © Body Health Resources Corporation. All rights reserved.