This past year a new initiative was launched at Columbia College in Chicago which seeks to "revolutionize" the way in which students, faculty, and staff think about the relationship between art and activism.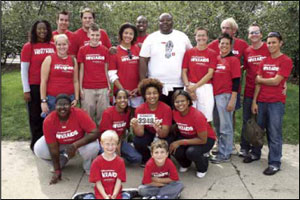 Columbia College's 2006 AIDS Walk team.
Critical Encounters began as a series of discussions following an ad agency class which worked with Test Positive Aware Network (TPAN) to design the print advertising for the Ride for AIDS Chicago, a two-day fundraising ride in June which is sponsored by TPAN and BEHIV (Better Existence with HIV).
Advertisement
Columbia is an arts and communications "commuter college" and boasts a widely diverse student body, with most of the students below the age of 30. According to Lott Hill, Associate Director for Civic Engagement, "We have the most diverse and inclusive population of students at Columbia than I believe, we can safely say, of any arts school in the country.
"We started to recognize from statistics that new infections were happening most often in this country in young people, and we wanted to address that, but not do it from the point of view of folks who were over 30, like myself, but to get our students to really address those issues within our own communities."
The key was that they wanted to keep it voluntary, and to keep it collaborative. "We weren't about forcing anybody to get involved with Critical Encounters unless they felt inclined to do so," says Hill. "Because of that approach we were able to create a network and an initiative that really has risen from what you could call 'grassroots,' that has come up from individual faculty, students and departments across the college. We've also had representatives such as Danny Kopelson from TPAN and some folks from AIDS Foundation of Chicago (AFC) sitting at the table with us as we've planned. So it's been a collaborative effort to design and implement a project that we hope puts into context the education that we give at Columbia by linking it to a global social issue, and of course this first year using HIV/AIDS."
"Critical Encounters is ambitious and, as a result, difficult to pinpoint," says Kristen Orster, a graduate student at Columbia as well as an assistant for Lott Hill and faculty member Ames Hawkins, who heads up the initiative along with Hill. "A phrase I like to use, when talking to my students about Critical Encounters, is that its goal is to complicate thinking."
Kristen became involved with Critical Encounters after seeing a dance performance at Columbia of "Bareback into the Sunset" by Peter Carpenter. According to a recent UCLA blog, the piece uses "movement drawn from country-western line dancing and contemporary modern dance [and] features dynamic performances, compelling choreography and edgy, confessional-style monologues to explore contemporary trends in HIV transmission. The work depicts a gay man struggling to find his place within the shifting landscape of the AIDS pandemic."
One particular student project which stood out for Orster was a documentary play written by a composition student called "Survived By." "It was so powerful -- he really understood the idea of being left behind or feeling a sense of 'survivor's guilt.' "
Dress Up Against AIDS, an event featuring work by Brazilian artist Adrianna Bertini, displayed dresses that were made out of condoms which had ruptured or been damaged, which in turn brought up issues of recycling and sustainability. "It even brought up conversations about labor," Kristen said. "That's what's so impressive, how the conversations start extending themselves outside of just what is being presented. I think we've all started to see, in a new way, how intelligent our students are -- how they are transgressing the classroom and departmental divisions to seek relationships and connections."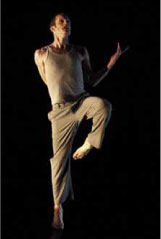 During Critical Encounters' first year, more than 25 courses had a focus on HIV/AIDS, including film, television, science, and writing courses. For some of the classes the entire semester was dedicated to HIV, while others, only a portion of the semester. "What's important here is that we haven't changed the curriculum of the college," says Hill. "The students are learning what we expect them to learn, but they are also gaining all of this knowledge about HIV/AIDS." It was important to students and faculty that the themes overlapped and had some continuity from one year to the next, and so next year's theme will be on poverty and privilege.
The one thing that Orster would like people to know about Critical Encounters is that it would not be possible without the students. "Although the task force is composed, primarily, of professors or teachers, the students are often generating the conversation by asking questions or demonstrating interest. The students are asking how their art should function, what their art is capable of, and how they can be 'in the world.'
"A prospective student and his mother were at the Student Exposition a couple months ago and the mother really thought an ad campaign for the AIDS Foundation of Chicago was done by a professional. She was genuinely awed when she found out that it was student work. I think we all knew how smart our students were, but I think we are now aware of how much we have to learn from them and how necessary it is to have a collaborative classroom."
AFC Board President Marcia Lazar, who along with Kopelson came up with the initial idea that ultimately spawned Critical Encounters, is also a trustee at Columbia as well as an alum. She speaks fondly of Critical Encounters like a proud parent.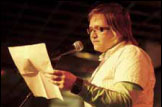 "It really has helped our kids become very aware of the world around them," says Lazar. "I just think that it's so important for young people today to understand how they fit into the world of the not-for-profit, and for issue-oriented organizations such as (TPAN) and (AFC)…how do you get involved? How do you take an active role? How do you become an activist? Most college campuses don't do that. It's not something that's important to them, but at Columbia it has become important."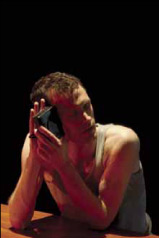 During the course of the year around 250 students received HIV tests who otherwise may not have gotten them. Lazar also helped to ensure that condoms were readily available at all Critical Encounter events, art exhibits, and dance and music performances, because she realized that without condoms "the whole thing was a fiasco. Of course they are at Student Health, but they were in the lobbies for awhile, the classrooms had them, they were in the gallery. They were like candy almost, they were so readily available. So they became matter of fact, and safe sex was discussed openly.
"Columbia is not your mother's college," jokes Lazar.
Lazar learned long ago about the meaning of "founder's syndrome," and while she is still involved peripherally, she's stepped back from her involvement with the project, and has had to let it go. But she is still very enthusiastic about it.
"You know, I do a lot in the world, and I think that this is my real legacy and contribution, I like to think of it as being that important. I think it will affect lives -- it has -- if anything, it has saved lives.
To learn more about Critical Encounters, visit www.colum.edu/criticalencounters/index.php. Selected pieces from Critical Encounters will be incorporated into the 20th Anniversary TPAN "Aware Affair" Gala on Saturday, September 8th. Visit www.tpan.com for more information.
Photos courtesy of Columbia College and Are Edit.