Welcome to HIV Frontlines, a new series from TheBodyPRO.com. In this series, we'll talk to a range of health care professionals who have both provided HIV care and trained health care workers in resource-poor areas throughout the world. From China to Ukraine to Rwanda, these inspiring clinicians are doing their part to make a difference in regions of the world where access to HIV treatment and care is only a shadow of what is generally available in the United States. Through these interviews, we'll get a glimpse of the realities of practicing HIV care in some of the world's poorest areas.
Today we're talking to Dr. Benjamin Young, who is actually one of The Body PRO's faculty. He participates in conference coverage and answers questions in our Ask Your Colleague forum. Dr. Young is an assistant clinical professor of medicine at the University of Colorado and a consultant physician for Denver ID Consultants at Rose Medical Center in Denver, Colorado. He has recently returned from St. Petersburg, Russia, where he has been helping train health care providers. Welcome Dr. Young. I guess my first question is: How did you end up working in St. Petersburg?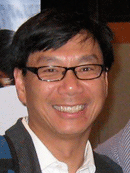 Benjamin Young, M.D., Ph.D.
I went to St. Petersburg as part of an ongoing project with the
American International Healthcare Alliance
[AIHA]. AIHA is a cross-Atlantic program to help bring Western physicians and medical experts into former Soviet cities, to build capacity and help train both physicians, nurses and other health care providers. It was part of that ongoing relationship that I had with AIHA that brought me first to Ukraine, and then more recently to St. Petersburg as part of this training program.
Do you know if they are still looking for health care professionals?
I guess the general answer is, from time to time, they look for additional health care providers.
Do you know where they get their funding?
Funding for AIHA comes from various organizations, and is really dependent on the country that we're working in. So, for example, in Ukraine, the funding comes from places like the Global Fund [to Fight Against AIDS, Tuberculosis and Malaria] and the [William J.] Clinton Foundation. By contrast, in the Russian Federation, the primary funding source is USAID ... and surprisingly, in a sense, from the Bush administration.
When did you first go to St. Petersburg?
I went to St. Petersburg first at the end of last summer [2006]. Again, as part of what was the first program to try to help train Russian HIV doctors about tuberculosis medicine, and simultaneously train tuberculosis doctors about HIV medicine.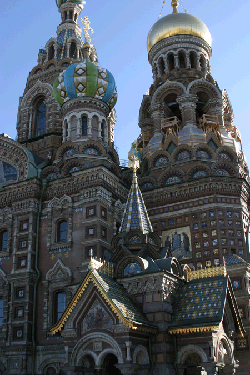 Russian Orthodox Church in St. Petersburg known as the Church of Our Savior on the Spilled Blood
Click image to enlarge
What was your first impression when you got there?
St. Petersburg is a really interesting city. It's a city of incredible history and culture. It is, in my view, the birthplace of the Bolshevik Revolution. It's the home of the czars, and has many of the icons of Russian history and Russian wealth. Superimposed on that, of course, is this incredibly growing HIV epidemic, with unexpectedly large numbers of patients with incredible difficulty accessing the care infrastructure.
How do you characterize these patients? What's the source of infection?
Traditionally, the Western view of the Eastern European epidemic is that of injection drug use. That's a fair characterization of the earlier epidemic in the Russian Federation, where the majority of cases were among injection drug users, and the minority among patients who acquired HIV sexually.
Interestingly, most recently, the majority of new cases in the Russian Federation are heterosexually acquired. For the last two years, for example, in excess of 60 percent of new cases are among heterosexuals, and a smaller number of cases among injection drug users.
Are these heterosexual women or men?
The heterosexual transmission appears to be roughly 50-50. So it's an epidemic that, in many ways, demographically looks a lot like the epidemic in Southern Africa, where the majority of cases are among heterosexual men.
I'm curious about the male heterosexual numbers. Is it because there are other sexually transmitted diseases, or other cofactors that make them more vulnerable? Why would these numbers differ so much from the United States?
I look at this as the United States being the exception rather than the rule. The rule being that for the majority of countries and the majority of cases around the world, HIV is transmitted heterosexually. What we see in the Russian Federation, for example, is this very interesting crossover of the -- or the emergence of the -- heterosexual epidemic and, proportionately speaking, the decrease in the impact of injection drug use on the epidemic.
So if we go back and look at statistics from the period prior to 2000, between 80 and 90 percent of new cases in Moscow, for example, were as a result of injection drug use, and only 5 or 10 percent as a result of heterosexual sex.
In the last two years, over 60 percent of new cases were among heterosexuals, and only 25 percent of cases among injection drug users. We have just seen two different epidemics, in a way, and the emergence of an, unfortunately, self-sustaining epidemic among people who identify themselves as heterosexuals.
Submersed in all of this is a rapidly growing epidemic, numerically smaller but a growing epidemic, nonetheless, among men who have sex with men.
What's the average age of this population?
Most of them are young adults, like that in the United States, in many ways. There are a lot of cases among people who are certainly less than 35. I think the largest proportion of patients newly diagnosed in Russia were among men between the ages of 25 and 30, followed closely by women of the same age group. So the majority of cases are among young adults between, let's say, 20 and 30 years old.
What's your typical day like when you're in St. Petersburg?
What we are involved with are multi-city training programs, in the sense that what we do, or what our Russian colleagues do, is they bring together physicians, nurses and social workers from various cities into one particular city or one training center.
There's an AIDS education training center in St. Petersburg, and a parallel center in Moscow. In these centers, physicians and health care providers, roughly between 30 and 40, come together for a weeklong training program.
The day typically starts very early, and in the Russian winter, it's very dark then. We get, as a group, usually transported to the AIDS center. These AIDS centers are, of course, on the campuses of the AIDS clinics or AIDS hospitals in the city, as well.
Then we do a variety of training and learning exercises that range from didactic lectures to role plays to case reviews to patient interviews. It's really a multidisciplinary program, often in partnership with Russian experts who are also serving to train the Russian colleagues.
Mixed in with this, depending on time and so on, are ad hoc complication and second opinions for difficult cases within the centers themselves. So it's an opportunity both to interact with health care providers from across the very large country of Russia, as well as to hear about and meet some of the more challenging cases within city centers.
This continues all day?
Yes. These are all-day programs, with a short break for lunch and generally horrible coffee, instant coffee -- which is mandatory, given the 10-hour time change from Denver to Russia.
How many people attend the training?
Somewhere between 25 and 40 individuals attend. Often the physicians at the local centers -- from the St. Petersburg Botkin Hospital, or the Moscow City AIDS Center, for example -- will be drop-in attendees at these meetings, as well. So the census will vary from day to day. What I think is really quite interesting, again, is the participation of people at multiple levels of training, and multiple disciplines, all in the same place.
How would you characterize their knowledge base, compared to American physicians?
The Russian physicians are amazing bookworms. They know data like no others. That stands in contrast, however, to their practical knowledge base, particularly when it comes to antiretroviral therapy.
That situation isn't really surprising, in a way. The Russian education system is very data rich, and my impression is that Russian physicians are able to memorize algorithms and tables and protocols in ways that I can only envy. But because antiretroviral therapy has only recently become available, and because programs for HIV, systematic HIV care, are relatively new in the country, practical, hands-on knowledge, especially in the smaller cities, is lacking, particularly when it comes to the management of antiretroviral therapies.
You have your training, and there are also Russian trainers.
Correct.
And the Russian trainers have been trained by physicians out of the country?
Sometimes they have trained out of country. More often they are the first physicians in the country to have people on therapy.
At some point during the day do you actually see patients?
Yes, absolutely.
The patient is actually brought to the teaching center. The teaching center is really just a room separated from the actual clinic space, sometimes upstairs or down the hall.
The patients provide an incredible learning resource, on one hand. Conversely, I think, for the patients, this really provides an opportunity for them to interact with other global health care providers, in a sense, to get a second, third and fifteenth opinion on their care.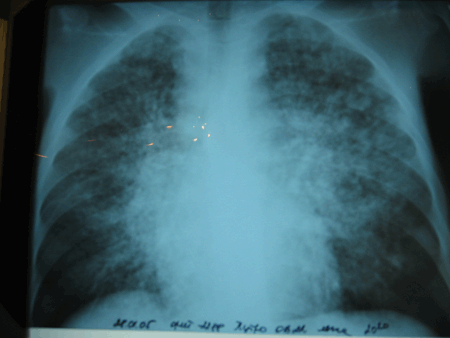 Chest X-ray of disseminated TB before the death of a patient
Click image to enlarge
What sort of cases are they seeing that are challenging?
The single largest problem area that I see, and certainly something that differs tremendously from that in the United States, is that a very large proportion of patients in Eastern Europe, in both Ukraine and Russia, are TB [tuberculosis] co-infected patients.
The official statistics say something in the neighborhood of 50 percent of HIV-infected patients have active tuberculosis. These are the patients who frequently wind up in hospital and provide the most challenging management issues, because one has to treat tuberculosis aggressively, and before the initiation of antiretroviral therapy. A significant proportion of the HIV-related deaths that occur in the Russian Federation are due to tuberculosis complications. So this is really the number one priority in terms of the medical management of patients.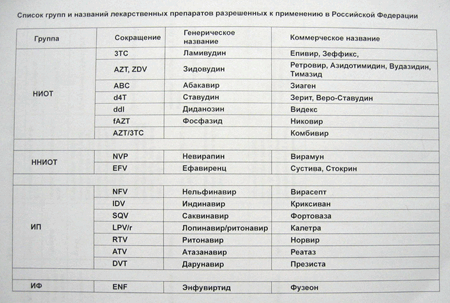 HIV medication list in Russian
Click image to enlarge
In terms of disease status, at what point in their HIV infection are these coinfected patients?
They have very advanced HIV. There's a bit of a debate among patients who might present with, let's say, more conventional tuberculosis, and the debate as to whether someone who has what we call cavitary tuberculosis is an AIDS-defining illness. In Russia, following the fall of the Soviet Union, there was a concomitant collapse of the public health system and a simultaneous rise of epidemic tuberculosis exposure. This has led, of course, to a population of people, many of whom have been exposed to TB.
The translation of this is that there is a silent tuberculosis epidemic in the general population. It becomes manifest in HIV patients much later in the natural history of the disease. The reality is that the majority of patients that I interact with are patients who are presenting with tuberculosis as their first symptom of HIV disease, and often with CD4 counts that are below 100.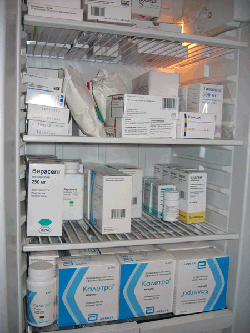 Click image to enlarge
How is your Russian? Did the language barrier make your work more difficult? Were there always translators available?
If you ever wanted to know what it's like to be an illiterate, or a toddler, all an American has to do is to go to Russia, because the alphabet is entirely different. When I first arrived there, I was functionally illiterate, and really couldn't do anything without the assistance of translators. From a medical perspective, everything was translated. Both the printed or computer-based materials are all translated into Russian. All the lectures are translated from Russian to English and vice versa. So it's an existence where you hear yourself speak in English and then a half second later, hear the same words in Russian. Everything that is spoken back to you, of course, is spoken in Russian and then translated into English. So it's like spending a week listening in echoes.
That's an interesting way of putting it! What HIV monitoring tests are available in St. Petersburg?
Well, again, the answer to this varies from city to city. The best centers for HIV care in Russia are in St. Petersburg and in Moscow, and a few other cities, including Orenburg and Irkutsk, for example. The availability of diagnostic testing for HIV, again, is very city dependent. For example, in St. Petersburg and Moscow, the two best centers, viral load testing and CD4 counts are widely available. But because of financial constraints, viral load testing is not done with the same frequency as it is in the United States.
Just to put it into context, a CD4 count in Russia costs roughly $20 U.S. By contrast, a viral load test costs about $125. In an environment of limited resources, viral load testings are really thought of as a luxury for many patient settings.
I take it there are no resistance tests?
Again, it varies from center to center. The Moscow City center and the St. Petersburg centers actually have resistance tests coming online, and so a few patients are able to avail themselves of these tests.
And what medications are available in Russia?
Russia is an interesting story. Russia is a country that is a signatory, as I understand it, to the World Trade Organization. Within the context of the United Nations, the Global Fund, and so on, it's a middle class country. What this means is that Russia doesn't buy generic HIV medications from India or Brazil or South Africa. It rather buys the same branded products that are available in the United States in Western Europe. So what this means is that the same brands, largely, that we see in the United States are available in Russia. There are very considerable difficulties, in terms of the continuity of that access, because of the importation stream.
One of the biggest concerns of Russian physicians is the long-term availability of therapies, and their concern that if they start a patient on therapy today, in a month or two, those same medications might not be available.
How do you address your approach to HIV care when you deal with patients in Russia, and when you train people? Do you have to adjust a lot?
I think the first overriding principle for American physicians, working abroad, is the need to be very sensitive to both the, let's say, the professional culture, and the practice habits of the local doctors. In other words, it's a collaborative learning and training process, a collaborative care process. I think too often there's a tendency to invoke medical imperialism and a scenario that is not often welcomed by either local physicians or local government.
That said, it's heartening to know that the Russian Ministry of Health treatment guidelines are becoming more or less in sync with international treatment guidelines. So, at least in principle, Russian physicians practice a standard of care which resembles that of our country.
It's important, however, to understand that there are significant difficulties in terms of specific patient populations and those specific patient populations in Russia really represent the majority of patients. So these include issues related to, as we mentioned, tuberculosis. Other very significant issues are related to care for injection drug users. There is, for example, no substitution therapy, or methadone therapy, available in Russia. So the entire issue of how we take care of our narcotic dependency in Russia is very much more challenged than that in the United States. There are really significant issues with stigma and the virtual criminalization of an HIV diagnosis in Russia, so that patients are reluctant to get tested and reluctant to access care.
Remember that this is a system where the hospitals are run by the state. There are often uniformed policemen in the lobbies of the hospitals. In a country where the perception, the stigma, is that HIV means that you are an injection drug user, if you're an injection drug user you're a criminal. So the notion of HIV means, or at least is perceived, as one where you might be a criminal. The act of walking into the clinic means you have to walk past the state level police.
I have seen some of your photographs. The hospitals are difficult to find, I would think, if you don't know they exist. They don't have signs.
Absolutely. It's really quite interesting. In cities that have literally tens of thousands of HIV patients, all of the HIV hospitals and HIV clinics are unmarked. They do this on purpose, in large part because of the degree of stigma. So often the entrances to these clinics and facilities exist what seemingly looks like down a back alley, and certainly without significant signage. It speaks to the level of stigma and challenges that patients face, in terms of access and care.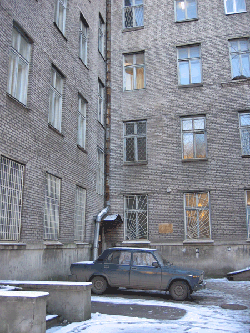 Entrance to Botkin hospital
Click image to enlarge
Is the stigma also related to homosexuality or is that not an acknowledged issue?
It's largely an unacknowledged issue. But in terms of, let's say, cultural stigma, homosexuality is really not accepted in Russia. There are the very nascent beginnings of gay rights political movement, as well as rights for HIV-infected individuals. But these are not widely accepted. The educated person on the street in Russia will utter things about injection drug users, or gays, or HIV-infected patients that I think we have largely abandoned in the United States 20 years ago. The level of stigma in the general population is quite profound, even among the educated intelligentsia.
In terms of mother-to-child transmission, what's the standard prevention used in Russia?
Prevention of mother-to-child transmission, or PMTCT, I think, is actually one of the bright points in the Russian HIV health care system. I have worked very closely with Vladimir Musatov, who is the director of the AIDS program in a placed called Botkin Hospital. Botkin is the world's largest infectious disease hospital, and has its own separate obstetrics hospital for infectious disease patients.
As I understand the statistics, something in the neighborhood of 400 or 500 HIV-positive pregnancies were cared for in that hospital last year and the year before. Prior to the arrival of antiretroviral therapies, roughly 25 to 30 percent of these women would deliver HIV-positive babies. In the last couple of years, that rate has gone from 30 percent down to 2 percent. I think it really shows what one can do with investment and access to care, and universal testing. Musatov has been able to save literally hundreds of children from what is undoubtedly a death sentence.
What medications are being used? The Russian Federation doctors largely adhere to a hybrid of international treatment guidelines. So the typical treatment would involve the use of AZT [zidovudine] and 3TC [lamivudine], branded Combivir, and typically with a boosted protease inhibitor, ritonavir [Norvir] plus saquinavir [Invirase], and alternatively, with nevirapine [Viramune].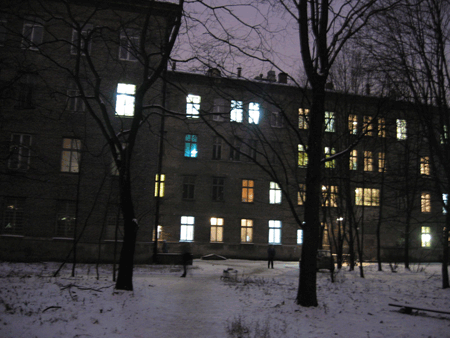 St. Petersburg City AIDS Hospital 10 a.m.
Click image to enlarge
Can the women continue on treatment? Is it available to them?
This is an interesting topic. In general terms, no. The women generally don't stay on therapy, with the exception of those who have more advanced disease and meet criteria for continuous therapy. So there's a bit of a split, or two different groups, of patients presenting with HIV: those patients with very advanced disease, and then there are the pregnant women who present with earlier stage infection. The women with higher CD4 counts generally don't stay on continuous therapy, despite the fact that they now have newborn children.
I guess one thing we didn't mention is the treatment of opportunistic infections. Are there medications for that? And are there knowledgeable people?
I think, in general terms, the answer is yes. Russia has fairly good access to the medicines that we use for most opportunistic infections. Certainly, the medications for treatment of pneumocystis and cytomegalovirus are available in the major centers.
I think, again, the interesting thing is that the major opportunistic infection in Russia is tuberculosis, followed by hepatitis C. The issues with the latter, hepatitis C, is it's viewed as a marker of injection drug use. Active injection drug users are largely thought of as people who are simply not capable of being adherent, and therefore therapy is often not even offered to these patients.
But to your question: Again, opportunistic infections are seen, primarily tuberculosis, and with a lesser number of pneumocystis and cytomegalovirus cases.
Has doing this work changed the way you practice medicine in the United States?
Yes, absolutely, in many and often unexpected ways. I think for those of us who were doing HIV care before the advent of successful therapy, we were exposed to an awful lot of disease and suffering. In the last 10 years we have really, in many ways, from a day-to-day perspective, forgotten about that. Working in Russia, working in Eastern Europe provides a constant reminder that HIV, even in middle class countries, is causing disease and morbidity to literally tens of thousands, if not hundreds of thousands, of individuals, all of whose lives could be improved by the simple access to antiretroviral therapies.
So it's a way to reignite and catalyze this notion of advocacy and bring to it, to everyday reality, a sense of urgency, of making sure that people have access to care, both here in the United States and abroad.
More importantly, it's certainly provided a learning vehicle, a teaching vehicle, not just for my Russian colleagues, but really, bidirectionally, in that I have learned a lot about tuberculosis that I'd never had exposure to in over a decade of work here in the United States.
Probably the most important is the reverse lesson, in a sense, to my patients. They are always very interested in hearing about what's going on from my travels. The very simple statement that there are people out there dying because they don't have access to any medicine provides a motivating, if not inspiring, reason for my patients to continue to be as adherent as possible to their medications.
In the end, I think, all of us feel that all of us here in the United States, on this side of the Atlantic, feel very fortunate for the access to the resources that we have. I think that fundamentally changed the way that I approach my patients, and the way that my patients think about their access to health care.
What percentage of people with HIV has access to meds in Russia?
Well, again, the statistics are often a bit fuzzy in terms of their accuracy. In St. Petersburg there are roughly 30,000 individuals known to have HIV, that is to say, registered with the federal government. Of those, fewer than 2,000 have access to continuous care. I think that that's the situation that my St. Petersburg colleagues will say needs to change.
Part of the difficulty is because of stigma. Part of the difficulty is because of the numbers of antiretroviral medications that are currently available. Part of the issue is the notion that injection drug users can't adhere and therefore are not really included in the nominator of the population that is theoretically eligible for antiretroviral therapy. So it's a situation that is in flux. There are ongoing and significant difficulties that are faced by the large majority of patients in the Russian Federation, in terms of access to care.
How many times have you been to Russia now?
I've been to Russia three times in the last six or seven months. I think I'm going on my now fifth trip to Ukraine. So I've taken quite a few trips over the last two and a half years.
How has it changed the way you see your job? It seems like you're doing this more and more often.
I think this is one of these things where I'm both a glutton for jet lag, I suppose; but really, I'm addicted to travel at the personal level. The ability to fuse that wanderlust with this incredible sense of being able to help not just one patient, but whole communities of patients is incredibly fulfilling, and something that I hope to be able to continue doing for a long time. I live in a very fortunate business environment, and am very proud of the people I work with here in Denver. We have decided that these kinds of programs and trips -- where we leave the office to help others -- at frankly, considerable cost and workload to my partners, who stay behind, is an important mission for us, both professionally and personally.
Well, thank you, Ben. It's really inspiring to hear from you. And we look forward to hearing from you again, when you come back from Ukraine.
Thanks, Bonnie. I'd love to tell you about the next trip to Ukraine.
Editor's Note: All photographs were taken by Dr. Young and have been reprinted with his permission.