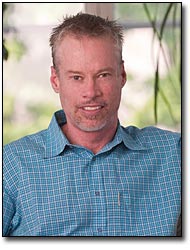 Photo © Russell McGonagle
Donald Trump's irritating voice rang in my ears as I stormed home from one of the most humiliating experiences as a "patient" in my 20 years of receiving HIV care. The details of the situation are not as important as the light bulb that went off in my head to rectify the situation.
The light bulb told me it was time to fire my doctor! I asked myself, "Do I really want to go through the hassle of finding and transitioning to a new provider?" Everything was going okay until I realized that I may have been getting a little too cozy and comfortable with him. I also wasn't getting the complete care I needed, but only casual and acute care. After a sleepless night, I finally came to the decision that the time was right for making a change, especially given that this particular ordeal was the catalyst for the termination of my doctor. Firing your doctor can be traumatic!
I often hear how many of my clients actually like their doctors. But I also hear many stories of injustice, apathy, poor care, and questionable advice from doctors. In either case, people with HIV should take stock of the care they are receiving and determine if they have become part of a "patient mill," or feel like a commodity. Ask yourself, if you feel like a bean being counted or a living breathing person with HIV who has other health needs besides HIV? Does your doctor hastily jump to check your labs without asking how you are? Do they never look you in the eyes? Do you dread going to the doctor? If you answered yes to any of these questions, it's time to consider seeing someone new. You need to know you have the right to see a doctor you like and who provides the very best care, even though the options may be limited in this unpopular medical field.
Advertisement
People with HIV should know they have the right to fire their doctors if they are not receiving good care, or for any reason that is justifiable. It says so in the Denver Principles, created by people with AIDS in the dark ages of 1983. These are principles created so that PWHIV/AIDS would not be labeled as "victims" and only occasionally "patients." The principles are just as valid today as they were then. They demand that doctors "treat people with AIDS as whole people" and to "examine their own agendas." But the focus of the document is to empower PWHIV/AIDS to do what they need to do to survive and thrive, and not feel victimized as so many in our society do.
So many people get stuck with a doctor or aren't empowered enough to fire them. I have had some fantastic caring doctors and I accredit those partnerships to why I am alive today, but I know that some people aren't as fortunate and are stuck in a system where they have little or no options.
I sincerely believe HIV doctors are under a considerable amount of pressure, so I have to acknowledge them for what they do. But HIV patient care has suffered due to the many constraints put on doctors in an ever dwindling area of our health care system. Health care has become down-sized; practices are becoming research facilities to bring in needed dollars. Often we never see our doctor, but only one of their many hired assistants. We wait for hours. There are mistakes made with drug prescriptions and drug interactions. Okay, okay, everyone is entitled to make mistakes. But doctors should know better because, after all, it is about "doing no harm."
The overall quality of care is nowhere near what it once was when I first saw one of the first HIV specialists in his bustling practice in San Francisco. I think a lot of doctors have become overwhelmed by a system that is broken and forces them to only be concerned about their bottom dollar profit. This is nothing but tragic in a time where we have so many effective treatments. I hear how overworked doctors are and how they are overwhelmed by paperwork and bureaucracy. Certainly this is true, but all this at the expense of provision of quality holistic care? This is a failing of our health care system and could wreck the success we've had with HIV treatment thus far.
I recently e-mailed a new doctor whom I want to begin seeing and he responded immediately with warm candor. I felt a burden lifted knowing I hopefully have hired someone to take my incredibly complex case. The truth remains that I felt more at ease because I took control over an uncomfortable and unhealthy situation. That is exactly why I am still alive today.