State Budget Will Include $4 Million in New Funding for ADAP -- Statewide Grassroots Activist Effort Paved the Way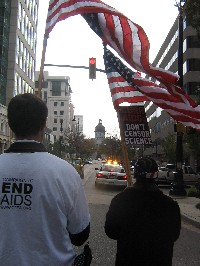 South Carolina's first-ever AIDS protest helped the push for new ADAP funding
South Carolina legislators passed a $7.4 billion budget Thursday, June 21 that includes $4 million in new funding for the state's hard-pressed AIDS Drug Assistance Program (ADAP).
Governor Mark Sanford left the new money untouched even as he issued 243 line-item vetoes Wednesday. State health officials say they'll start taking people off the ADAP waiting list next week, prioritizing those in frail health for access to treatment and medication.
Advertisement
It's a tremendous victory for South Carolina AIDS activists who won nationwide attention for their efforts to win new funding and reduce the state's longest-in-the-nation ADAP waiting list.
"We consider it a victory," said Karen Bates of the South Carolina Campaign to End AIDS, "Even though it's not a total victory, there was a lot of opposition , and to get this much is a real victory."
Bates and other activists, advocates and service providers built a statewide coalition that included AIDS, LGBT, union, progressive and faith groups and sought $8 million in funding to address the ADAP crisis in their state. The intensity of their efforts were increased after several South Carolina PLWHAs died while on the waiting list for drugs.
Efforts included South Carolina's first-ever AIDS demonstration in Columbia last November, statewide organizing and lobbying, and intensive work with television and newspaper reporters who covered the waiting lists, the deaths and the advocacy week after week.
"We started early and we kept it going all year long," Bates said. "This was our year to get some new funding to save lives, and we got it."
South Carolina will now provide at least seven times as much state funding for ADAP as it did in previous years. According to advocates, $500,000 in prior-year funding will continue forward, with $3 million in new recurring funding and a $1 million one-shot-deal for the coming fiscal year, which starts July 1.
Bates said the ADAP crisis task force will continue to organize and advocate -- starting in just a few days. "We're meeting next week to keep going and bring in new allies, including our hospital associations and hard-pressed rural hospitals," she said. "We're not going to stop until every single person who needs care can get it."